Shares of Zephyr Energy PLC (LON: ZPHR) rallied 6.26% higher after releasing an update about its Williston Basin operations following the acquisition of two operated well operations.
The company noted that it had received its monthly share of revenues from the oil-producing Iverson 11-14HU well operated by Whiting Petroleum. Whiting also completed the S-Bar and Feehan wells, which are yet to enter production.
Zephyr clarified that the four completed well would start production soon, given that they had already been connected to the necessary infrastructure and were currently being cleaned up before kicking off production.

The company also reported that the two initial wells in the initial drilling stages following the acquisition of 11.6 acres from Continental Resources Inc. were completed and that they would start production soon.
Zephyr expects to start generating revenues from the two wells by October 2021 with the potential to drill a further 22 wells in future, with the company expecting to start drilling the new well sometime next year.
The oil company noted that it was pursuing further growth opportunities in the Williston Basin, offering low-risk near-term production with additional development potential.
Colin Harrington, Zephyr Energy's CEO, said: "We have a great deal of activity taking place across our project portfolio, and I'm delighted with the milestones being met.  Now that our interests in the seven acquired Williston Basin wells are drilled, completed and online – and at a time of strong commodity prices – we expect significant cash flow generation from the non-operated portion of our portfolio over the coming months."
The company intends to rapidly deploy the cash flow generated from its production well to other accretive opportunities within its flagship Paradox project or other emerging opportunities in the Williston Basin.
Zephyr energy's current earnings are not subject to corporate taxes given its historical tax loss position of $16 million.
Zephyr Energy share price.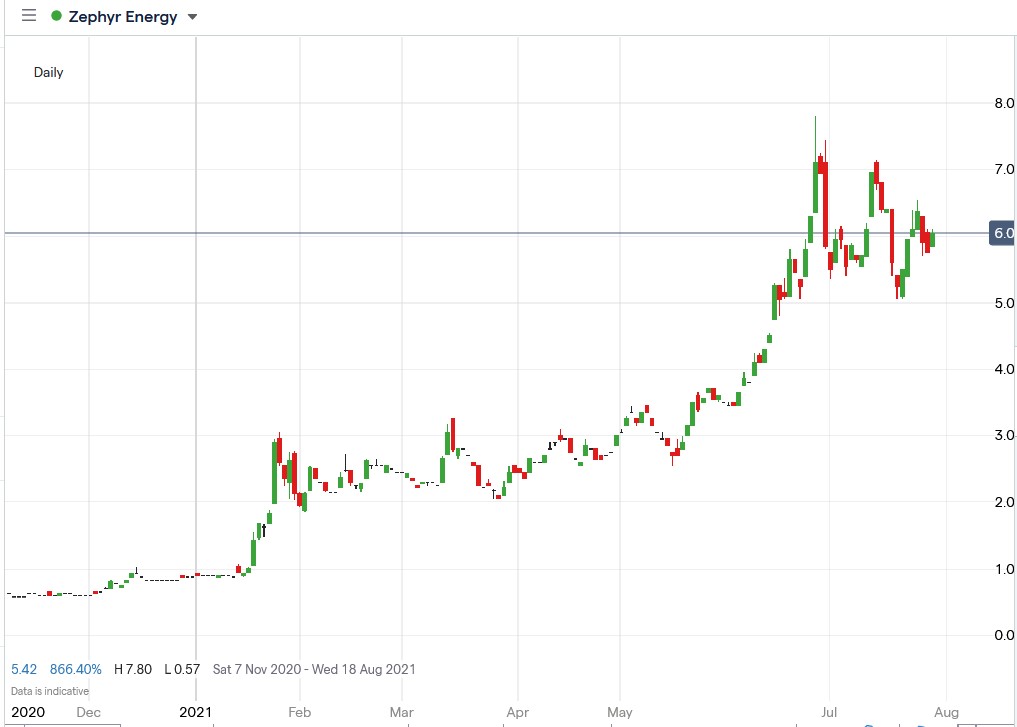 Zephyr Energy shares rallied 6.26% higher to trade at 6.11p, rising from Wednesday's closing price of 5.75p.