Key points:
Zilliqa price has fallen 66.9% from its April highs in a classic pullback.
However, the pullback might be ending, creating an excellent setup for bulls.
Still, was the recent rally a dead cat bounce? Read on to find out…
The Zilliqa price fell 17.9% in the last 24 hours, eroding most of the gains made on Wednesday following the Federal Reserve's 0.50% interest rate hike in a classic dead cat bounce. The ZIL token appears ready to erase all its weekly gains and head lower, but it has to break below the $0.0674 support printed on Wednesday.

Zilliqa has fallen 66.95% from its April 1, 2022, all-time high of $0.23 to its current price of $0.076 in a classic pullback following its over 400% rally in late March, which created a parabolic price structure. Parabolic rallies are usually followed by a significant pullback that erases over 50%-75% of the gains made during the rally.
Investors cheered the Zilliqa rally on Wednesday following the Fed interest rate decision, but it did not last as expected. Usually, such a sharp downtrend does not reverse course on the first bounce but will retest the support level at least twice before a rally.
Looking at Zilliqa's fundamentals, we can see that the total value locked on the platform has shrunk from a high of almost $220 million a year ago to its current figure of $20.74 million at writing as investor interest in the project declines.
Why has Zilliqa adoption slowed down?
Zilliqa generated significant hype when it was first launched in June 2017 by a team of computer science professors from Singapore. The project promised to provide high throughput with the ability to process thousands of transactions per second as the first public blockchain built on a shredded network.
However, Zilliqa's adoption has not been as fast as initially expected among its target customers, large enterprises in the gaming, advertising, financial services, entertainment, and payments industries. So, what's next for ZIL?
Zilliqa price prediction
Given the significant pullback in Zilliqa's price since peaking on April 1, it is safe to say that the worst is over. Therefore, we could see Zilliqa rally higher in the next few days as the bearish pressure reduces. My first upside target is $0.081, then $0.1 and $0.11.
However, we could see the coin fall to the $0.058 long term support level before rallying higher. A break below the above level would focus on the February low of $0.033.
*This is not investment advice. Always do your due diligence before making investment decisions.
Zilliqa daily price chart.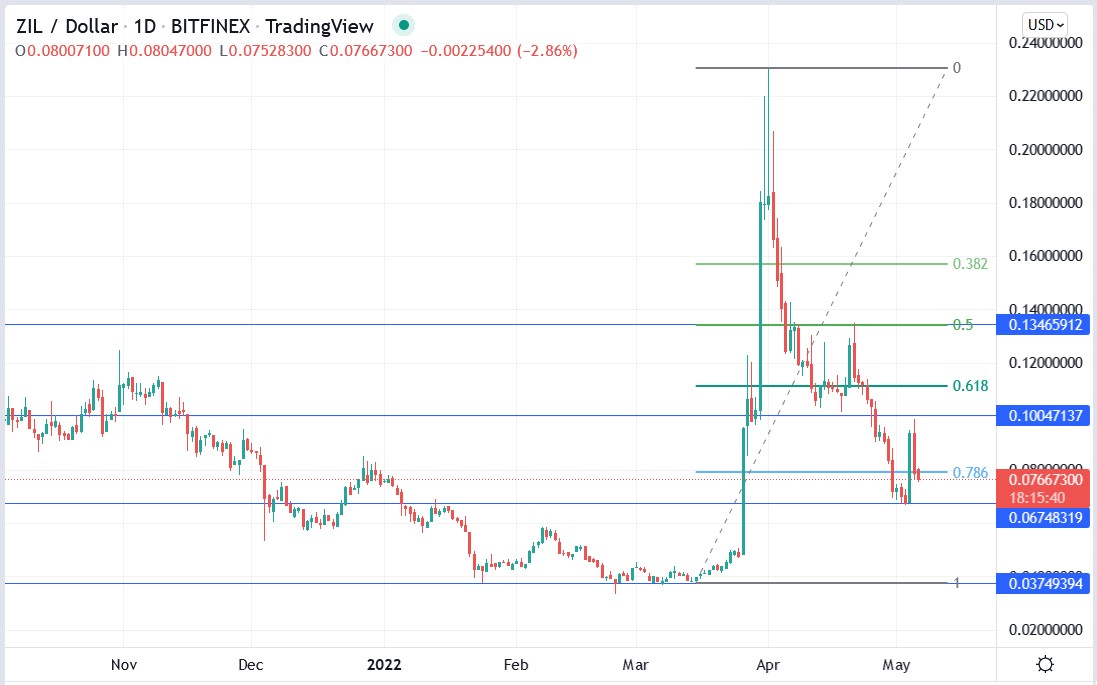 The Zilliqa price fell by 17.94% in the past 24 hours eroding all the gains made on Wednesday after the Fed interest rate hike.