Key points:
Cardano's price has been in a downtrend since September 2021.
Investors are waiting for the Vasil hard fork in June this year.
ADA has been lagging behind its peers due to its scientific approach.
Cardano's native token ADA is currently trading above the crucial support level of $0.747 after bouncing off the support level on Wednesday and then erasing all its gains on Thursday. Additionally, ADA is currently trading slightly above the support level after falling 11.05% in the past 24 hours and is threatening to break below it.

However, the support zone has been tested multiple times and has held, inspiring hope that ADA will not break below it and rally higher once buyers step in. A break below the level would invalidate the bullish thesis.
Why is Cardano falling?
Cardano fell since its all-time high of $3.099 on September 2, 2021. One of the main reasons for Cardano's lagging performance is its slow pace of improving its blockchain since it has embraced a scientific approach.
Cardano fas have also been waiting for the Vasil hard fork to improve the blockchain platform's performance and attract new developers to Cardano's ecosystem. The hard fork is expected to be implemented in June this year, and many investors are waiting for the fork before investing more money into ADA.
Blockchain hard forks are usually quite controversial, and as seen with the long-awaited Ethereum merge event, they are incredibly complex to implement. Therefore, investors adopt a wait-and-see approach with Cardano's planned hard fork.
Some of the expected changes with the Vasil hard fork include increasing the Cardano network's throughput via a process known as diffusion pipelining, which ensures header correctness. Pipelining works by ensuring that the current block references its predecessor and is complete.
The Vasil hard fork will also introduce asynchronous validation to solve the problem caused by Denial of Service (DoS) attacks, which have frequently disrupted the Cardano network.
Cardano price prediction
ADA is likely to rally higher if the support level continues to hold over the next few days. The next significant upside target is $1, but the token has to break above its Wednesday high of $0.898.
However, a break below the $0.747 support level would lead to further declines and invalidate the bullish thesis outlined here.
*This is not investment advice. Always do your due diligence before making investment decisions.
Cardano (ADA) price chart.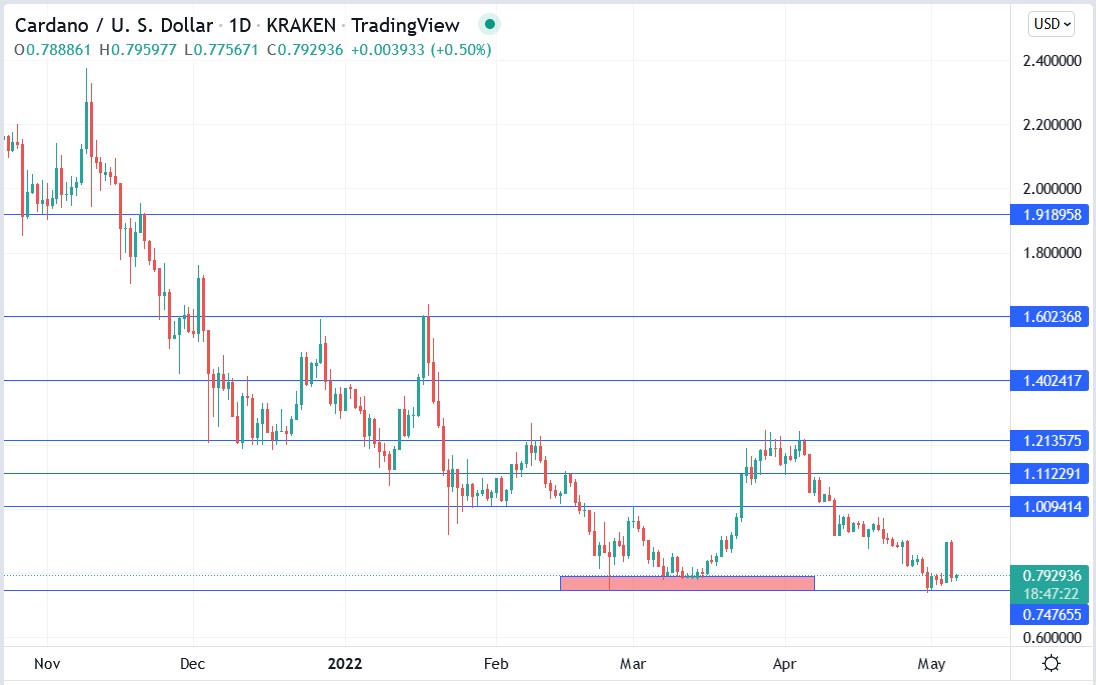 Cardano's price has fallen 11.05% in the past 24 hours and is trading at support. Will it hold above support and rally higher?