Shares of Zoetic International PLC (LON: ZOE) edged 6.75% higher after announcing that it was taking a deliberate and careful approach to its distribution strategy to ensure the brand's success in the markets it operates in.
The CBD products company is taking a phased approach in its rollout of products across key markets such as the US. It is currently distributing products to over 10,000 stores that are part of the Asian American Trading Associations Council's (AATAC) network.
The last time we covered Zoetic, the company's stock was trading near a major support at 60p, and we questioned whether the level would hold. The level held and Zoetic shares have been trading above it since then, although we are yet to see a major rally.

Regardless, we cannot rule out a rally shortly given the company's slew of positive announcements.
The firm has also signed a distributing agreement with a prominent retailer in the UK to facilitate the rollout of its products across some of the major high-street stores in the country giving it greater exposure within the rapidly growing UK market.
Zoetic has also completed its beta-store arrangement with Ox Distributing, allowing it to create a market fit and genuine appetite for its products, displayed in convenience stores owned by the Schrader Family with minimal marketing.
The firm also has multiple distribution deals within the European Union that could lead to its products being sold in 17 different European markets.
Antonio Russo, Zoetic's Co-CEO, commented: "This an exciting time for the Group, and we are confident that our careful approach to distribution will ultimately yield better sell-through rates and higher revenues, all whilst significantly boosting brand awareness."
Adding:
"Rather than making a consolidated market entrance as an outlier, our incremental phased approach is designed to ensure that our products are the market favourite across every geography in which we operate. We are enthusiastic about the growing popularity of our lines and look forward to seeing this trajectory continue in the coming months."
Zoetic share price.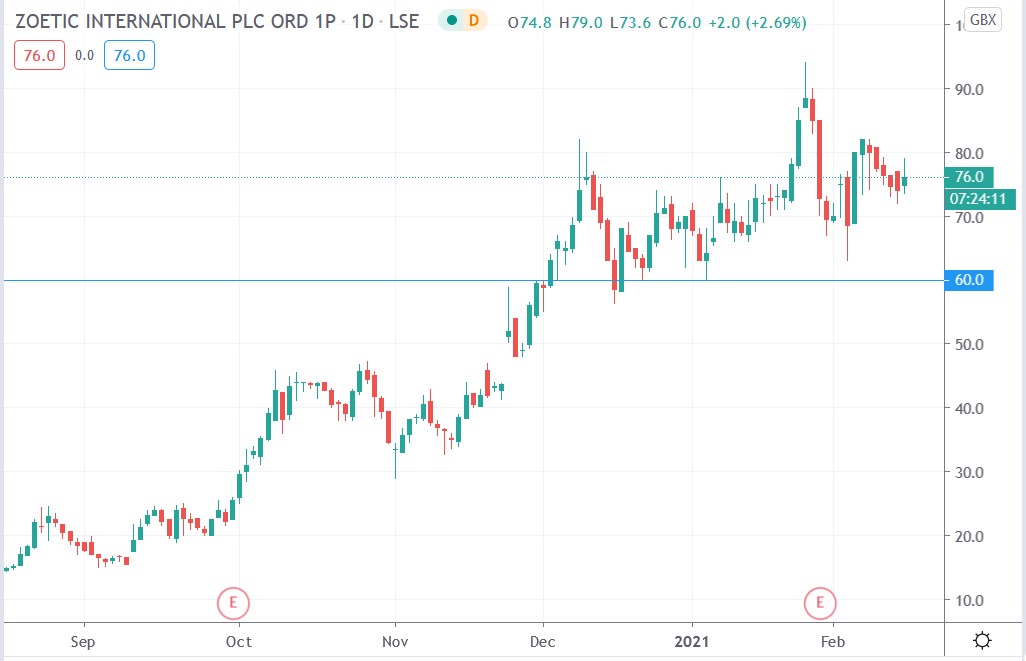 Zoetic shares edged 6.75% higher to trade at 79p, rising from Friday's closing price of 74p.