FXPRIMUS is an online platform for the trading of CFDs and forex and they are under the ownership of the FXPRIMUS group.
There are two different subsidiary firms that manage the brand, called Primus Global Limited and Primus Markets INTL Limited.
They currently have their platform licensed by two different regulatory authorities, the Cyprus Securities Exchange Commission (CySEC) and by the Vanuatu Financial Services Commission (VSFC). FXPRIMUS has their operations located in Cyprus. They offer a variety of financial instruments, whether it is CFDs or currencies or commodities.
Highlights
Headquarters in Cyprus
Regulated by the CySEC and the VSFC
Offers a variety of CFDs and currency pairs
Owned by FXPRIMUS Group
Go to Broker
Risk warning: Capital can be lost. Terms and conditions apply.
Headquarters and regulation
Cyprus (CySEC)
Fees and Spread
depends on type of account
Mini contracts tradable
Yes
Trading platform
MT4, Broker-owned Software
Demo account
Yes, unlimited
Services & additional benefits
Live
Hotline
E-mail
Economic Calendar
E-Book
Videos
Courses/Seminars
1. Trading Offer
1) CFD Trading Offer: FXPRIMUS offers a multitude of CFDs
This review of FXPRIMUS showcases the wide ranging offering they have available for their users, whether they are interested in a CFD broker or in trading currencies.
All of this can be done under the same account, so the entire portfolio can be kept together.
There is a wide ranging offering for individual and institutional investors.
They have a significant array of instruments to choose from, including 43 currency pairs, 3 precious metals markets, crude oil and many different indices and international stocks.
Their equities markets in particular are favored by CFD traders as there is a diverse offering and some of the leading companies in the world are represented here. There are also CFDs available for the major indices in the globe.
A CFD is an agreement that allows a trader to speculate on what the value of a given financial instrument is without needing to actually purchase this instrument.
Common CFDs track the price movements of crude oil, currency pairs, market indices, stocks and cryptocurrencies.
This review of FXPRIMUS showcases the extended range of CFDs on offer, as well as the option to receive significant leverage if you meet their requirements.
43 currency pairs
Major indices CFD's and major CFD equities
Comprehensive offering under a single account
Go to Broker
Risk warning: Capital can be lost. Terms and conditions apply.
2. Costs
2) CFD Trading Costs: FXPRIMUS Has Competitive Spreads
For trading costs with FXPRIMUS, it largely depends on what type of financial instruments you are looking at but there is no bearing on the spreads depending on what type of account you are using.
The spreads on FXPRIMUS will either be variable spreads or raw spreads. The raw spreads are part of the Premium ECN account, which are very tight and competitive when compared to industry averages. The ECN account is where the broker doesn't take the other side of the trades, but instead passes them on through the electronic communications network to third party liquidity providers.
Yes
Mini contracts
Tradable
They do of course depend on the current liquidity level of the market at that moment in time. If you are just using a standard trading account with FXPRIMUS, the spreads are going to be variable in nature, still maintaining a competitive spread when compared to the general market.
The typical spread for EUR/USD for example as seen while conducting this FXPRIMUS trading platform review on the standard trading account is around the 1.5 mark. There are commissions charged on all types of accounts.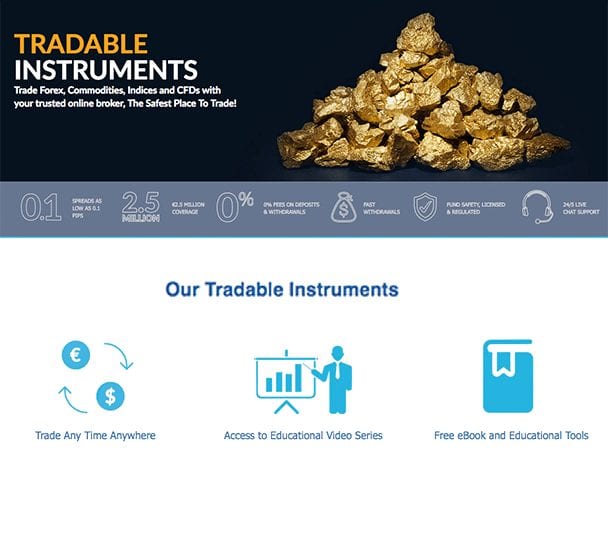 Variable spreads for standard accounts
Raw spreads for Premium ECN account
Typical EUR/USD spread for standard accounts is 1.50
Go to Broker
Risk warning: Capital can be lost. Terms and conditions apply.
3. Account
3) Accounts: Three Account Types at FXPRIMUS
FXPRIMUS has a solid offering in terms of the different accounts that users can choose from. This means that a user can decide on what account type suits their specific needs the best.
The Standard account has a minimum deposit of $1,000 and has variable spreads.
The Premium account has a minimum required deposit of $2,500 and the VIP account has a minimum required deposit of $10,000.
There are daily market outlooks available for all accounts, as well as SMS alerts and a one to one consultation when starting off your account.
There is training in place for the Premium and VIP account holders, as well as live market updates via telephone calls. Finally, the VIP account holders will be a 30 minute consultation with a market specialist, as well as personal access to the market specialisation a 24/5 basis, as well as getting VIP trading signals.
You can open a free demo account. This is ideal for beginner traders as it will allow them to get to grips with how a trading platform works and it will allow them to get some experience trading before putting their own money on the line.
It is also a good way for more established traders to test out new strategies and techniques without having to take any risk on board.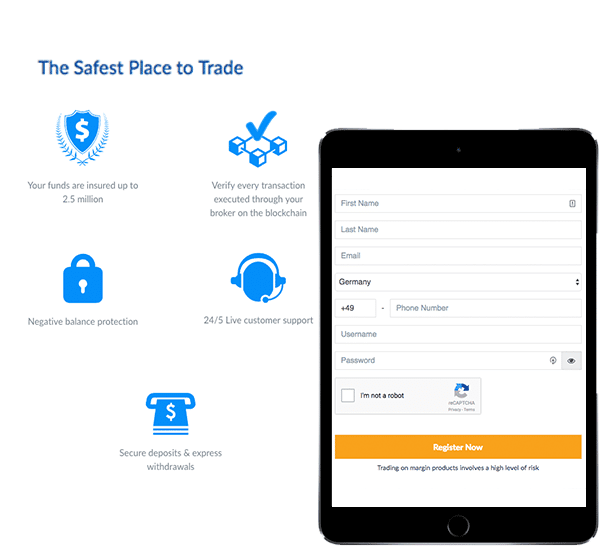 Demo account available
High minimum deposits for all accounts
Spreads depend on account type
Go to Broker
Risk warning: Capital can be lost. Terms and conditions apply.
4. Platform
4) CFD Trading Platforms & Mobile Trading: 6 main options
FXPRIMUS offer their customers the ability to use the industry standard MetaTrader 4 platform.
This includes the desktop, web and mobile version of this trading platform, so you can trade on the go no matter where you may be.
In terms of the forex industry as a whole, the MetaTrader 4 platform is the most widely used, so a lot of experienced traders will already have used this platform.
There is a multitude of technical indicators available in addition to an environment for back-testing. You can automate your trades through this platform, which will be useful for many experienced traders.
This automated trading is made possible thanks to the partnership with Expert Advisors.
The mobile version is available for both Android and iOS. The mobile platform has just as many features available to you and it operates well considering you are using a mobile device.
There is also a Platinum API which allows for a more customised trading experience, as well as a VPS service which means you are able to connect to the MetaTrader 4 platform with a remote computer which is close to the company's MT4 servers. This maximises the speed at which your trades are executed.
MetaTrader 4 is the main trading platform on offer
Desktop version is Windows and Apple compatible
Mobile version is Android and iOS compatible
Go to Broker
Risk warning: Capital can be lost. Terms and conditions apply.
5. Usability
5) Usability of the Website: FXPRIMUS review shows it is easy and straightforward to navigate
The FXPRIMUS website is well-laid out and everything is quick and easy to find. The blue and white color scheme is traditional when it comes to trading platforms and it doesn't push the bar too much in terms of design.
Everything from the menus to the information pages are extremely well laid out. This means that you are not going to be wasting time trying to navigate around the map and finding information that you need to get started trading.
The signup process is also relatively straightforward and you can quickly switch from the demo account to your live trading account with just the click of a button. This means that you can quickly take the strategies you have been testing in your demo account onto the real trading platform and see how they work in the real world trading environment.
They cater for a variety of different languages on the website which are English, Spanish, Hungarian, Czech, German, Greek, Dutch, Italian, Swedish, Polish, Slovakian and Danish. This is one of the best offerings you can see when doing a CFD broker comparison.
FXPRIMUS doesn't push the boat in terms of design, but everything you need is catered for, whether it is a given language or the layout of the site.
Easy to navigate
12 different languages catered for
Information clear and concise
Go to Broker
Risk warning: Capital can be lost. Terms and conditions apply.
6. Support
6) Customer Support: FXPRIMUS offers wide-ranging 24/5 support
FXPRIMUS places an emphasis on looking after their customers in every way possible and one of the main parts of this process is having a quality customer support team in place.
Your first port of call if you have an issue or problem as a user will be to go to their comprehensive FAQ section. There are in-depth answers to the most common questions so you may not even have to get in touch with the customer team a lot of the time because you will find a solution in this section.
If you do need to get in touch with the team, you can send them a correspondence to their headquarters in Cyprus. For a quicker solution, you're able to email them or ring them on the telephone.
If you need to get a quick response, your best option is to use their live chat feature, which operates every business day, 24 hours per day.
You can instantly get talking to a team member and they can provide a solution for the majority of issues you may be experiencing. On rare occasions, a matter may be more sensitive so you will have to get in touch with those who have the certification to deal with sensitive topics.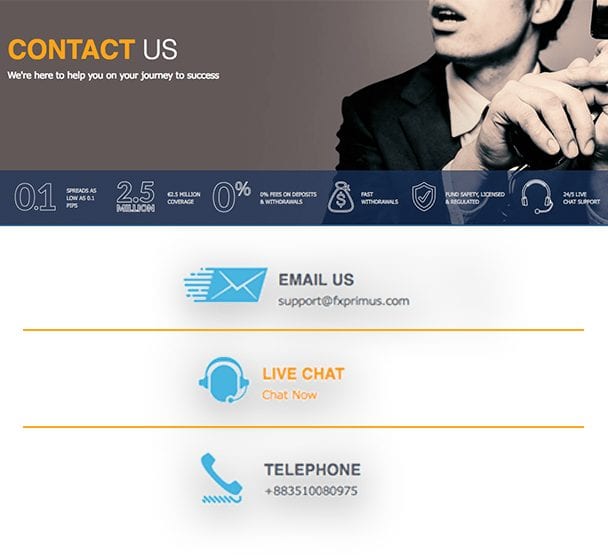 24/5 support via live chat, email and telephone
Comprehensive FAQ section
Ability to send the postal correspondence
Go to Broker
Risk warning: Capital can be lost. Terms and conditions apply.
7. Payment
7) Methods of Payment: Various methods available for FXPRIMUS Depositing and Withdrawal
There are many different deposit and withdrawal options offered by the folks at FXPRIMUS.
Most of the standard options such as bank transfer, debit/credit cards and e-wallets are catered for when both depositing and withdrawing from your account.
There are variables in terms of processing times and fees as part of each of these payment methods.
Generally, bank transfers take 2-5 days for payments to process and the only fees associated with this method is what your specific bank may charge for the transaction.
If you are using a major credit or debit card, deposits will process in the first 24 hours, usually within one hour, with withdrawals taking longer at four to eight business days.
For the common e-wallets such as Skrill and Neteller, the deposits are processed almost instantly so you can get started trading right away. The withdrawals take a bit longer to process, but this is still usually completed within one working day. There are no fees associated with these options either.
There is a limit of $7,500 per transaction and you can only make three transactions in a given day. For bank transfers there is a minimum withdrawal in place of $100, but there is no minimum deposit required for the other options.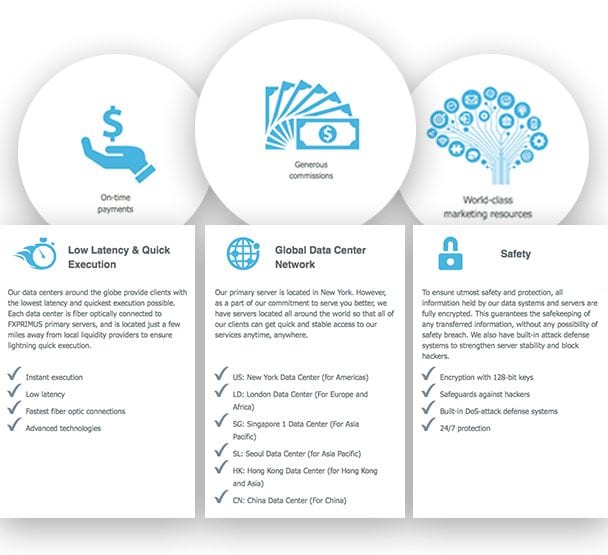 Deposit or withdraw via debit/credit card, e-wallets or bank transfer
Minimum deposit of $100 only for bank transfer
Quick processing times
Go to Broker
Risk warning: Capital can be lost. Terms and conditions apply.
8. Offers
8) Additional Offers: Free FXPRIMUS Broker Demo Account, Bonus Offers and Economic Calendar
There is a demo account available for users of the FXPRIMUS platform. This ideal for beginner traders as it will allow them to get to grips with how a trading platform works and it will allow them to get some experience trading before putting their own money on the line.
It is also a good way for more established traders to test out new strategies and techniques without having to take any risk on board in case they do not work out too well.
While a lot of platforms in the industry are mean when it comes to bonuses and promotions, FXPRIMUS generally look after their customers.
At any given time there may be different promotions that are in operation, which enhance the entire trading experience. They often have lower spreads for the likes of Oil and Gold CFDs, bonuses on your trades, cash back bonuses and many more.
There is a comprehensive economic calendar available on the FXPRIMUS website. You can use this in order to keep up to date with all the latest events having across the world that may have an effect on the markets.
There are also extensive educational tools which are tailored towards beginner traders, right up to highly experienced traders. There are beginning to trade courses, as well as analysis and news from leading market experts.
Wide ranging educational content
Comprehensive economic calendar
Consistent lucrative bonuses and promotions
Go to Broker
Risk warning: Capital can be lost. Terms and conditions apply.
9. Regulation
9) Regulation & Deposit Protection: Your Money is safe with FXPRIMUS
A good question to ask is FXPRIMUS legit because you always need to do your due diligence before signing up for a given platform.
FXPRIMUS is committed to trying to be the most reliable and safest trading platform in the industry. They are always putting the needs of their customers first as they find that this generates the loyalty needed to be successful.
While they are regulated by two leading regulators, they also have their client's funds ensured up to a maximum amount of €2.5 million.
CySEC
Regulatory Authority
Fuser funds are also kept segregated for the operational funds of the business which means that in the case of insolvency, the creditors will not be able to get access to the player funds.
The latest in encryption technology is also used to make sure that the platform is kept protected from the likes of hackers. They have even won awards over the years for their safety, which showcases the esteem they are held in within the community in terms of safety.
When everything is considered, FXPRIMUS is most certainly reliable and their standards are up there with the best in the industry.
Top-quality regulatory standards
Compensation option in case of insolvency
Separation of client funds from operational funds
Go to Broker
Risk warning: Capital can be lost. Terms and conditions apply.
10. Awards
10) Awards: Media Reports about FXPRIMUS
The FXPRIMUS broker firm has a great reputation in the industry due to their commitment to their customers. Whether it is through their customer support, regulatory framework, compensation scheme or their quality offering, they are in the press for the right reasons.
In recent years they have won numerous awards, including the Most Trusted Broker award in 2015, the Best for Forex Research in 2016 and the Best Education and Training Provider award in 2016.
They are also regularly nominated for awards among the leaders in the industry.
In recent times, they have announced the very first training platform that will be decentralised in the industry.
Blockchain technology is taking over due to its many great benefits and FXPRIMUS are hopping on this wave.
This new Blockchain Trading Verifier will integrate with the MT4 platform which means that all of your trading data will be completely transparent and not able to be tinkered with in any way. This is certainly a big deal in the industry and led to a lot of press overage since the announcement at the end of January.
Numerous awards
Reputable in the trading industry
First trading platform to implement blockchain technology
Go to Broker
Risk warning: Capital can be lost. Terms and conditions apply.
Conclusion: FXPRIMUS review final thoughts
Is FXPRIMUS legit and is FXPRIMUS a good broker?
Having gone in-depth with this FXPRIMUS review, you clearly see the esteem of which the platform is held amongst the community.
They have won numerous awards for their top quality offering as a CFD broker, as well as being safe and reliable for their users. They have quality levels of customer support and they are constantly thanking their existing user base thanks to regular promotions.
They have a diverse range of trading platform to choose from, allowing you to trade for anywhere and there are also useful account types you can choose from.
Their payment methods are cost-efficient and you have plenty of chose. Finally, they are well regulated and have a strong encryption technology in place, as showcased by this FXPRIMUS trading platform review.
To conclude this FXPRIMUS review and broker comparison, FXPRIMUS is clearly one of the most reliable and best CFD brokers in the industry. They are constantly going from strength to strength and they have a loyal user base that is only going to continue to grow into the future.
Extremely safe
Regular promotions
Competitive Spreads
Plenty of options for accounts and trading
Lacking in commodity CFDs
Test result
Broker

Go to Broker
Risk warning: Capital can be lost. Terms and conditions apply.