#1

FXPrimus Forex Review
| | | | |
| --- | --- | --- | --- |
| Min Deposit | App Support | Max Leverage | Trading Fees |
| £1000 | Mid | 1:30 | Low |
Broker has always focused mainly on the Forex markets. This means that it has built up a reputation in the space over the years and tweaked its offering as time goes on, depending on the changing needs and preferences of its clients.
There is a great selection of different currency pairs on FXPrimus. There are four major currency pairs, 21 cross currency pairs, three minor currency pairs and a dozen different exotic currency pairs. This is a great selection, with all contracts being spot contracts.
The minimum trading size for this Forex offering is 0.01 and the trading hours are all day and night from Monday to Friday. For the major currency pairs, you can get leverage of up to 1:30, dropping down to 1:20 for the minor currency pairs. In terms of the spread, it varies naturally from pair to pair, but it is overall a decent fee structure.
#2

FXPrimus CFDs Review
| | | | |
| --- | --- | --- | --- |
| Min Deposit | App Support | Max Leverage | Trading Fees |
| £1000 | Mid | 1:30 | Mid |
As well as Forex, you also have the ability to trade certain types of CFDs at FXPrimus. You can do so using the same account, which is ideal. In total, there are three precious metals CFDs, three oil CFDs and 8 different indices CFDs for you to trade.
Generally, you will be looking at margin requirements of 5% and a minimal trading size of 0.01 lots for the indices CFDs. For the energies CFDs, there is a margin of 10% available. While brand is mainly a Forex broker, this niche selection of CFDs is also popular among traders.
Fees
Trader Rating
The FXPrimus platform uses the effective market model, which means that there are no conflicts of interest when it comes to their customers. The spreads, as a result, can go very low when the buy and sell come from the same lot. These orders can be filed up in-hours, meaning that there is no spread charged. For the ECN premier spreads, these can drop as low as 0.01 for EUR/USD, but you do have to factor in a $10 commission per lot.
Some account types will have a variable spread, changing as the market changes. This spread is higher normally than what will be found through the ECN account. There is also leverage available depending on the types of currency pairs or CFDs you are looking to trade.
Account Types
Trader Rating
There are a few different types of accounts you can select from with FXPrimus. This allows you to go with the option that will be ideally suited for your specific style of experience level when it comes to trading.
For the Standard account, you will have to make a deposit of at least £1,000 and you will then be looking at variable spreads. For the Premium account type, there is a minimum required deposit of £2,500 while the VIP account option requires you to deposit at least £10,000.
All of the accounts will offer you daily outlooks on the market, as well as a one to one consultation when you first set up your account, as well as allowing you to get SMS alerts.
For those with VIP or Premium accounts, there is a training system in place. There is also the option to set up a demo account. This allows beginners to learn the ins and outs of trading and using a given platform. More advanced traders are also able to test out new strategies without having to put any money on the line.
Platforms
Trader Rating
You can use the industry-wide MetaTrader 4 platform when trading on FXPrimus. Most traders who have used other platforms will be familiar with this trading platform, as it is an option to the majority of brokers in the space.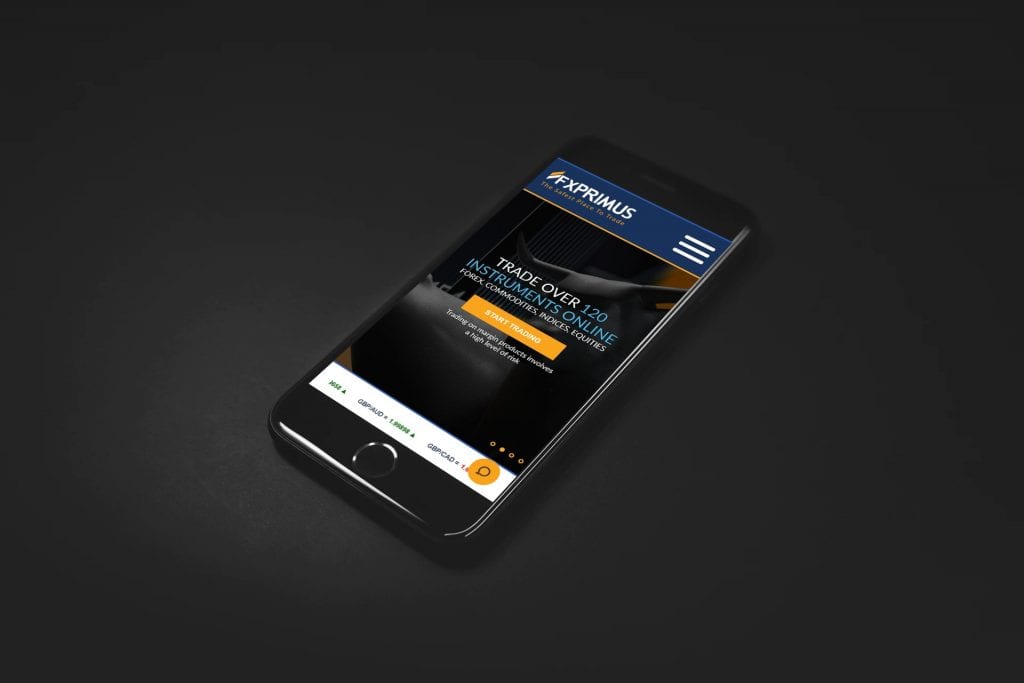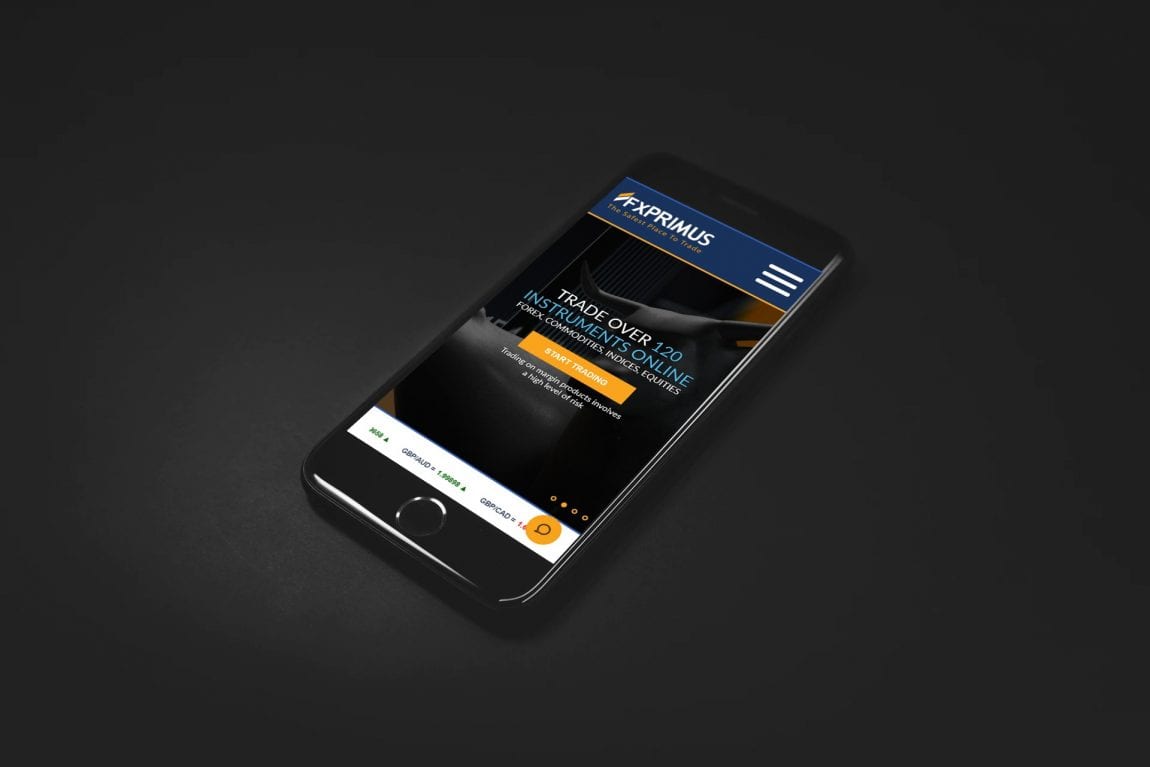 You have access to a great variety of tools for researching and making trades. It also has an iOS and Android app that you can trade from, which is also ideal if you want to have the ability to place trades will you are on the go.
You can also download the MetaTrader 4 client for your desktop if you wish or you can simply use it through your desktop's web browser. For those FXPrimus traders that have at least £500 in their accounts, they can use the VPS platform for free.
This allows traders to connect to a remote computer that is close to the MetaTrader 4 serves remotely, increasing the speed at which your trades will be executed. There is also a Platinum API option for those who deposit at least £50,000.
Usability
Trader Rating
The FXPrimus website is extremely easy to use. All of the items on the menu are accurately labelled. Each of the pages will lay out in clear table form what the benefits are for a given offering. For example, you can see all of the different types of accounts compared in a table, showcasing the various attributes of each of the offerings.
The same goes for the trading instruments and the types of trading platforms on offer. While this seems very simple, it is something that not a lot of brokers do. This means fewer headaches when trying to search for info and it allows you to get trading without having to worry about any unimportant things.
You also have the ability to choose from 14 different languages on the site and there are real price feeds on the site, with the live spreads also displayed alongside them. Overall, this is one of the most usable brokers out there in the space today.
Customer Support
Trader Rating
If you have a question or an issue that needs to be resolved on the site, there is an in-depth FAQ section that you can initially refer to. If this still does not solve your situation, then you can contact the FXPrimus customer support team. These lines are open 24/5 and you can give them a call, send them an email or use the live chat function. There is even a mailing address that allows you to send them correspondence by post to their headquarters in Cyprus.
You can expect a quick response when you are contacting the team inside of their working hours. The support also allows for 14 different languages to be used, which is ideal for those who do not speak English. The quality of the responses you will get is hard to beat in comparison to other brokers, which is also ideal.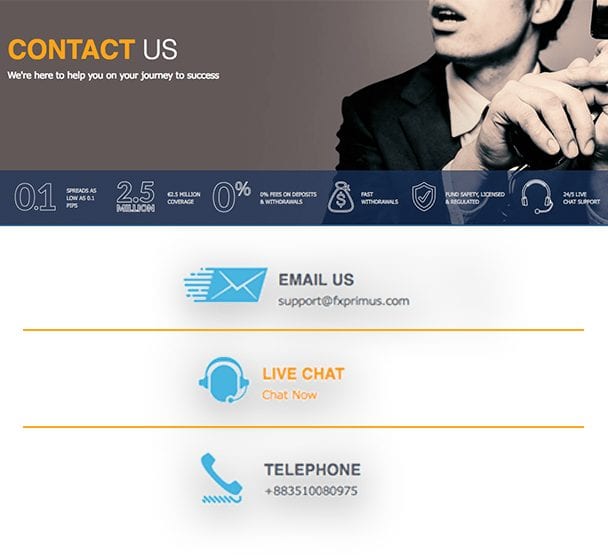 Payment Methods
Trader Rating
All of the transactions that are processed through FXPrimus go through Safecharge and eMERCHANTPAY to ensure that these transactions are kept safe. All fees and charges for transactions will be covered by the brand. You have a few different options when adding and withdrawing funds from your account. A bank wire transfer will take 2-5 business days for a deposit to process, the same goes for withdrawing through this method.
Major credit and debit cards through Visa, MasterCard and American Express will see deposits processed inside of 24 hours. Withdrawals do take considerably longer, taking between 4 and 8 business days. You can use bitpay, which processes all transactions within 24 hours, the same going for both Skrill and Neteller.
You can only deposit £7,500 in a single transaction and you can only conduct three transactions on a given day. For most of the deposit methods, you only need to deposit as little as £100. However, for your first deposit, the smallest you can deposit is £1,000 through the Standard account type.
Best Offers
Trader Rating
There are many different additional features associated with FXPrimus. As mentioned, you can set up a demo account for free if you want to learn the ropes or test out new strategies.
Education is an important aspect of the offering. You can start a training course, varying in the complexity of its topics depending on your level of experience. There is also the latest market news and reaction to these news items. You can use trading calculators and economic calendars to help plan your trades and you can stay in the loop with the upcoming events in the trading space.
There are regular expert guests who give their views on the markets, as well as regular videos touching upon a variety of different subjects. In total, there are more than 90 training videos for you to watch.
Usually broker has a few different types of promotions running at any given moment in time. Sometimes this is in the form of trading or deposit bonuses. Other times this will be in the form of especially low spreads on certain trading instruments. This is why it is well worth your while checking out the promotions page if it comes time for you to sign up for an account with them.
Regulation & Deposit Protection
Trader Rating
FXPrimus is regulated in European through the Cyprus Securities and Exchange Commission (CySEC). This is a respected regulator in the region and it sees deposit protection of £20,000 being in place for traders.
It is also registered with MiFID in Europe, FCA (UK), BaFin (Germany), Fi (Sweden), CONSOB (Italy) and the NBS (Russia) to name but a few of the registrations.
The complete due diligence process is carried out to ensure that all anti-money laundering guidelines are met. This means verifying your identity with the support team before being able to withdraw funds from the platform. This is always the sign of a legit platform.
Also invests significantly in its software and high tech ID hardware. It uses 128-bit SSL encryption to ensure that all data being transferred to, from and through the platform is kept safe. No personal or financial data is collected either by broker and the servers are cloud-based, which allows for fast executed orders that have low levels of latency.
Awards
Trader Rating
FXPrimus has won a number of awards over the years. This showcases specific areas of the offering that have been singled out for being a standout aspect of a given broker. Some of the more recent awards that have been received includes:
Best Trading Service 2019 – Trader's Fair
Best Forex Broker Europe 2019 – FxDailyInfo
Best Customer Support Broker 2018 – FxDailyInfo
Best trading Platform 2018 0 FxDailyInfo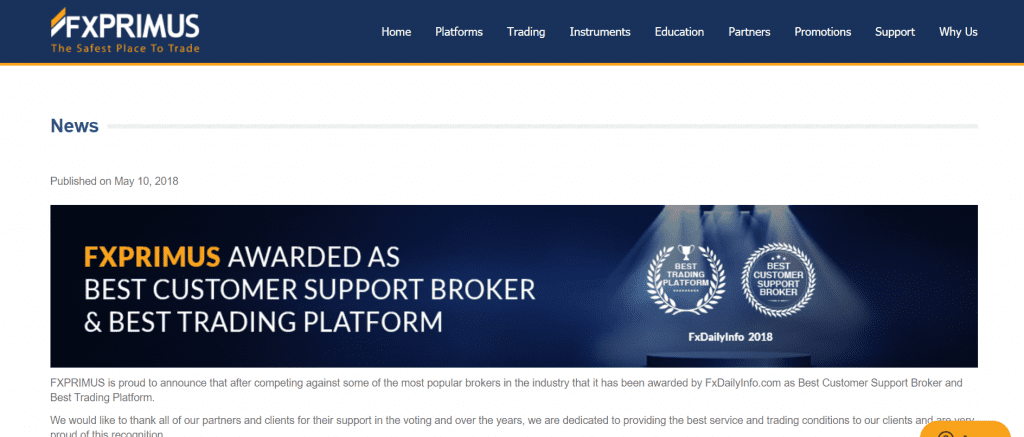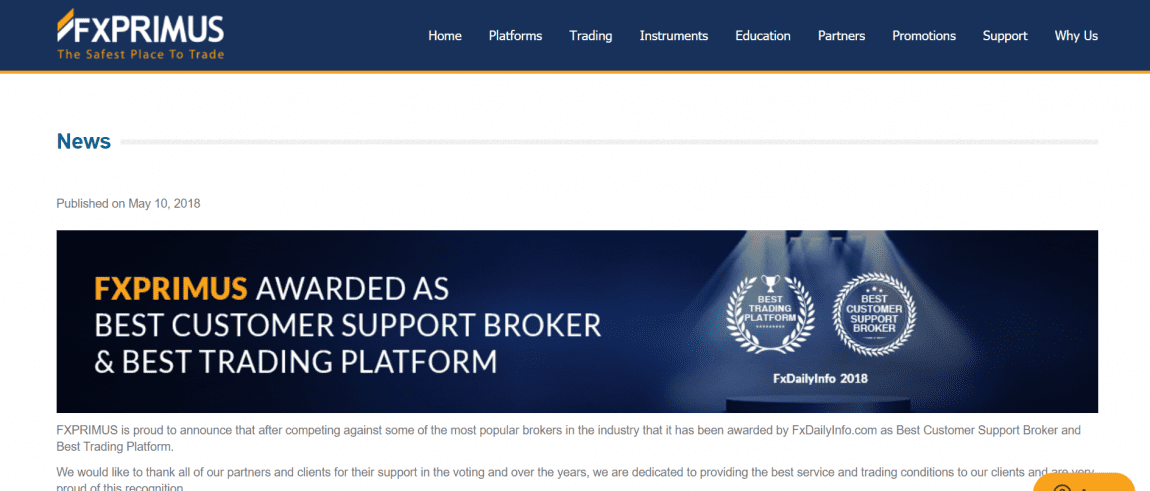 As time goes on, will no doubt be nominated and win numerous other awards.
PEOPLE WHO READ THIS ALSO VIEWED: