EasyMarkets is a forex and CFDsbroker that was established in 2001 as Easy-forex but was rebranded in 2016 to reflect its status as a broker that offers not only FX and CFD assets, but also options trading. EasyMarketsis regulated in Cyprus and Australia and today, offers more than 322 markets spanning currencies, metals, indices, energy, agricultural commodities and vanilla options.
EasyMarkets is well known for its award-winning affiliate program, which was one of the first forex partnership programs with a sound structure.
Highlights
easyMarkets forex brokerage was one of the first retail forex trading brokers.
Is easyMarkets forex trading legit? Yes, because they are regulated by two agencies in different countriesand have been successful for the past 17 years.
easyMarkets Forex Trading Review 2018 indicates that the platform offers many tools and markets for its traders.
easyMarkets currently has clients from over 160 countries.
18.
of 30 Forex Broker
EasyMarkets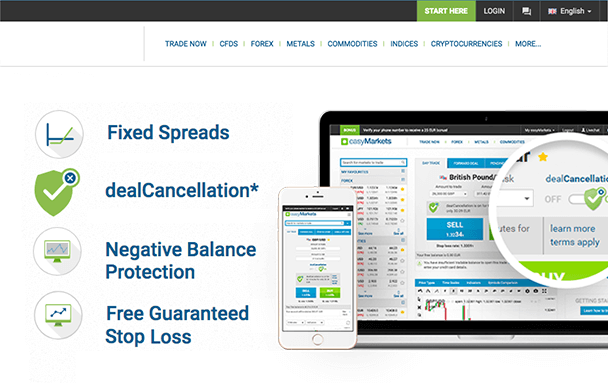 Go to Broker
Risk warning: Capital can be lost. Terms and conditions apply.
Headquarters and regulation
(CySEC)
Fees and Spread
Depends on account type
Trading platform
MT4, Broker-owned Software
Trade Offering
64 Currencies
Services & additional benefits
Live
Hotline
E-mail
Economic Calendar
E-Book
Videos
Courses/Seminars
1. Trading Offer
1.) Forex Trading Offer: FX Trading on 130 Pairs
EasyMarkets forex broker is primarily a forex and Contracts For Difference (CFD) provider. The trade markets on easyMarkets have a wide range of assets that are being traded daily.
Tradable assets: The CFD markets include stocks, commodities, currencies, exchange traded funds (ETFs), options and indices.
FX offer: Spot FX trading on easyMarkets forex features 130 currency pairs that range from the major currencies to the minor and exotic currency pairs. A broker comparison will reveal that the currency pairs traded on easyMarkets easily surpass those of close to 90% of retail forex brokerages today.
Exotic Assets: An easyMarkets Forex Trading Review 2018 of exotic assets showcases options and cryptocurrencies. Tradedcryptocurrencies include: Bitcoin, Ethereum and Ripple. These are traded on a 24/7 basis on the platform.
Tradable:
EUR/USD
USD/JPY
GBP/USD
USD/CHF
AUD/USD
NZD/USD
USD/CAD
You can trade several asset classes on easyMarkets. easyMarkets forex trading is leveraged. An account holder can receive up to 30:1 in leverage when trading on easyMarkets platform.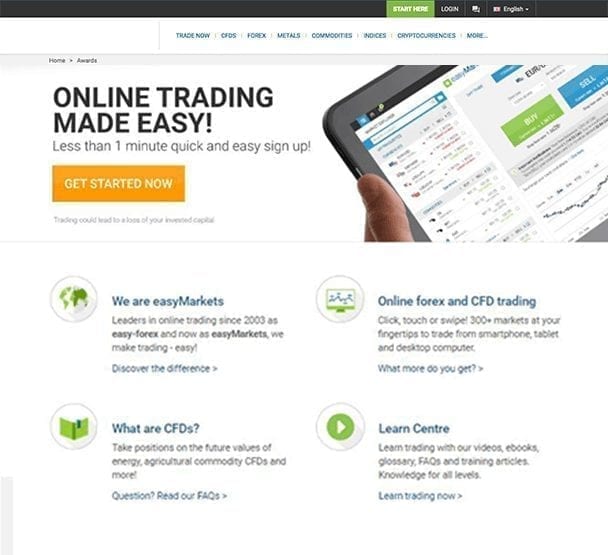 Trading on easyMarkets forex broker is leveraged. This means that easyMarkets provide additional capital for each trade set on the platform.
Agricultural and Energy commodities as well as indices are featured on easyMarkets.
Metals and agricultural commodities can be traded on the easyMarkets platform.
Go to Broker
Risk warning: Capital can be lost. Terms and conditions apply.
2. Costs
2.) Forex Trading Costs: Trade FX Options at Comparatively Lower Costs
The trading costs associated with easyMarkets are generally low.An easyMarkets Forex Trading Review 2018 of options trading costs shows that you pay lower rates on options than you would on options trading platforms. Here is a summary of what you can expect to pay for trading on the easyMarkets platform.
Rolling Fees: These are charged on the EasyMarkets forex broker platform if your tradesare still open at 22:00 GMT. This fee is charged on a daily basis.DealCancellation fee: This is charged when a deal is cancelled on the trading platform. The charge is not fixed because it is based on market volatility.
The "DealCancellation" is easyMarkets unique tool for cancelling trades where mistakes were made.Withdrawal fee: These are charged on bank wires (between $30 and $50) depending on the bank.Also, e-wallet operators charge commissions on withdrawals (between 1-1.5% of transaction amount).EasyMarkets does not charge withdrawal fees.
No other fees are charged. Commissions are also not charged byeasyMarkets for FX or CFD trades, which by broker comparison, is very rare.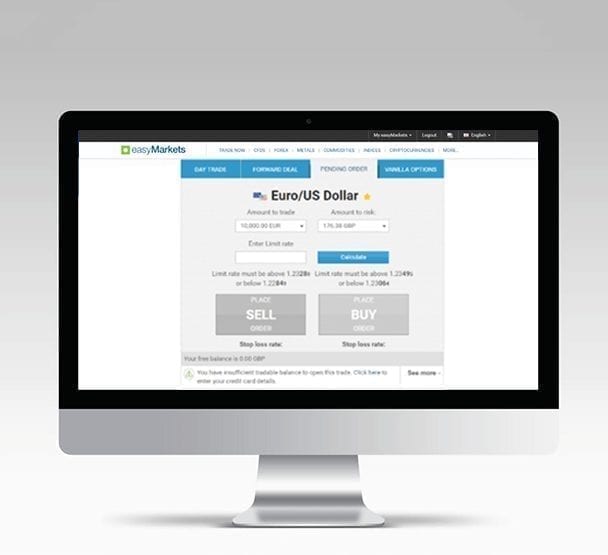 DealCancellation fee is charged by easyMarkets when you us the tool.
Bank wires constitute the payment channel with the most expense on transactions.
Rolling fees are charged when you have open trades beyond the closing time.
Go to Broker
Risk warning: Capital can be lost. Terms and conditions apply.
3. Account
3.) Accounts: Enjoy VIP Account Privileges with Just $2,500 Initial Deposits!
An easyMarkets Forex Trading Review 2018 shows that there are various account types for different levels of traders. Account types on the EasyMarkets forex platform are as follows:VIP Account: A $2,500 deposit gets you The VIP account status. Acquiring VIP account status with just $2,500 is very rarely seen, even on the platforms of the best forex brokers. VIP account holders have access to tight spreads and access to technical analysis tools. Additionally, they gain access to experienced personal market analysts that will help them understand technical and macroeconomic data.Voice trading via telephoneis another benefit you will get as a VIP account holder.
Super VIP Account: Offers the same benefits as the VIP account except that the account holder deposits $10,000, gets custom spread and negotiates transaction size.
Premium Account: Similar to VIP account except thata $1,000 initial deposit is required. Access to phone trading is unavailable.
Standard Account: This is a regular account with a $100 minimum deposit.
Demo Account: A forex comparison shows that most forex brokers provide virtual accounts. You can use this to familiarize yourself with the platform, market behaviour and trading strategies.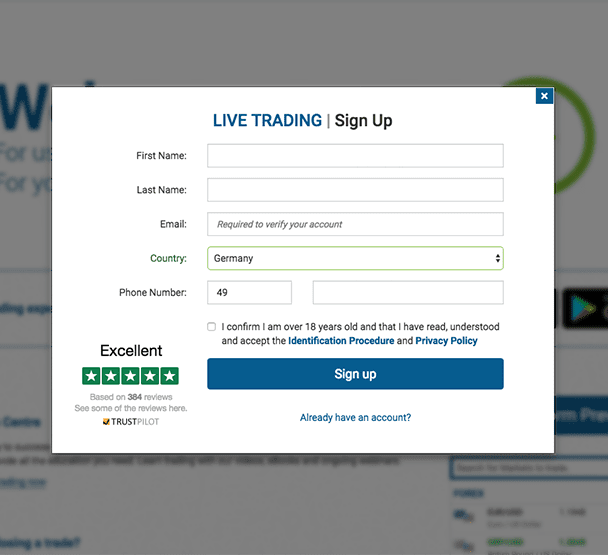 Super VIP and VIP account are for the experienced traders who have much capital.
All accounts attract no charges or commissions.
Beginners are advised to start with the demo account and upgrade later.
Go to Broker
Risk warning: Capital can be lost. Terms and conditions apply.
4. Platform
4.) Forex Trading Platforms & Mobile Trading: Trade on the Go!
EasyMarkets offers three trading platforms namely easyMarkets forex Web Platform, Trading App and Meta Trader 4
easyMarkets Web Platform: This is simple, versatile and user friendly with powerful features. It features stop loss, no slippage, and fixed spreads. Traders can undo a mistake with the "dealCancellation" feature. It's "inside viewer" shows the trader what other traders are buying and selling.
easyMarkets Mobile App: This is the android and iOS mobile app from easyMarkets. It is powerful and gives access to markets anywhere there is an internet connection. The app is user-friendly and feature extensive tools. It has features like: dealCancellation, Market explorer, Live rate graphs, inside viewer, price notification and financial calendar. It has analytical tools, technical indicators, charts and market news.
easyMarketsMT4:The MT4 is being offered from easyMarkets features stop loss, take profits, trading central news and analysis. Traders can use it with a forex VPS, connect custom expert advisors/indicators, and use the Strategy Tester for backtesting and optimization of EAs.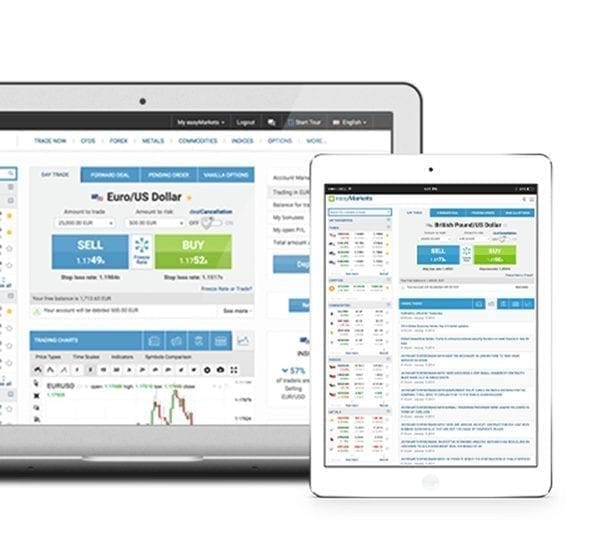 The easyMarkets Web Platform is powerful with unique features.
The easyMarkets APP is powerful, mobile and packed with useful trading tools.
MT4 is a well known platform among traders and it is provided by easyMarkets.
Go to Broker
Risk warning: Capital can be lost. Terms and conditions apply.
5. Usability
5.) Usability of the Website: Beautiful, Legible and Visually Appealing
The easyMarkets website is professionally designed. It is well arranged and looks very beautiful. An easyMarkets trading platform review shows excellent results for the web interface of the site when viewed with popular browsers on desktop computers. The website is well optimized for tablets and mobile phones. It featurestexts with legible fonts, beautiful colours that are well arranged in a manner that is pleasing to the eye. Users can easily navigate their way around the site and obtain relevant information.
easyMarkets website uses a predominant white background, black texts and blue headings, thus, promoting legibility of content. There are tinges of blue and green on the images and lists.
From the homepage, virtually every webpage can be accessed. The menu is easily accessible.
The navigation menu is simple and provides all the relevant information needed at a glance or at a click of a button. Users can access the privacy policy, legal terms of use, registration page, the learning centre etc.
Beautiful design with white background, black font and blue titles. This is perfect for better user engagement.
Multilingual website to cater to a broad-spectrum of non-English speaking clients.
Entire website is virtually accessible from the homepage.
Go to Broker
Risk warning: Capital can be lost. Terms and conditions apply.
6. Support
6.) Customer Support: Efficient Customer Care on EasyMarkets
EasyMarkets provide multiple channels of communication between the broker and theirclients. There are at least five means by which users and prospects can communicate with easyMarkets.
These contact options are as follows:Three live chat facilities: one on"Facebook Messenger", another via "Viber phone chat", while the last one is via regular Live Chat from the Easymarkets website. Chat services are multilingual.Email: There arethree email addresses: one for customer support ([email protected]), another one for affiliates ([email protected]) and a third one for complaints ([email protected]). There are phone numbers for the different office locations. For the Cyprus HQ, phone number is +357 25 828 899.Social media channels include: facebook, twitter, linked in, and YouTube.Fax number is +357 25 817 183
The competence and responsiveness levels differ from one contact option to another. Phone calls, chat options or office visitations provides the most responsive service, while emails provide the slowest service. All channels are open for communication from Monday to Friday, 14 hours a day.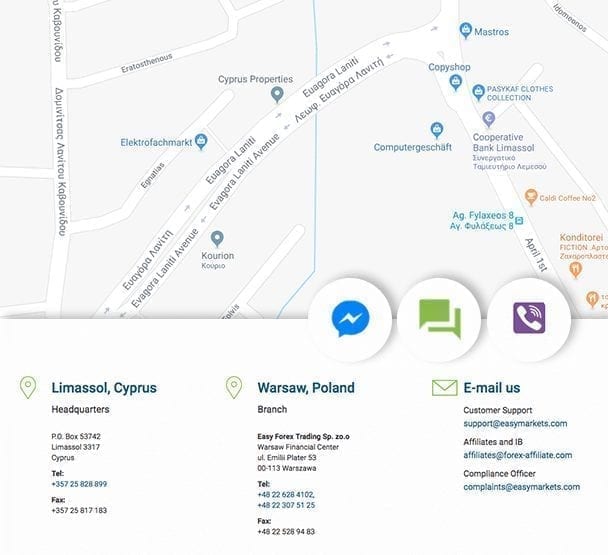 Multilingual customer support available in a wide variety of different languages
Customer can receive support through the website, email, facebook messenger, viber, etc
Regional affiliates also provide a good option for getting more locally-oriented support.
Go to Broker
Risk warning: Capital can be lost. Terms and conditions apply.
7. Payment
7.) Methods of Payment: There is a Payment Method for Everyone
There are various ways that can be used to make or receive payments on easyMarkets. The methods of payment that are available on easyMarkets include:
Credit/Debit Card payments
On EasyMarkets, you can deposit or withdraw funds using cards issued by FCB, MasterCard, VISA and American Express. This method is available to clients from selected countries. No fees are charged. Most popular international cards are accepted.  There is no minimum withdrawal amount.
Bank Transfers
Wire transfers are accessible to all clients in 160 countries. While EasyMarkets does not charge for bank transfers, the correspondent banks will charge transaction fees. Processing times are between 5-7 working days for international transfers, and 1-3 working days for local bank transfers. Minimum withdrawal amount is $50.
Digital Wallets
EasyMarkets accepts Skrill, Neteller, Ingenico, China UnionPay, WebMoney,iDEAL, SoFortüberweisung and GiroPay. Transactions times range from instant to one working day.There is no minimum withdrawal amount. These methods will attract withdrawal fees not exceeding 1.5%.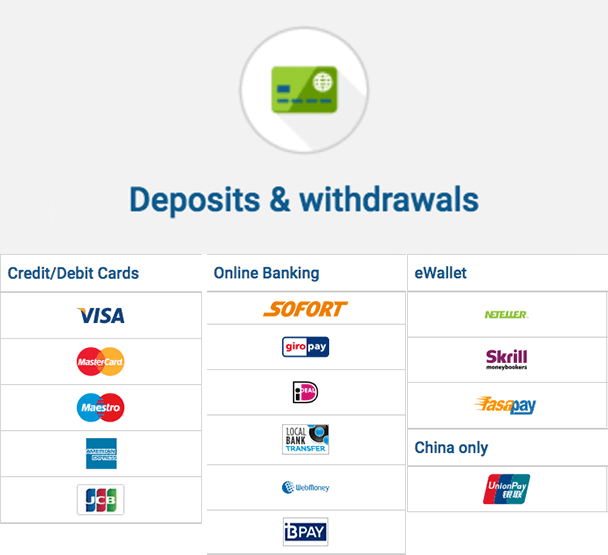 Some methods are country-specific.
There are generally no fees for deposits. Withdrawals on digital wallets attract very low fees. Bank wires will attract bank charges.
All payments must emanate from the payment method bearing the account holder's name.
Go to Broker
Risk warning: Capital can be lost. Terms and conditions apply.
8. Offers
8.) Additional Offers: Some Juicy Freebies for You!
When a customer creates an account with easyMarkets, there are some perks that comes with the new account.
First Deposit Bonus: For every new account, the first deposit is rewarded with an optional bonus of 30% to 50% depending on the amount deposited. The maximum bonus is $2,000.When you refer a friend to easyMarkets via email or through any of the social media networks, you can earn up to $750 provided that the referred friend makes a deposit. This is only available to clients above 18 years old.
The website features an "Education Centre" which is a repertoire of training lessons, webinars, videos, eBooks which teaches forex education. easyMarkets account holders also get free trading signals and sms alerts. The website also features a financial calendar, trading charts and market news.
The dealCancellation feature is an industry first. You can cancel a losing trade in which you made errors in analysis or execution within an hour of initiation. However, you pay a small token for it.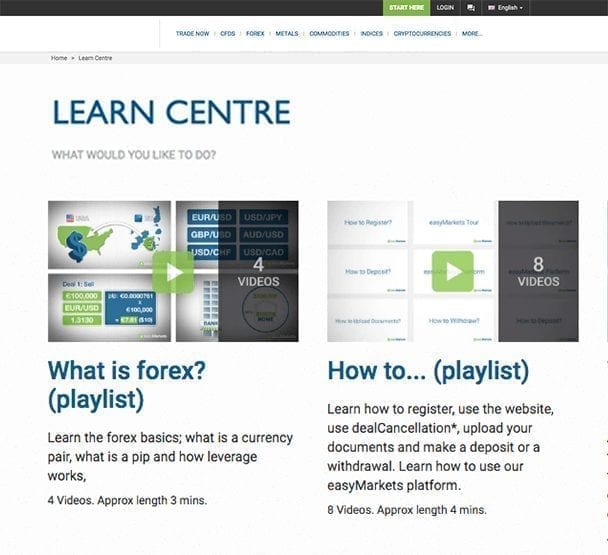 The easyMarkets First Deposit bonus can give you up to 50% bonus on your first deposit.
Earn up to $750 when you refer a friend that creates an account and makes a deposit.
EasyMarkets offers full training resources, trading signals and SMS alerts.
Go to Broker
Risk warning: Capital can be lost. Terms and conditions apply.
9. Regulation
9.) Regulation & Deposit Protection: Double Protection for You as a Trading Entity
Is easyMarkets forex trading legit? The proper to answer that question is to check if they are regulated by authorities. easyMarket is licensed in Cyprus by the CySEC and in Australia by the ASIC.
In the EU, easyMarkets operates as Easy Forex Trading Ltd. It is regulated and authorized by the Cyprus Securities and Exchange Commission (– CySEC License No. 079/07) In Australia, the brand operates as Easy Markets Pty Ltd. It is authorized and licensed by the Australian Securities and Investment Commission (ASIC), with AFS license No. 246566).
CySEC
Regulatory Authority
Thelicense numbers are conspicuously displayed in the official website. The company has the policy of segregation of funds. This means that all client funds are separate to easyMarkets company fund. The client money is safe and secure in top tier, low credit risk, global banks. They also maintain sufficient liquid capital to cover all client deposits, outstanding expenses and fluctuations in the system. They also have risk management procedures in place.
The website is well encrypted using a Secured Socket Layer encryption.  Know Your Customer (KYC) is carried out on every registered customer.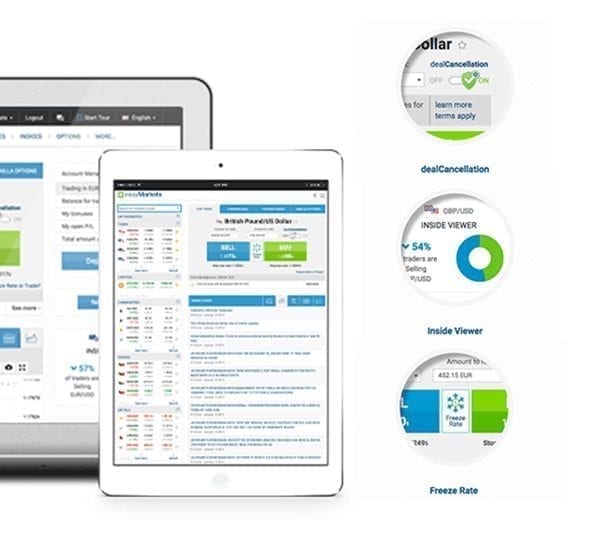 easyMarketsis licensed by CySEC (EU)and ASIC in Australia.
KYCverification is conducted during the account creation process.
Trader capital is segregated with top banks, offering protection from unlikely events or financial disasters.
Go to Broker
Risk warning: Capital can be lost. Terms and conditions apply.
10. Awards
10.) Awards: Trade with an Award-Winning Company
For the past 17 years, easyMarkets has been doing well, satisfying traders and winning multiple awards. Some of the awards are:
Best APAC Region Broker, 2018,  Most Transparent Broker, 2017, Best Forex Service Provider, 2017, Best Trusted by Investors, 2017, Best Trading Platform, 2017, Dobra Marka 2017 Poland, Best Trading Platform, Poland 2016, Excellent Trading Platform, 2016, Best Trading Platform, UK, 2016, Golden Consumer Award, 2016, Best Partner Program, Europe, 2015, Annual Innovative Products and Services, Best New Product,Best Professional Forex Investment Platform, 2013, Best Customer Service, Best ForexEducation, BestForex Retail Broker, Best News and Analysis Provider, Best Online Broker, Eastern Europe by World Finance Awards, 2012,Best Retail FX provider, 2010
Is easyMarkets legit? One of the criteria for determining the legit status of a broker is to look at that broker's trophy cabinet. As a winner of 36 awards over an operating span of 17 years, the legitimacy of easyMarkets is not in doubt. This broker certainly is impressive.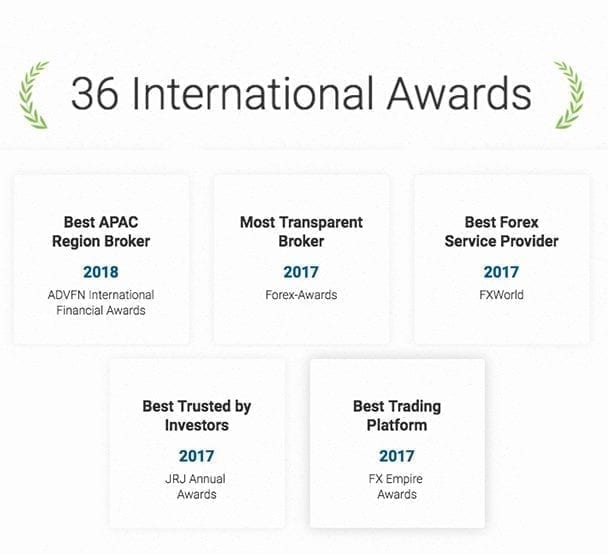 easyMarkets has been in the industry for over 17 years and still growing stronger.
The Broker has won over 35 awards over the years.
A forex broker comparison will show that best forex brokers will have a hard time matching the awards collection of easyMarkets.
Go to Broker
Risk warning: Capital can be lost. Terms and conditions apply.
Conclusion: Is easyMarkets a Good Broker? Absolutely!
easyMarkets is one of the oldest online brokers in the world today. As a regulated entity that has operated for 17 years with 36 awards to show, there is virtually no easyMarkets review that you will find online that has bad things to say about the brand. easyMarkets provides over 300 trading assets which includes 130 currency pairs, metals, energy and agricultural commodities, indices and vanilla options. The vanilla option is an interesting product, allowing traders to buy or sell options on various assets in the market. So easyMarkets does not just provide assets to trade; the company also provides various means of trading them.
You will also find that trading platforms are diverse. Whether you love to trade from home, on the web or on the go, there is a trading platform for you. Use the ground-breaking easyMarketsMT4, or the proprietary WebTrader platform, or download the mobile app from any of the app stores. Grab some of the powerful and sophisticated trade tools such as the Financial Calendar, or use the dealCancellation function to optimize the best benefits that online trading has to offer.
All trading on easyMarkets is leveraged and the maximum is 1:30. Use the leverages provided wisely, and also use the Education Suite to get informed about trading before you go live with real money.
Traders do not pay any commissions to trade on easyMarkets.
easyMarkets have won numerous industrial awards.
easyMarkets is a licensed and regulated brand.
Over 130 major currency pairs and 300 trading instruments.
Mobile application support with sophisticated features.
Test result
Broker

Go to Broker
Risk warning: Capital can be lost. Terms and conditions apply.