This review will save you some time by outlining which are worth shortlisting and why. It will cover the following:
What do different Forex trading platforms look like?
What Forex platform is good for beginners – The trading experience
What Forex platform is good for beginners – Added extras?
What Forex platform is good for beginners – Safety?
Final thoughts
What do different Forex trading platforms look like?
The trading platform is the interface between you and the markets. The functionality will influence how fast and easily you can navigate from screen to screen. The graphics may be different and account administration features may be easier or harder to find from broker to broker.
There are some platforms the have been developed by third party software developers and which are licensed to multiple brokers.
The MetaTrader, MT4 platform is one example but there are many more. MT4 is worth noting because it is the most popular retail forex platform in the world, with millions of users accessing it through tens of brokers.

Source: FXCM / MetaTrader / MT4
IG
Other platforms are developed in-house. Brokers with their own proprietary systems take the view that by designing and controlling their own platform, they'll be better positioned to service client needs. IG is one example of this and offers a mixture of both.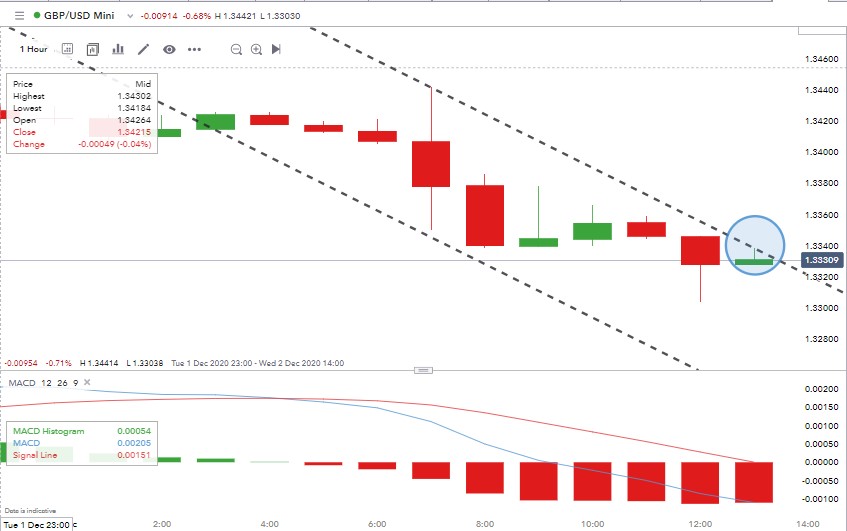 Source: IG
Given how important it is to get the right platform, there are brokers who offer three or four different platforms to choose from. Sometimes a mixture of both proprietary and third-party platforms incorporating off-the-shelf systems are available.
Successful trading comes down to having a clear strategy. That involves knowing what your trade entry and exit points are. It also involves making sure you're set up correctly. Finding a good fit for you is the aim, and setting up a few demo accounts to try out different platforms is a fail-safe way of finding out what works best for you.
What Forex platform is good for beginners – The trading experience
The spoiler-alert is that functionality obviously comes down to personal preference. Rating it using specific metrics is therefore difficult, but some brokers have obviously gone out of their way to cater to beginners.
The popularity of eToro is a sure sign of its ability to attract and keep clients. The firm now has 13 million registered users and account holders across the globe.
From log-in to trade execution, the platform is a lesson in simplicity. There is an abundance of thought-provoking trading ideas on hand, they're just kept out of the way to not clutter up the trading experience.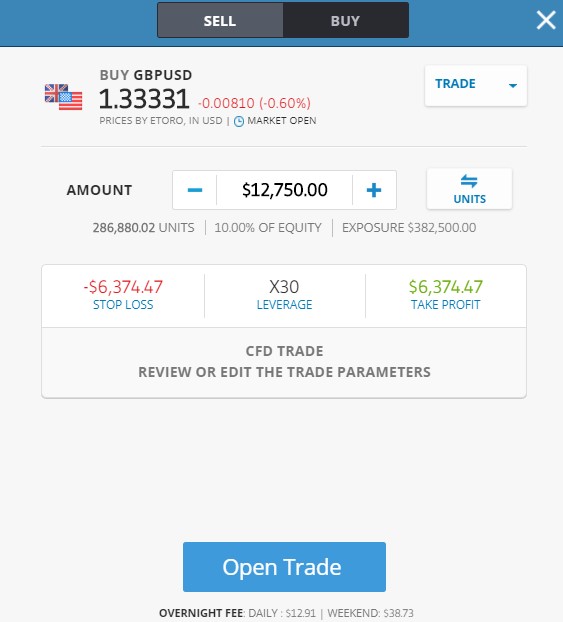 Source: eToro
The trade execution monitor shown above shows a buy trade of GBPUSD.
Data entry fields requiring traded amount and direction are presented in a way that minimise risk. Handy risk-management tools such as stop-loss and take-profit instructions can be built into your trade order before you pull the trigger.
Something else to look out for from different forex trading platforms are in-monitor guides. The base of the eToro execution monitor includes details of the costs associated with putting it on. Having those close to hand at time of trade can act as a good sanity check.
If you're looking for a different form of trading, then the cTrader platform is something to consider. It's a third-party package and offered by brokers such as Pepperstone (which offers cTrader and MT4).
cTrader is an aesthetically pleasing piece of kit. It has a fresh design and charting tools that are hard to beat. There is also a range of technical tools such as indicators and oscillators to help you design and manage trading strategies.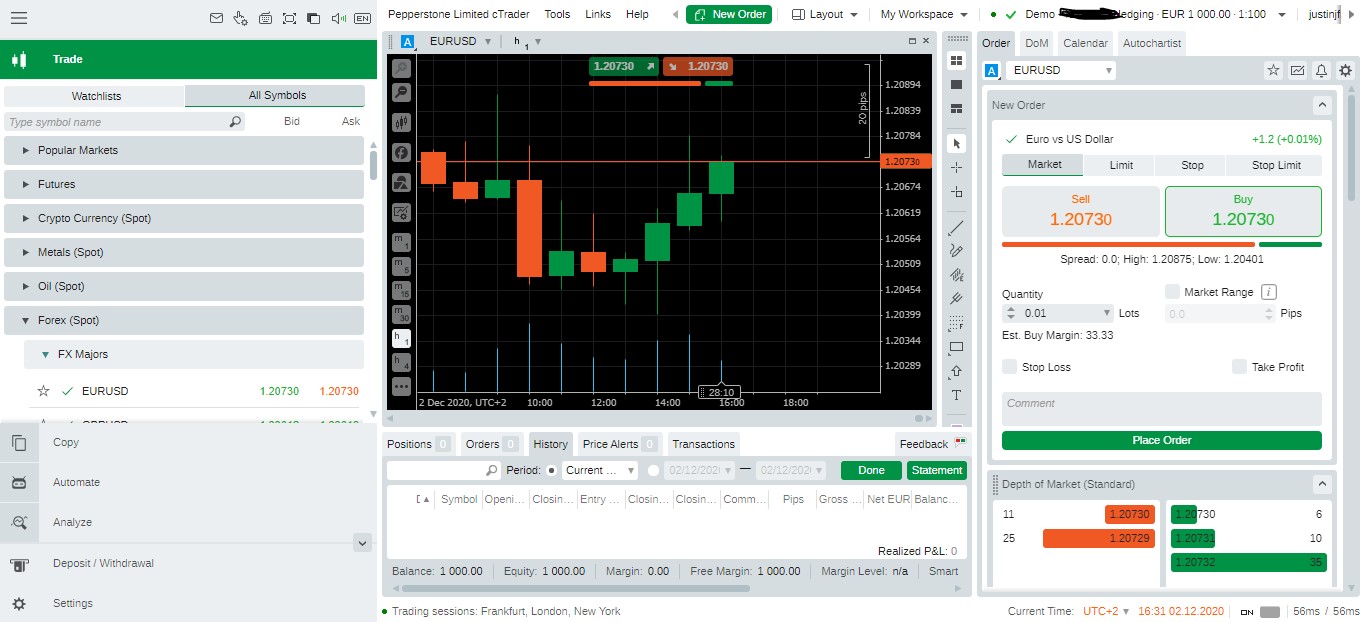 Source: Pepperstone / cTrader
Some of the monitors on the cTrader dashboard are a trader's dream. The 'Depth of Flow' screen gives background information on how many buyers and sellers are lining up to enter the market.
The trading experience at a good broker is one that will let you feel in control of your account and your trading. If you find yourself using one that is not ticking those boxes, it's probably a good idea to consider looking elsewhere as there is a wide choice in the market.
What Forex platform is good for beginners – Added extras?
Quality trade execution is an important part of the trading package. There are other aspects to consider as well, particularly if you are new to trading.
Pricing
The good news for traders is that pricing is one area where the brokers like to compete against each other.
You will find that some brokers offer 'zero comms' or offer a no-frills service, which is particularly cost-effective. It's important to also look past the headline rates that are advertised. These often refer to big-offer spreads, the price you buy and sell at, and there are lots of other charges to look out for.
Withdrawal fees can stack up. Some brokers charge $50 or more to return funds to you. Some, such as Pepperstone don't charge for cash deposits or withdrawals.

Source: Degiro
Some brokers charge inactive accounts. These can kick in as soon as you haven't traded for six-months and can also snowball if you're not careful. Again, there are some firms that position themselves as traders champions and have a policy of not applying these. One broker to consider if you want to avoid these charges is Degiro.
Trader's tools
Beginners may want to follow the old adage that you get what you pay for. Multi-asset brokers such as Plus500 have prices in line with their peer group but don't compete on price alone.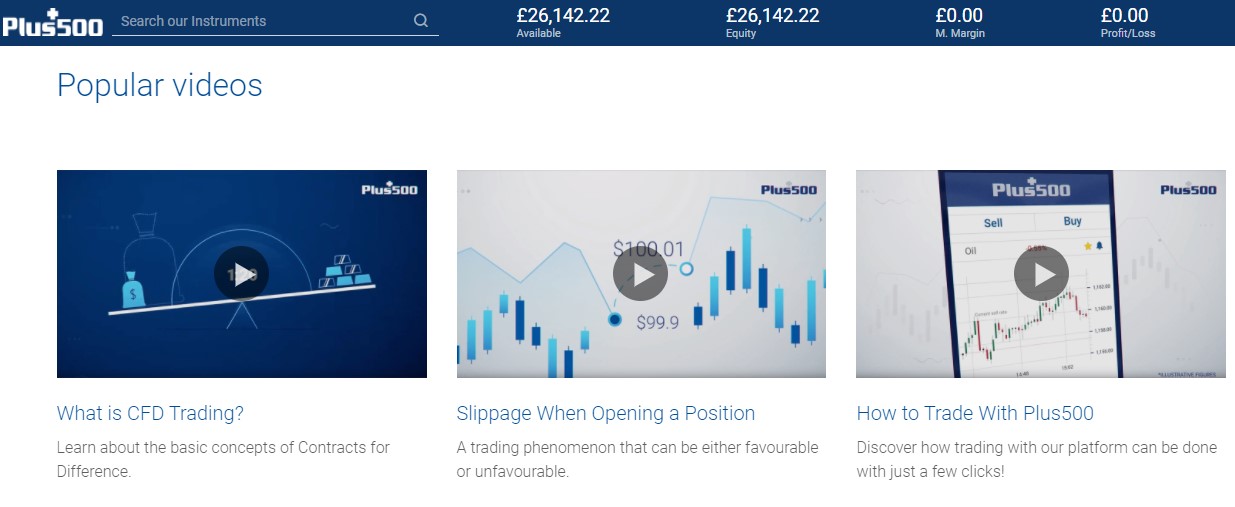 Source: Plus500
Instead, Plus 500, like a lot of brokers, offers a complete service, which includes learning and research resources. When you're starting out, it's very useful to hook up with a broker that has extensive 'How to …' style articles. You'll find that some provide it in a variety of formats, videos, written articles or e-books.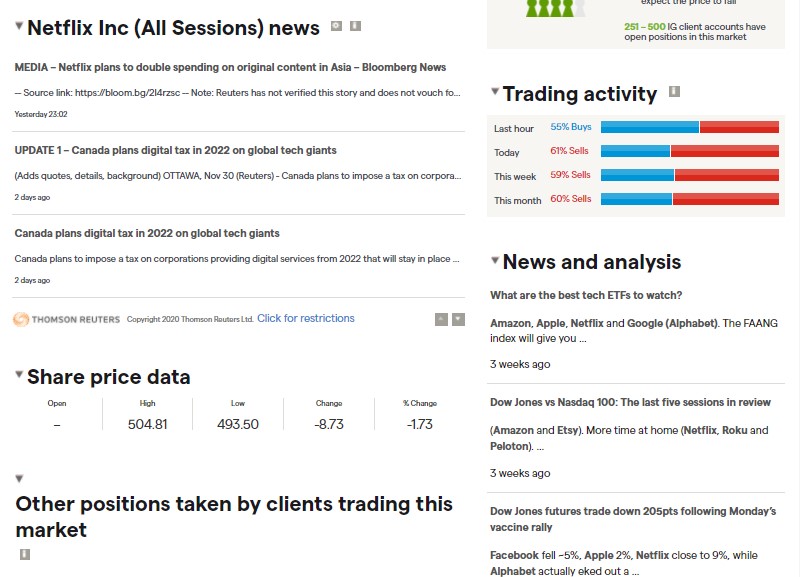 Source: IG
Second features to look out for are research and analysis tools. Brokers that provide up-to-date market reports and analysis of trading ideas can be invaluable to a beginner. The broker IG, for example, has individual profiles providing granular detail on thousands of stocks and its own on-line TV channel to help you keep up with market events.
Customer Support
One area where brokers do differ quite considerably. As a beginner its probably a good idea to prioritise this aspect of a platforms offering as you are likely to find questions arise as you step further into the markets.
Some of the platforms, such as that of eToro's have functionality that is so straightforward that it's unlikely you'll need to ask for help. If you have any concerns about being able to contact somebody at your broker it's probably worth starting out with a broker which offers Live Chat, Telephone and email as ways to call their staff.
Mobile trading, copy trading and robo trading
Whether you are a newbie or seasoned trader, the type of trading experience on offer has to suit your lifestyle.
Trading platforms offer three services that take some of the hard work out of keeping up with the markets.
One is Mobile trading. Most reputable brokers have set up to allow their clients to trade using the same platform but on a hand-held device. This review considers the best forex trading apps for beginners.
The second is 'copy trading' where you apply the trading decisions of other, potentially more experienced traders, to your account.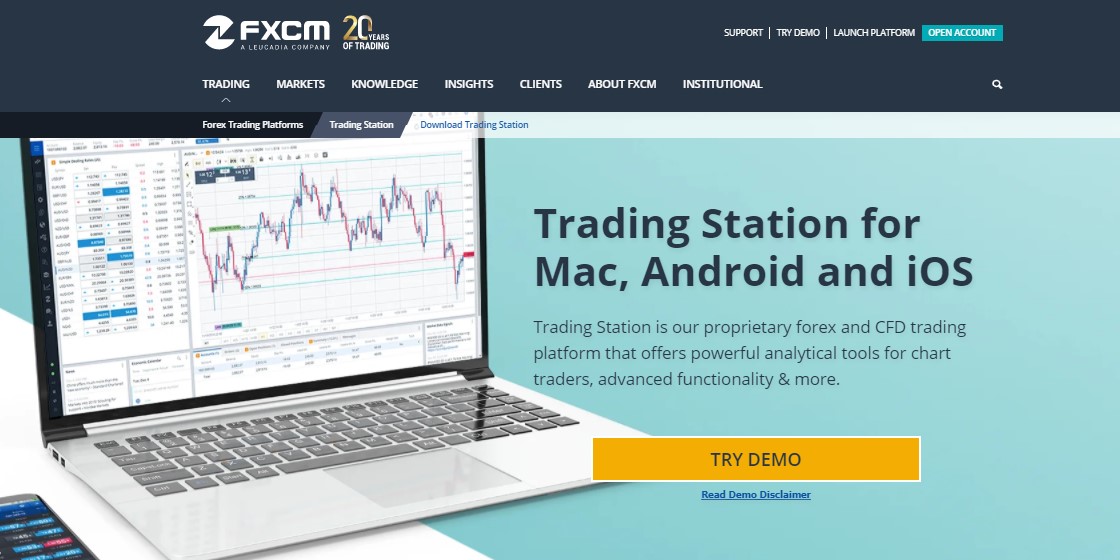 Source: FXCM
The third is 'robo trading', where you can set your account to trade using algorithms that you have developed or bought from a third party. FXCM provides its clients with the choice of two platforms, one is its proprietary 'Trading Station' platform and the other is MT4. The latter being a market leader in terms of automated trading.
What Forex platform is good for beginners – Safety?
One of the most important things for a beginner trader to consider is the risk of losing all their money. Trading amounts of money that you can't afford to lose will make you an emotional trader and doomed to fail. A trading psychology requires calm calculation and in-depth planning.
The fact that you are trading in a size you can afford to lose doesn't lessen the blow if you sign up with a fraudulent broker and there are unfortunately some of those in operation.
Ensure that your broker is regulated by a Tier-1 investor. Three names to look out for are:
The Financial Conduct Authority (FCA)
The Australian Securities and Investments Commission (ASIC)
The Cyprus Securities and Exchange Commission (CySEC)
UK brokers which are part of the FSCS scheme offer clients access to the government-backed program that protects up to £85,000 of client funds in cases of insolvency.
Other factors to consider are how long the firm has been established. The question of whether they are they publicly or privately owned will determine how transparent reports relating to their financial viability are.
Internet searches and chat-rooms set up by members of the trading community are also a good place to run background checks on your shortlisted brokers.
Final thoughts
With your shortlist of platforms complete, the next step is to register for a demo account and try each one out. They are free to use and by trading virtual funds in real-time markets you'll find you not only get to check out the broker but also improve your trading skills.
Choice does ultimately come down to user-preference, but pairing your platform with an established broker that takes client support seriously is a good starting position. Focussing on trimming costs could end up being a false economy if it means you're underprepared to start trading.
People who read this also read: