Are you thinking of investing in the stock market given the recent rally? Would you like to know which stocks are most likely to rally and do not cost an arm and a leg?
Well, you are in the right place as we will cover small-cap and micro-cap stocks with the potential for massive gains in this article. We will dive into the details of investing in such stocks and the potential rewards as well as costs.
What Are Small Cap Stocks and Micro Cap Stocks?
Small-cap stocks are companies whose market valuation ranges from $300 million to $2 billion. Microcap stocks are companies whose valuation ranges from $50 million to $300 million. Small-cap and micro-cap stocks are some of the best stocks to invest in given their significant upside potential.
Best Small-Cap Stocks to Buy
1.  Hammerson
Hammerson is a leading British property development and investment company. The company has had a tough year after most retailers were forced to close due to the coronavirus pandemic. However, it devised a turnaround plan that involves the disposal of some of its retail properties to minimise exposure to the troubled sector. The company has a new CEO and seems to be turning its fortunes around, which could generate impressive gains in the near future.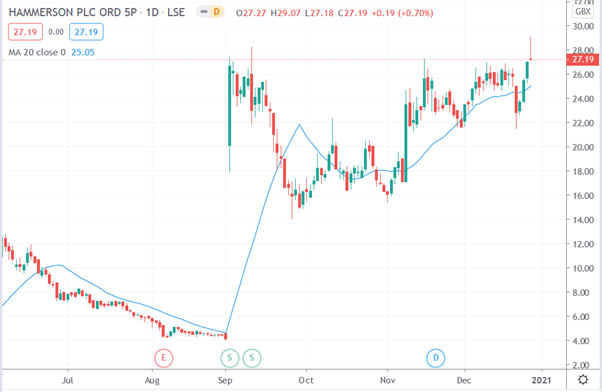 Hammerson share price
2.  Marston's
Marston's is a popular British pub chain whose revenues have taken a hit due to the coronavirus lockdown measures imposed this year. However, the company has done much better than other pub chains given its huge presence in the suburbs. The company reported that July, August, and September sales were down 10% as versus last year, which was 7% better than the industry average. Marston's has outperformed its peers this year and this is likely to continue.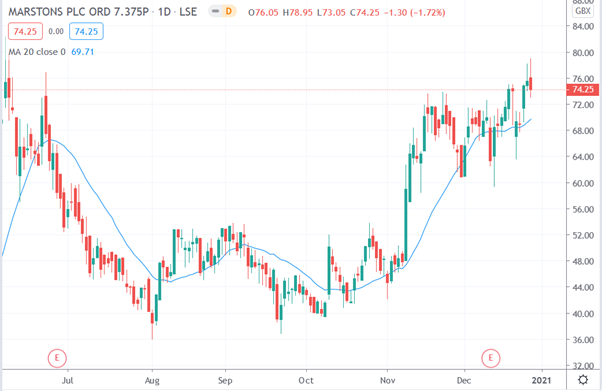 Marstons share price
3. Oxford Biomedica
Oxford Biomedica is a British biotech company that produces gene-based treatments based on gene and cell therapy technologies. The company struck it big when AstraZeneca gave it a supply contract worth millions to produce its COVID-19 vaccine earlier this year. The company has been operating for the past five years and has consistently lowered its cash burn although it is yet to turn profitable. The company has robust finances and minimal debt and is likely to do well in 2021.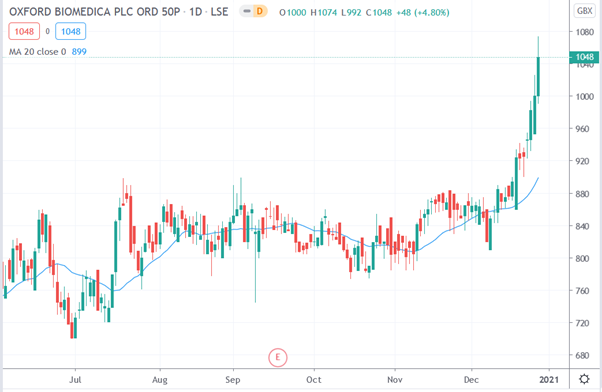 Oxford Biomedica share price
4.  Novacyt
Novacyt is a leading cellular diagnostics company whose stock has benefited from the coronavirus pandemic. Novacyt is one of a few companies that have accurate COVID-19 diagnostic tests. The company recently announced that its tests can identify all available strains of the coronavirus after new strains were identified in various countries. The company will keep benefiting from the coronavirus pandemic via its testing kits. Novacyt is also exploring other revenue streams to sustain it once the coronavirus pandemic is over.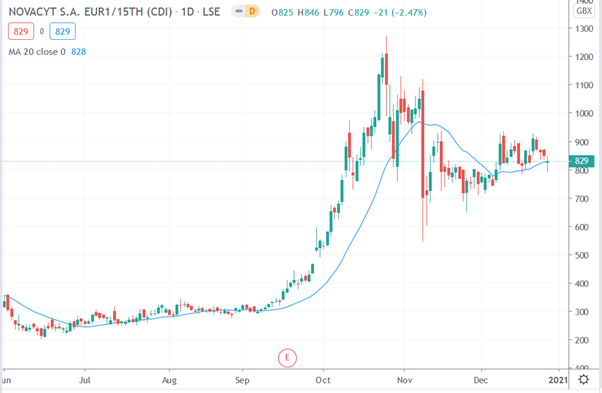 Novacyt share price
5.  Centamin
Centamin is a UK-listed gold mining company that operates the world-class Sukari gold mine in Egypt and other mines in Western Australia. The company's shares fell heavily earlier this year due to production issues at the Sukari mine, but the new CEO has created a turnaround plan for the mine. The cost-cutting measures introduced recently are likely to pay off. Centamin's fortunes are likely to turnaround in 2021 given the rising gold prices and the higher production expected at Sukari.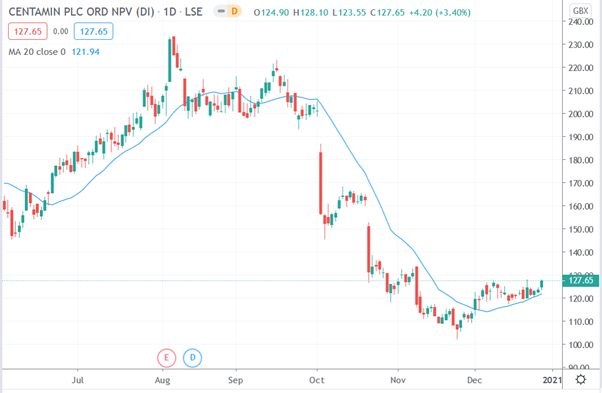 Centamin share price
Best Micro-Cap Stocks to Buy
6.  Synairgen
Synairgen is a British biotech company specialising in drug discovery that saw its share price surge over 2,500% in 2020 due to its COVID-19 drug candidate. The company's coronavirus treatment has yielded positive results in all clinical trials triggering the massive rally. Synairgen shares are likely to rally much higher in 2021 once their COVID-19 treatment is approved for use by major regulators such as the US FDA. The company is currency doing advanced clinical trials in the US.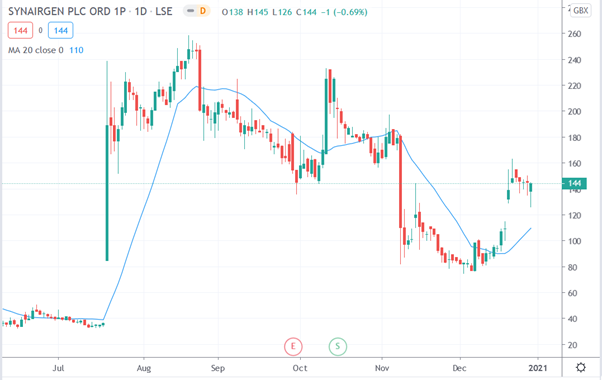 Synairgen share price
[email protected] is an inventory monetisation company that listed on London's AIM market in March 2020 and went on to rally 538% by December. The company has an innovative method of monetising the inventory held by businesses before it is sold. [email protected]'s services are in high demand given the major supply chain disruptions brought about by the coronavirus pandemic. The company is led by an experienced CEO and team and is rapidly expanding within its target markets.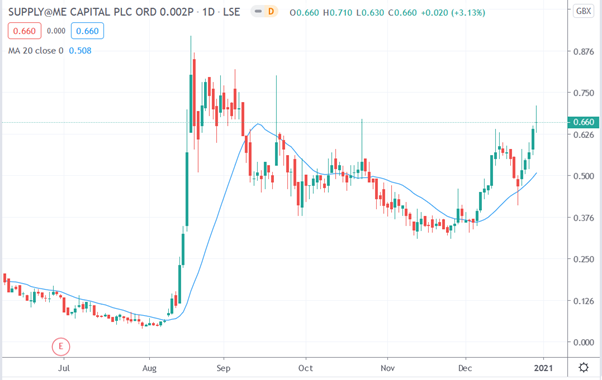 [email protected] share price
8.  4D Pharma
4D Pharma is a biotech company that pioneered the use of bacteria as a new class of medicines called live biotherapeutics. The company made major steps in advancing some of the treatments it is working on such as its IBS drug, cancer and asthma treatments. 4D Pharma holds over 1000 patents in its field and is working on numerous treatments in various stages of development. The company's stock is likely to rally as various drugs hit major expected milestones.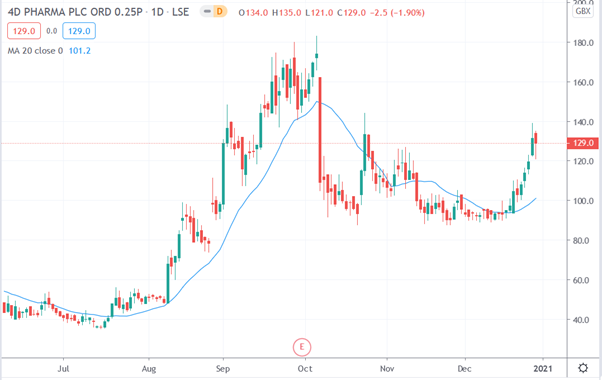 4D Pharma share price
Why Invest in Small Cap Companies
The main advantage associated with investing in small-cap shares is that their potential returns are quite high as compared to large-cap companies. For example, if a small-cap stock trading at $1 rallies to $5, which is very likely, the investor books a 500% gain. As opposed to a $50 gain on a company trading at $200, which translates to a 25% gain.
What to Know Before Investing in Small Cap Companies
There a few things you must keep in mind when investing in small-cap stocks, they are highly volatile and may experience massive price swings on a day to day basis. Most small-cap stocks might not be profitable since they are still building their business, which means that you are unlikely to get any dividend payments. Also, try to invest only in companies whose business model you understand as this will help you manage your investments better.
How to Trade Small-Cap Stocks Online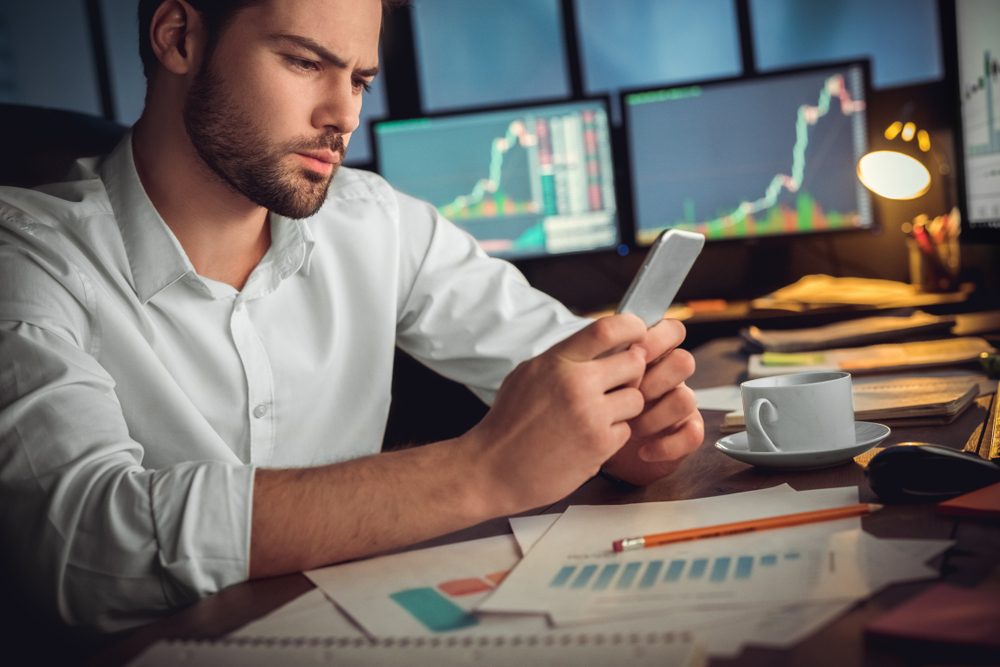 Research Shares
Firstly, you need to research the companies that you want to trade and choose the ones that meet your specific criteria. You could be looking for stocks that adhere to ethical investing standards, or companies in a particular industry, or very volatile stock. By researching the stocks you want to trade, you are doing your due diligence and weeding out the stocks that do not fit your criteria, leaving you with the very best stocks.
Find a Broker
Nest, you need to find a broker who has access to the shares of the companies you want to trade. Asktraders has researched most of the brokers in the industry and has singled out the very best brokers based on various criteria. Check out our list of verified brokers to choose the one that meets your specific needs.
Open & Fund an Account
Once you have chosen a broker, you need to open an account with them and deposit funds into your account so that you can start trading. Sometimes, it might take a day for the broker to verify your account so that you can start trading your preferred stocks.
Set Order Types
It is advisable to set the price at which you want to buy or sell a stock using what is known as a limit or stop order. Choosing either of these order types will ensure that you buy the stock at your chosen price. Still, there is a risk that your preferred price may not be available, in which case you might have to adjust your price to align with market prices.
Select & Buy Shares
You can choose to trade on stock or multiple stocks, but it is prudent for beginners to trade a maximum of just five stocks as they learn the markets. You can increase the number of stocks and trades you make over time as you get more experience. Remember not to panic buy or sell, but to trust your research and stick to your trading plan.
Best Broker for Trading Small Cap Stocks Online
eToro:
68% of retail CFD accounts lose money
Take a look
From 0% commission to low trading fees and top-tier regulation, these brokers are best-in-class when it  comes to buying and selling Small Cap Shares.
Whether you're a new trader looking to get started with investing or just curious, these trading platforms are perfect for beginners. Not only are each of these brokers fully regulated – providing a safe and secure trading environment – they are fully equipped with everything you need to succeed. This includes a wide range of stocks to choose from and educational resources to help you get started and make your first trade.
Summary
Small-cap stocks offer some of the best investment returns given that they typically have the potential to rally much higher than their large-cap counterparts. Such stocks can multiply their valuation many times over in a short period of time, which makes them very attractive. However, small-cap stocks are considered to be riskier than large-cap stocks and investors should always be aware of these risks, which have been outlined above.
Related: