For some, betting against real-world businesses that employ thousands of people suggests the financial markets are overstepping the mark. The counter-argument is that without checks and measures, a bad company's share price can overshoot.

As even retail traders can use online CFD brokers to sell short, this article will explain the basics and introduce some of the nuances associated with the sometimes murky world of short-selling.
1. Premier Oil — percentage of total shares shorted = 17.1%
Premier Oil is a perennial favourite of short-sellers. The oil exploration firm's operations are, by definition, hit-or-miss and plenty of investors have for some time been happy to bet against the firm's prospects.

Source: Shorttracker.co.uk
In the tail-end of 2019, more than 22% of the firm's shares had been sold short and the 2020 collapse in oil prices and the company's high debt levels saw Premier Oil shares fall from 119p to 16p. While some of those short positions were closed out at a profit, short interest is once again on the rise.
2. Petrofac Ltd — percentage of total shares shorted = 9.3%
Five hedge funds have taken short positions that are so large that they've had to be disclosed to the financial regulator. Recent data shows that four of those five have, in January and March of 2021, added to their positions.

Source:  Shorttracker.co.uk
The firm provides oilfield services to other household names in the sector. The recovery in oil prices meant that the actual business of getting the oil out of the ground picked back up, but it appears some hedge funds are betting against that, providing the Petrofac share price with only short-term relief.
3. Sainsbury J Plc — percentage of total shares shorted = 7.0%
Sainsbury's is the first of two supermarket operators to find themselves in the top-10 of shorted UK stocks. This fact that they are two of the most shorted stocks partly reflects challenges facing the sector as a whole but also indicates problems that are specific to the firm.

Source:  Shorttracker.co.uk
At the same time, that short-interest has built in Sainsbury's tech-orientated rival Ocado, which has seen its share price sky-rocket. The delivery-only service doesn't have the same overheads as Sainsbury's and has cut into market share. Sainsbury's has also embarked on a merger with catalogue retailer Argos. The plan is to bring Argos stores into branches of the supermarket, but some are betting that that gamble won't pay off.
4. Hammerson Plc — percentage of total shares shorted = 6.6%
The Hammerson share price has had a torrid time over the last few years. It's plummeted from 700p to around 30p due to the firm's core business model being decidedly out of favour.
The owner/manager of large retail sites has faced structural challenges, which were exacerbated by COVID-19 and a consumer shift towards online shopping.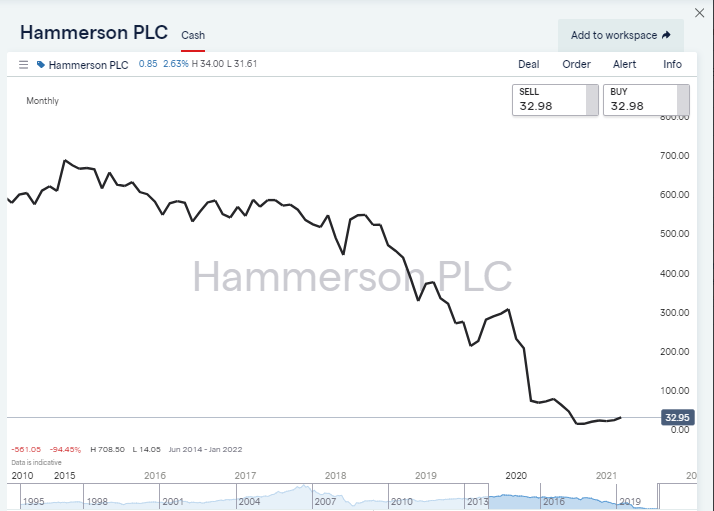 Options to apply for change of use and turn developments into offices and homes appear to be the last throw of the dice of a firm that has only £29m of cash on its balance sheet but £2.6bn of debt.
5. Tullow Oil Plc — percentage of total shares shorted = 6.2%
Tullow Oil, like Premier Oil, has a share price closely correlated to the oil price. The exploration firm can see its pipeline of contracts evaporate when crude prices slump, and in 2017, short interest in the firm peaked at just over 16%.

Source: Shorttracker.co.uk
However, the Tullow share price has been unable to rally from the March 2020 depths. The stock, which traded at over 800p, 10 years ago, has traded below 100p for more than one year. It has for some time been one of the most shorted shares in the UK and that situation doesn't look likely to change in the near future.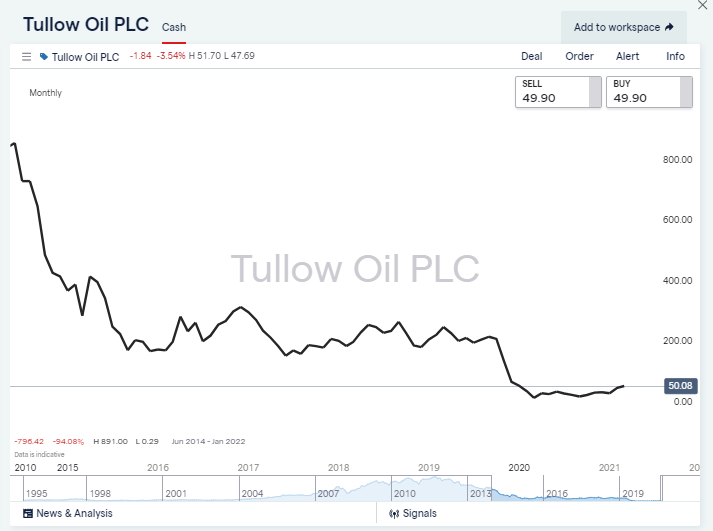 6. Cineworld Group — percentage of total shares shorted = 5.6%
The COVID-19 pandemic and enforced closure of its cinemas left Cineworld close to bankruptcy. Emergency loans arranged in Q4 of 2020 have given the firm a chance of recovery, but there is still a risk that investors could be about to take part in a horror story.

Source: Shorttracker.co.uk
Five hedge funds have sizeable, short-positions in Cineworld and their recent activity in the market confirms Cineworld's future hangs in the balance. While three hedge funds have scaled back on their bets, two have increased the size of their shorts.
7. Petropavlovsk Plc — percentage of total shares shorted = 5.6%
Short interest in Petropavlovsk is made up largely by one hedge fund, Polygon Capital Partners LLP. It has shorted 4.61% of the stock and looks to be basing a lot of that decision on a boardroom bust-up in June 2020.

Source: Shorttracker.co.uk
Activist investor Everest Alliance who owns 7.5% of the gold miner, has threatened legal action against seven directors of the firm who it accuses of not representing the interests of investors.
8. WM Morrison Supermarkets – percentage of total shares shorted = 4.5%
Supermarket giant WM Morrison has suffered from competition from market sweetheart Ocado, but its position at the value end of the sector has left it struggling to hold market share from discounters Aldi and Lidl.

Source: Shorttracker.co.uk
The two-pronged attack has seen short interest in the supermarket hold at around 5%. These downward bets might not be based on the firm going bust but based on 'Pairs Trades'. Pairs strategies are popular with hedge funds, which short one stock and go long another to run market-neutral strategies. The interest in Ocado has encouraged many to go long that name. Looking around for stocks to short found Morrison an easy pick.
9. Domino's Pizza Group Plc — percentage of total shares shorted = 4.4%
Domino's Pizza has struggled as new entrants have flooded the food delivery sector. Start-ups such as Deliveroo and Just Eat have been backed by big investors and focussed on building market share rather than turning a profit, which has left Domino's struggling.

Source: Shorttracker.co.uk
The Pairs Trade phenomena can also be blamed for the short interest in Domino's. Those funds looking to go long Just Eat Takeaway NV or DoorDash or Uber, but who want to hedge against market risk, will have had Domino's on their shortlist of stocks to short.
Long-Short / Pairs Trades strategies don't require you to think one firm is going bust — just that it will underperform relative to the long position.
10. Metro Bank Plc – percentage of total shares shorted = 4.0%
One question for short-sellers is 'how low do you go'? The Metro Bank share price has been tumbling for several years but could be showing signs of recovery, or at least bottoming out. The reduction in the percentage of short positions mirrors that move. Part of the uptick in price will be funds buying back the stock they shorted at higher levels.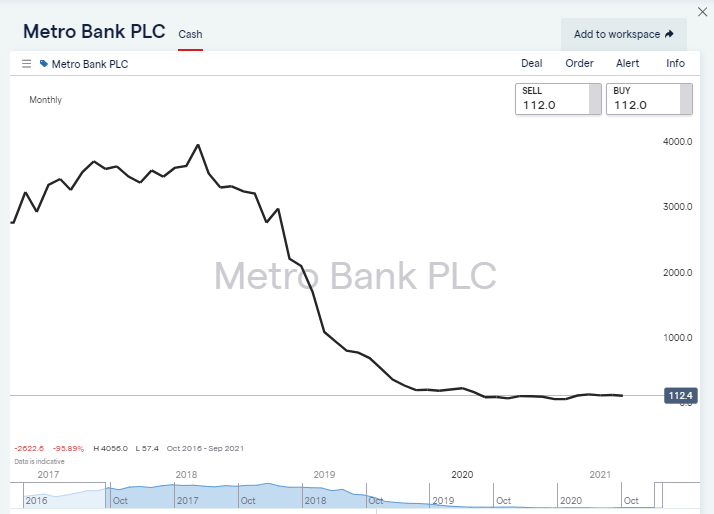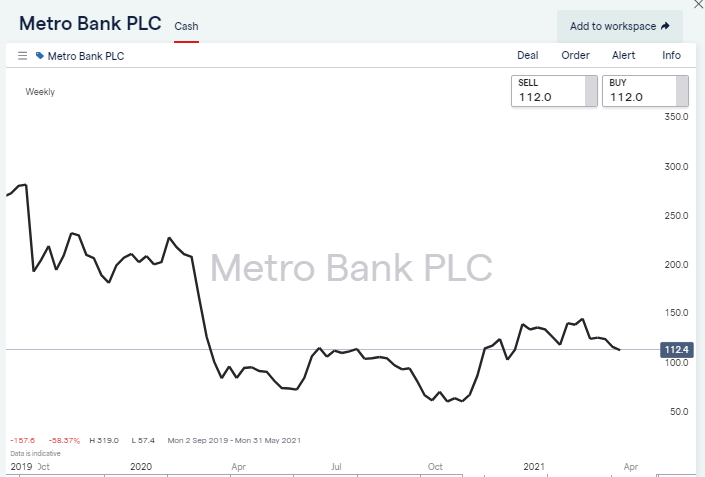 Source: Shorttracker.co.uk
Metro Bank entered the UK banking sector as an innovative disruptor and initially won industry and consumer acclaim. It made the error of not getting the basics right and, in 2019, misreported its financial statements. Investors see red flags appear whenever there is an accounting error, but particularly if the culprit is a bank.
The Basics of Short-Selling
How it works
At face value, short-selling looks very much like taking a long position. In some ways, it is, but there are subtle differences you need to be aware of, not least because they could blow your account out of the water.
The easy part is that if you short 10 shares in stock ABC at a price of $20, and price falls to $18, your total profit = 10 x 2 = $20.
Short squeeze — If the price in ABC goes against you, it can technically carry on rising an infinite amount. If it reaches $100, your total loss = 80 x 10 = $800. This loss being four times larger than the size of the trade you initially put on, which was 10 x 20 = $200.
The much-publicised 'short-squeeze' in GameStop left several hedge funds nursing losses of billions of dollars.
There are additional costs involved in short selling. These accrue daily, so if the sell-off you anticipate will happen takes time to kick-in, you will eat into potential profits.
The Best Ways to use Data
Some time ago, short-selling was much less regulated. Firms could take short positions, and that was that. In a response to claims of market manipulation, authorities now require anyone with a short position of a certain size to report it and sites like Shorttracker collate and report that information.
As with going long, short sales still require traders to get their trade entry and exit points right and this article discusses that part of the process in more detail.
How to Trade the UK's Most Shorted Stocks
Any online broker offering stock CFDs will support short-selling. There are a lot of good, trusted brokers to choose from, but make sure the one you opt for is regulated by an authority such as the Financial Conduct Authority (UK).
Sign up for an account using the online registration process
Fund your account by wiring funds. Brokers support a variety of payment process agents, including debit/credit cards and bank transfer.
The trading platforms are exceptionally user-friendly, and it won't take you long to find the stock you want to short.
Execute your trade — enter the amount you want to buy, consider using the risk management tools stop losses and take profit orders, then click 'sell'.
Check your trade — visit the portfolio section to review your activity and make sure you haven't made any 'fat finger' errors.
Best Brokers to buy Stocks:
eToro:
68% of retail CFD accounts lose money
Take a look
If you are ready to add some stocks to your portfolio you'll need a broker that is regulated, has low fees and a user-friendly platform. Finding one can be a daunting task, which is why we've selected some of our favourites that tick all of these boxes to help you get started.
Summary
The core process of short-selling stocks works on the same principles as buying a long position. The execution of the trade using an online broker also follows the same pattern — you just click 'sell' rather than 'buy'.
Tools such as the short tracker can offer an insight into the mood in the market or be a useful tool for those considering Pairs Trades / Long-Short strategies. While it has inherent risks, short selling was originally developed to allow traders to reduce risk on otherwise long portfolios.
A 'naked short' just selling outright can be a riskier proposition. Not only are losses potentially infinite, but equity markets tend to rise gradually over a long period, with short and dramatic sell-offs occurring at irregular intervals.
Getting stuck in a short position can be a painful and long drawn out experience. You might be correct in your analysis that a particular stock is overvalued, but if there isn't a catalyst that brings that fact to the attention of the rest of the market, price can continue to creep up. If that happens, it can feel like you're enduring a 'death by a thousand cuts'.