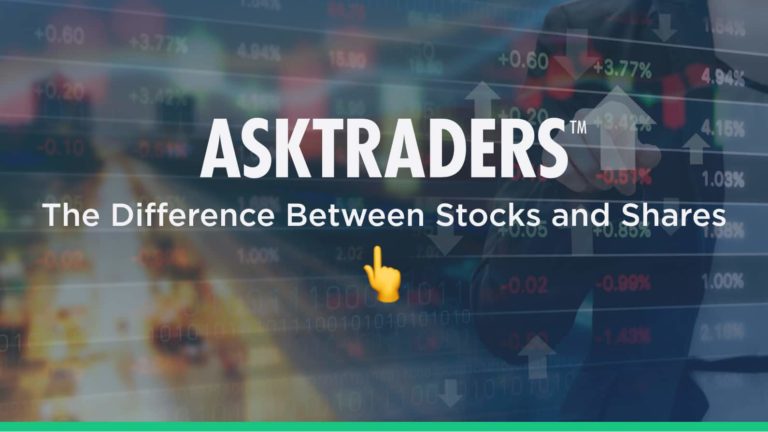 Read on, where this article will cover:
What are stocks?
What are shares?
When can the difference between stocks and shares be significant?
What are Stocks?
The stock of a corporation is the paper and electronic register of ownership. If the company ceased trading, sold all its assets and met all its liabilities, what remained would be shared on a pro-rata basis among those holding stock.
In practical terms, the word stocks has a broader meaning than shares. The term can be used in different contexts to give it more than one meaning.
Stocks = Shares
The word stocks might be used to describe the stock of a particular company, for example, Tesla Inc (Nasdaq:TSLA)
If you fancy investing in electric vehicles and feel Elon Musk is the man to make a profit out of greener transportation, then you can buy Tesla stock. To make sure you're purchasing the right thing, the platform you use will have a database of identifiers which maps Tesla stock, to the ticker TSLA, and the ISIN identification code: US88160R1014.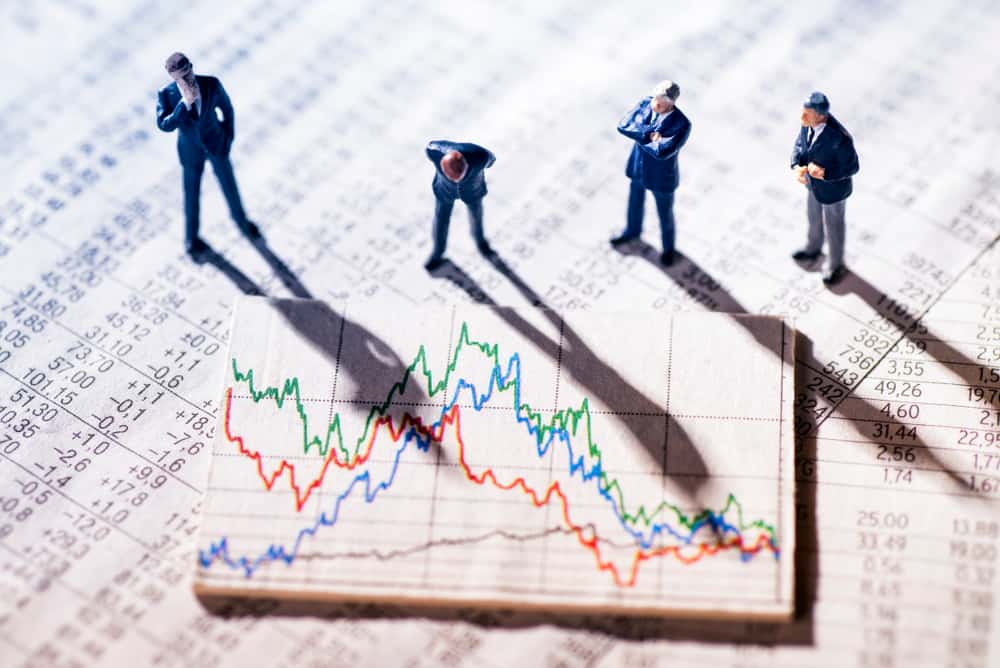 Stocks > Shares
Stock though can refer to the whole of Tesla, not just your holding in the company. In this case, you might hear reports saying "Tesla stock has fallen 10% this afternoon because Elon Musk has …"
Stocks = a sector
The term stocks may then be used at a higher level again – in the plural and relating to an entire sector. Making a profit is all about timing and it could be that you hear, "I invested heavily in EV stocks. Right across the board. But got out just in time, the day before Musk was found to be…"
Stocks = the market
Then there are stock exchanges. The marketplaces where firms can be listed and their ownership broken down into smaller pieces and sold to investors.
What are Shares?
The definition of shares might sound familiar.
Shares of a corporation, are the units of paper and electronic certificates that form the register of ownership. If the company ceased trading, sold all its assets and met all its liabilities, what was left would be shared on a pro-rata basis among those holding shares.
Although stocks and shares are essentially the same things, the term 'shares' is possibly best seen as a sub-set of stocks. To be used when talking about a specific holding taken in a company.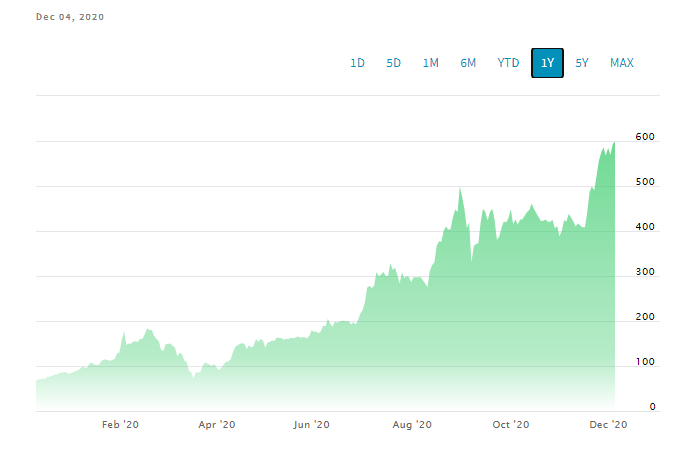 Source: Nasdaq
To put it another way. Everyday use of 'stocks' refers to stock markets and firms and shares to the holdings of individual shareholders.
"I read a report recommending everybody buys Tesla Stock?"
"I like your thinking and in fact I already own some Shares."
You will hear people occasionally use the term share-markets and stockholders; however, the established understanding is to use them the other way around. It's a grey area and you could challenge the orthodoxy but most in the market are happy to be aware of the subtle nuances of the situation.
When can the difference between Stocks and Shares be important?
To all intents and purposes, stocks and shares are terms that can usually be used interchangeably. However, there are some situations when it does matter. Executing trades in what you want to be trading is, after all, the first crucial part of the trading process.
Location
The difference can become more relevant depending on where you are investing. The Indian Companies Act of 2013 defines a share as the smallest unit into which the company's capital is divided. A stock is defined as a collection of shares, converted into a single fund.
Listings
Possibly more important is that corporations can have several 'listings'. As some institutional investors can only invest in stocks listed in their own country, firms might look to list in multiple locations.
Tesla's primary listing is on the Nasdaq. It's priced in USD, and most of the global trade in the firm takes place on this exchange.
If a German pension fund or an Argentinian HNWI is unable or unwilling to convert its capital to USD and set up an account which trades US markets, they can instead trade a local listing. The tickers TSLA.F and TSLA.BA relate to the Tesla shares traded on the Frankfurt and Buenos Aries stock exchanges. These are priced in EUR and ARS, respectively.
Dual-listings
In the case of Tesla, the main action takes place on the Nasdaq. The other eight listings are an attempt by the carmaker to hoover up as much international investment as possible so that it can build its Giga-factories.
Royal Dutch Shell, the oil & gas giant, has two listings, which are of equal importance. The firm was formed by the merger in 1907 of the Royal Dutch Petroleum Company and the Shell Transport and Trading Company of the UK.
The deal made commercial sense, but neither the Dutch nor UK shareholders of the two individual companies wanted to vote it through if it meant they would then hold shares traded on a foreign exchange.
To appease investors, the firm adopted a dual-listing approach and for more than 100 years, shares in Royal Dutch Shell have traded simultaneously on both the Amsterdam and London stock exchanges.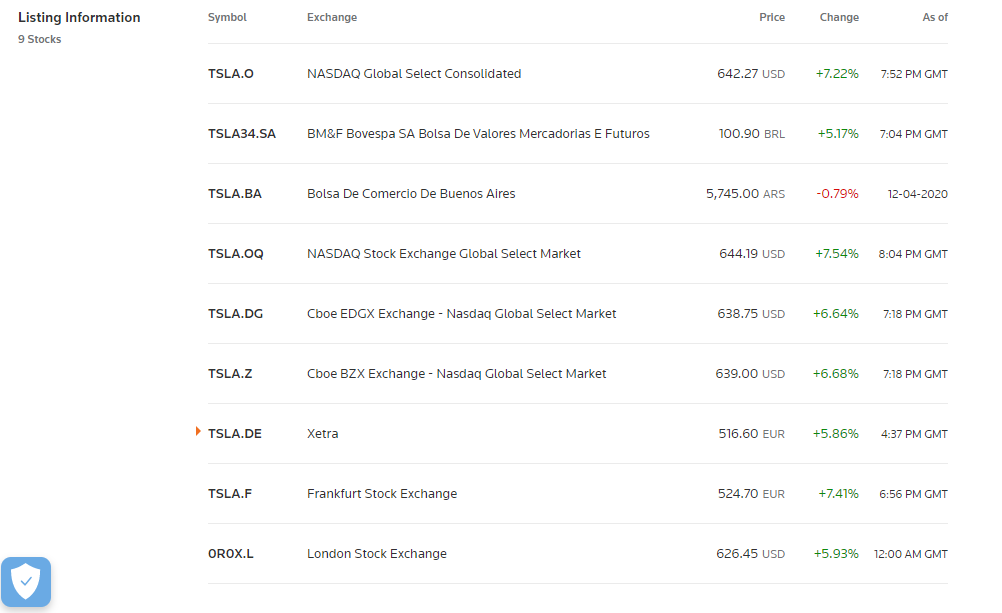 Source: Reuters
How to Buy Shares and Stocks
Buying stocks or shares is an easy and straightforward process. Firstly, you will need to have an account with a broker, but if you don't already, you can check out our reviews of the top-rated stockbrokers here.
Once you have an account, the next thing you will need to do is sign in to the platform and search for the stock you want to buy. One important point to note is that if you are trading Stocks-CFDs, you won't be buying the underlying asset, so you will need to make sure you have the correct account to do so.
Once you have found the stock you are looking for, you will need to fill in the details regarding how many shares you want to purchase and then click the 'buy' or 'submit' button.
Best Brokers for Trading Shares and Stocks:
eToro:
68% of retail CFD accounts lose money
Take a look
If you are ready to start investing in stocks or shares and building your portfolio you'll need a broker that is regulated, has low fees and a user-friendly platform. Finding one can be a daunting task, which is why we've selected some of our favourites that tick all of these boxes to help you get started.
Final Thoughts
Shares and stocks were invented hundreds of years ago to allow investors to take part-ownership of a business. The intention being that the firm used the capital they invested to generate more returns.
Spotting those win-win situations is more important than keeping track of subtle linguistic differences.
The terms stocks and shares are used to explain the same thing – the process of investors using cash to buy a stake in a firm. In exchange, investors put their capital at risk but become a part-owner of the company and are entitled to a percentage of any future profits it makes.
Language, after all, is continually evolving. In 50 years, it might be that the accepted meaning reverses and people use the phrases the 'share market' and 'stockholders' as default options.
The question 'what is the difference between stocks and shares' does reinforce the need to be sure to check you are trading the right market. There are potential trip-hazards.
If you're new to trading then spending some time booking trades in a demo account can be a good start. It's a risk-free way to practise booking trades. But the fact you are trading virtual funds does not mean there is no need to check and double-check that your trading portfolio comprises what you want it to contain.
People who read this also read: