Samsung products can be found in almost every home. The South Korean-based tech giant sells products across the globe and has strong positions in key growth markets. It has about 20% of the global market share in smartphones, and its laptops and tablets have seen an increase in demand as populations get used to working from home.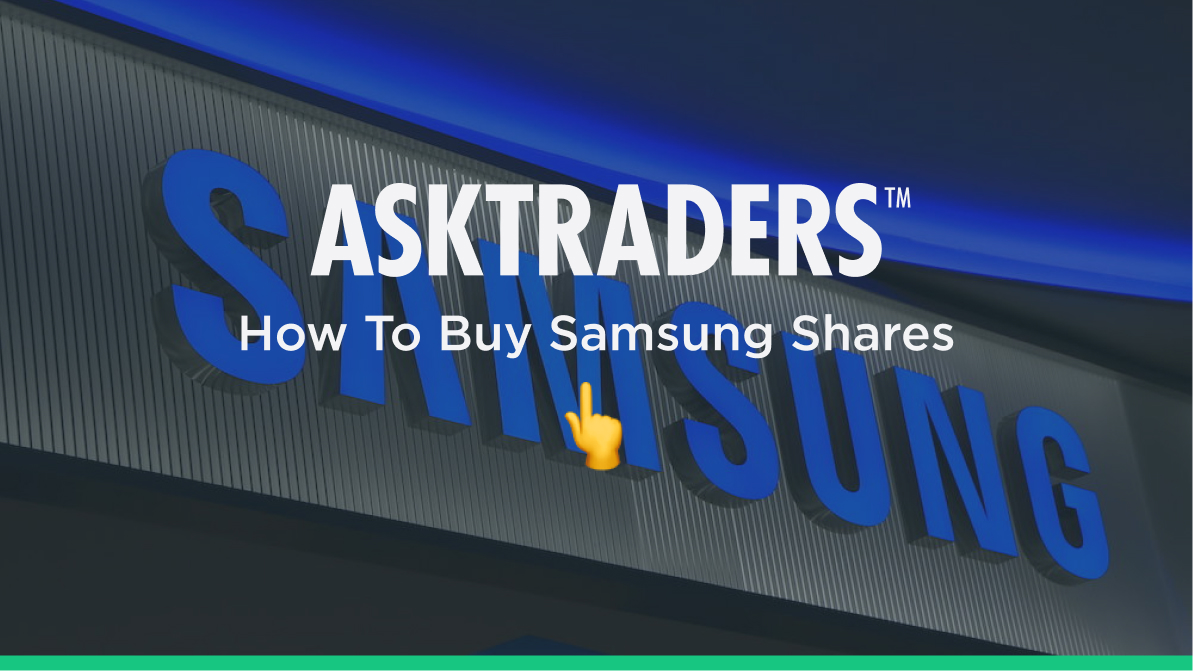 Even if you live in the UK, if you choose the right broker, you can buy into the Samsung success story within a matter of minutes. This review will offer insider tips on how to evaluate the best time to buy Samsung stock and how to do so safely.
Samsung Overview
Samsung Group was founded in 1938 and has grown to become the largest firm in South Korea. It started in food processing, textiles, and insurance but has, over the last decades, become known as one of the most powerful and influential electronics manufacturers in the world. It still has other business lines, which include shipbuilding, heavy industry, and even theme parks, but electronics make up most of its income
Samsung is one of the Asian post-war success stories and a flagship for the South Korean economy. It accounts for more than 20% of the country's exports, and its revenues equate to 20% of Korean annual GDP. As such, it has significant political and economic influence.
The Korean concept of 'chaebol' businesses describes firms that have business interests in a wide variety of apparently unrelated sectors. This methodology has worked well for Samsung, though it has, in recent years, focussed on its highly successful electronics division.
Samsung Shares: The Basics
The firm's primary listing is on the Korea Exchange. The Samsung shares code is a numerical rather than an alphabetical ticker and is 5930.
To allow global investors the opportunity to invest in it, the firm has GDR (Global Depository Receipt) share listings on major global exchanges, including the London Stock Exchange, where it has ticker SMSN.
US Investors are prohibited from buying GDRs but can get exposure to the Samsung share price by buying ETFs such as Nasdaq-listed iShares Inc iShares MSCI South Korea ETF (EWY), which currently has a weighting of about 20% to Samsung Electronics Co Ltd.
These different categories of shares and ETF instruments all ultimately buy into the same firm. It's just more convenient for some non-Korea-based investors to use their local exchange.
While the process of investing in Samsung shares might not be as straightforward as for some other firms, the Samsung share price performance over the years has definitely been worth it.
Between March 15, 2020, and January 3, 2021, the Samsung share price rose by 127%. Of course, like many other stocks, it declined in the following year, but it has remained somewhat stable since. Samsung isn't a high-risk start-up; the firm has the eighth-highest global brand value and consistently ranks in the top 20 global firms by market capitalisation.
Steps to Buy Samsung Shares
Investing in Samsung electronics shares is easy and can be done from almost any country in the world, even if you're not a Korean citizen. Online brokers have completely revolutionised the investment industry and allow you to get set up and trade Samsung in a few minutes. Choose the right broker, and you will enjoy a trustworthy, cost-effective, and user-friendly experience. The onboarding and trading can be done using a desktop device or even your mobile handset, which might even be a Samsung one.
1. Choose a Broker
This review of trusted brokers offers a breakdown of the pros and cons of a shortlist of well-regarded firms that can help you buy Samsung shares. Thanks to being regulated by Tier-1 financial authorities such as the FCA (Financial Conduct Authority), they can be trusted to comply with client protection legislation. They all have impressive track records, a strong existing client base, and support features designed to tilt the odds in your favour.
They're all ideal for beginner traders and also offer free demo accounts, which give newbies the freedom to try out trading using virtual funds. Even if you are certain you want to buy Samsung stock, right now, it's worth spending a few minutes practising using a demo account. That way, you can get used to the functionality and iron out any beginner's errors.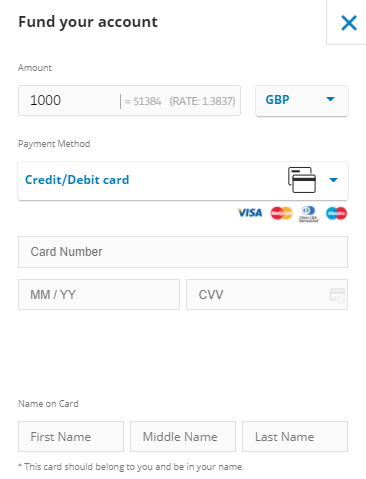 2. Open & Fund an Account
The online process of setting up an account is particularly straightforward and takes minutes to complete. There are sections for entering personal information, which ensures only you have access to your account. The broker will also use this data to ensure it complies with Know Your Client regulations set out by the regulatory authorities it is licensed by.
After verifying your email address, you're in position to transfer funds. This can be done using a variety of payment methods, the most popular being bank transfers and debit/credit cards. If you're in a rush to invest in Samsung, it's worth noting the card payment options tend to be instant, while bank transfers can take up to 24 hours to clear.
Best Brokers to buy Samsung Stocks:
eToro:
68% of retail CFD accounts lose money
Take a look
If you are ready to add some Samsung stocks to your portfolio you'll need a broker that is regulated, has low fees and a user-friendly platform. Finding one can be a daunting task, which is why we've selected some of our favourites that tick all of these boxes to help you get started.
3. Open an order ticket and set your position size
With your account verified and funded, you're now in a position to convert some of your cash pile into a holding in Samsung stock. The electronics giant is a popular target for investors, so it may be on your broker's main market page. Alternatively, enter the stock name into the search function to be directed to the Samsung market.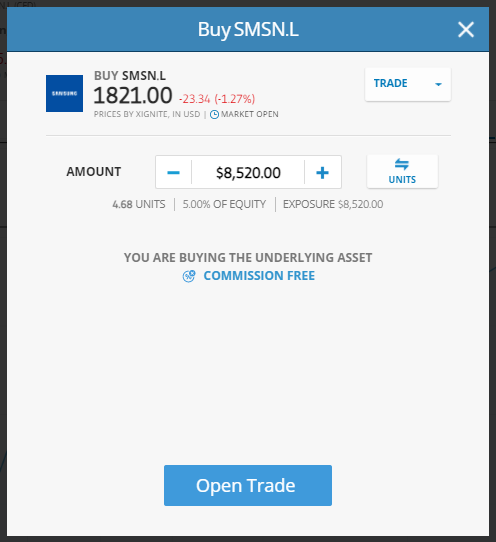 There are only two data fields you have to complete – these are the amount you want to buy and whether you want to buy or sell. One neat feature found at some brokers, including eToro, is that you can input the amount of cash you want to trade instead of a nominal amount of shares. This is particularly useful with Samsung as the shares are 'expensive'. The current Samsung share price is in the region of $1,750, but if you only want to allocate a smaller amount, that is also possible. If the amount you want to invest in Samsung shares is $500, at eToro, you can enter that amount into the platform and buy 0.27% of Samsung shares. The broker will simply allocate that fractional amount to your account.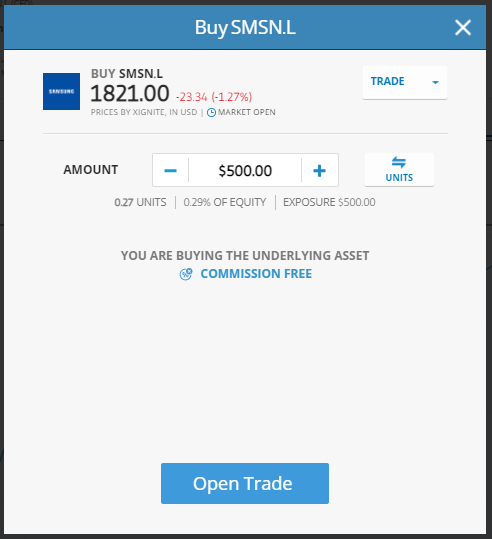 4. Set your stops and limits
Although the most direct route into the market is to just enter an amount to buy and just click, there are some handy risk-management options that you can build into your trade.
Conventional trading wisdom encourages new traders to set a stop-loss order and, to a lesser extent, a take-profit order. These are automated instructions entered into your trade, which will close out part or all of your position if the price of Samsung shares reaches a certain level.
If the price goes your way, take-profits lock in some profits. If the price goes against you, the stop loss will close out your position at a loss but prevent you from losing any more if the price continues to tumble. The benefit of them is that you don't have to watch the markets 24/5. Instead, you can let the system do some of the work for you.
There is an alternative way to manage risk. If you scale back on your position size, then even if the Samsung share price goes to zero, your losses are capped at a manageable level. Not using stop losses or take profits avoids the risk of you getting stopped out during a 'flash crash' or selling too early on the back of a positive news announcement. The choice of which approach to take is yours and yours alone, and each approach has its merits.
5. Select & Buy Samsung Shares
Once you've checked all the data fields, then buying Samsung shares is as easy as clicking a button or tapping a screen.
Your cash account will be reduced, but in exchange, you'll have a Samsung electronics position with the value of that asset fluctuating in line with the live market price. Checking the live P&L in the portfolio section of your account is strongly recommended. If you've made an error in your order, you'll likely see signs of that straight away. For example, if P&L is fluctuating an unexpectedly large amount, you may have input the wrong amount of stock to buy. Fixing such errors as soon as possible is vital, and even experienced traders take time to double-check their trading activity.
Fees When Buying Samsung Shares
The boom in online trading activity has been good news for retail investors. As more and more people have decided to take control of their investment decisions, brokers have slashed costs to try to attract new entrants.
The chart below details trade execution costs at a shortlist of popular and trusted brokers. These firms make the majority of their revenue on the difference between the buy and sell prices in each market – known as the bid-offer spread. This means separate 'commissions' are largely done away with, and price comparison is easier to do.
| | eToro | Plus 500 | Markets.com | AvaTrade | IG |
| --- | --- | --- | --- | --- | --- |
| Live Account Fee | No charge | No charge | No charge | No charge | No charge |
| Demo Account Fee | No charge | No charge | No charge | No charge | No charge |
| Bid Offer Spread – Samsung shares | $3.65 | $13.96 | $14.15 | No Market | $3.50 |
| Cash Deposit Fee | No charge | No charge | No charge | No charge | No charge |
| Cash Withdrawal Fee | Yes – $5 per transaction | No charge | No charge | No charge | No charge |
| Inactivity Fee | Yes – $10 per month after 12 months inactivity | Yes – $10 per month after 3 months inactivity | Yes – $10 per month after 3 months inactivity | Yes – $50 per quarter after 3 months inactivity | Yes – £12 per month after 24 months inactivity |
| FX Conversion Fee | Offers accounts in USD, only | Offers accounts in USD, GBP and EUR | Offers accounts in 14 base currencies incl. USD, GBP, EUR | Offers accounts in USD, GBP, EUR, CHF | Offers accounts in 6 base currencies, including USD, GBP and EUR |
| Minimum Deposit | $200 (or equivalent) | $100 (or equivalent) | $250 (or equivalent) | $100 (or equivalent) | $250 (or equivalent) |
The spreads at different brokers may vary over time. They can widen and narrow according to market conditions. For that reason, the above pricing terms are the result of live testing of the markets in Samsung shares, carried out by the AskTraders team of analysts.
There are other costs to consider, especially account inactivity fees. These can be assessed and managed by making sure you're familiar with your broker's T&Cs. There's no point frittering money away unnecessarily, but at the same time, try to avoid the risk of being penny-wise and pound-foolish.
Considering you could have thousands of pounds worth of assets in your account, having a broker that offers text message price alerts and high-quality research is likely to be more of an influence on your total returns. Certainly more than if the broker charges a $5 banking charge on cash withdrawals.
Trying different brokers out by setting up free demo accounts is a good way to find a good personal fit in terms of functionality. From there, you can dig down into the fees and charges section of the site to check they aren't too onerous.
Final Thoughts
Samsung is the world's largest producer of smartphones and the largest memory chip maker. Its strong position in markets like these, which are incredibly fashionable with investors, has seen the Samsung share remain well sought after. The current lull in share price activity has, for some, made now a great time to buy Samsung stock. If you follow the outlined steps relating to how to find a trusted broker, it will take only minutes to get your investment started.