Efforts to stick with your strategy and post the long-term gains you envisage can be derailed by taking on too much information from too wide a range of sources. For every market pundit who is bullish, there is a perma-bear only too willing to offer the view on why markets are about to fall.
---
YOUR CAPITAL IS AT RISK. 81% OF RETAIL CFD ACCOUNTS LOSE MONEY.
---
A solution to this comes in the form of eToro Plus – providing a suite of in-depth analysis resources, offering clients an easy-to-manage and co-ordinated way to draw their own conclusions and stick with their plan. The range of tools at eToro has been developed to cater to intermediate and experienced traders, and as the suite is provided by the same broker, there is a cohesive feel to what is on offer.
The eToro Plus service provides a one-stop-shop for investors looking to gain an in-depth view of the markets. It's supported by the Pro Charts feature, which has been upgraded thanks to client feedback. Furthermore, and true to eToro's status as the home of Copy Trading, the broker's 'Smart Portfolios' provides experienced traders with the chance to filter out what products to choose when looking to use the ideas of others when investing. For those looking to harness the power of eToro's advanced analysis resources, read on as we break down the key features with the potential to play a vital part in your trading strategies.
eToro Plus
The eToro Plus reports – which are produced daily, weekly, and quarterly – cover all the corners of the financial markets. Whether you're looking to trade forex, stocks, indices, commodities, or crypto, it's possible to draw on a catalogue of in-depth reports, which discuss particular markets to a granular detail.
Higher-level topics covered range from global supply chain issues and how they impact stock prices to previews of interest rate announcements. If you're looking for specialist research, this is also available, with high-grade research being available on subjects ranging from rates of tech adoption to retail sector earnings.
eToro Plus reports can help traders identify new trends and trading opportunities, or offer a sideways glance on the macro outlook. It's very much in line with the research that institutional investment companies provide their staff and will certainly benefit intermediate- and advanced-level traders looking to step up to the next level.

---
YOUR CAPITAL IS AT RISK. 81% OF RETAIL CFD ACCOUNTS LOSE MONEY.
---
ProCharts
eToro's commitment to continuous upgrades of its services has made it one of the most popular trading platforms in the world. One area that has recently benefited from a makeover is the broker's package of charting tools on offer.
The ProCharts product has been built from scratch so that eToro can ensure it gives its clients all that they require, and nothing that they don't. It supports in-depth technical analysis by offering traders the chance to view several different markets at the same time, or one market in different timeframes.
The multi-charts element of ProCharts can be customised into a personalised dashboard, which provides immediate access to the information you want to have to hand. It's a highly efficient way of keeping on top of the markets and has an intuitive feel, which goes some way to making it easy to use as well as a powerful tool.
eToro Smart Portfolios
eToro's 'people-based' Smart Portfolios allow clients to draw upon the trading ideas of other traders and incorporate their ideas into their investment portfolio.
The twist with the newly upgraded product is the advanced quantitative analysis, which eToro employs – this is to ensure the ideas of only the best traders are copied. Each of the Smart Portfolios includes up to 20 traders who are screened and selected according to their historical performance and risk profile. Given that there are millions of traders using the eToro platform, the use of quantitative analysis to pick out the best of them is an approach that makes sense.
To help investors develop a well-diversified portfolio, the Smart Portfolios have been broken down into three categories. Each has its respective pros and cons in different market conditions, and choosing to allocate capital to all three could be a good idea. But those looking to take a more focused approach can choose from portfolios based on eToro's SharpTraders, ActiveTraders, and GainersQtr – each one having a different risk-return profile.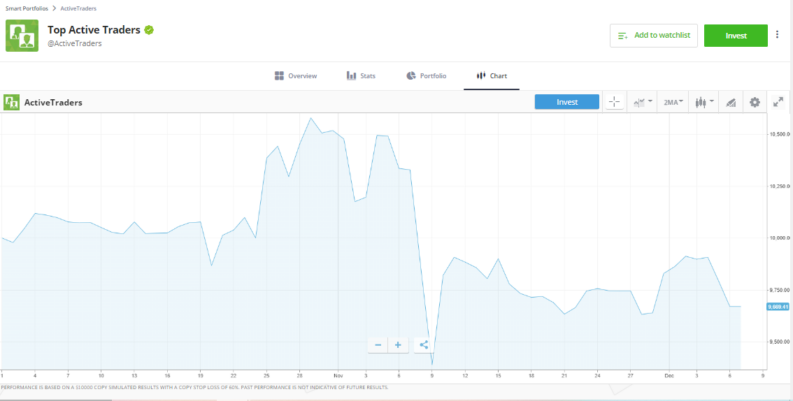 ---
YOUR CAPITAL IS AT RISK. 81% OF RETAIL CFD ACCOUNTS LOSE MONEY.
---
Benefits of Using eToro's In-Depth and Advanced Analysis
The eToro success story has been largely based on entry-level traders being able to use the user-friendly platform to gain exposure to a wide range of markets. It backs that approach up with super low-cost trading and the appeal of being able to 'Copy Trade'.
The recent move by the firm to scale up its offering of more advanced analysis tools means that intermediate and experienced traders now have more to work with. It's clear that the firm has invested heavily in producing a range of services, which cover the whole spectrum of self-trading and Copy Trading.
One neat feature of the new advanced tools is that they are easy to use and access. Simplicity is part of eToro's DNA, and that extends to more complicated technical areas of the site. From macro-insights to multi-timeframe charting, the eToro platform is an ideal base for those looking to take advantage of some of the best advanced analysis available in the market.
Final Thoughts
eToro's continued investment in advanced trading tools is bringing the platform to the attention of a widening group of experienced traders. Few other firms invest in new products to the extent that eToro does, which means the already impressive suite of high-grade resources is also likely to be added to in the future.
It's an ideal platform to use to fine-tune existing strategies or to develop a new one. The ability to toggle between live and virtual accounts makes it an ideal place to launch new strategies.
The rest of the platform's credentials also need reiterating. It's regulated by Tier-1 financial authorities, boasts millions of existing clients and is an extremely cost-effective way to invest. Whether you're looking to implement your own ideas or take a more hands-off approach and allocate some capital to Copy Portfolios, eToro has the right tools to support your approach.