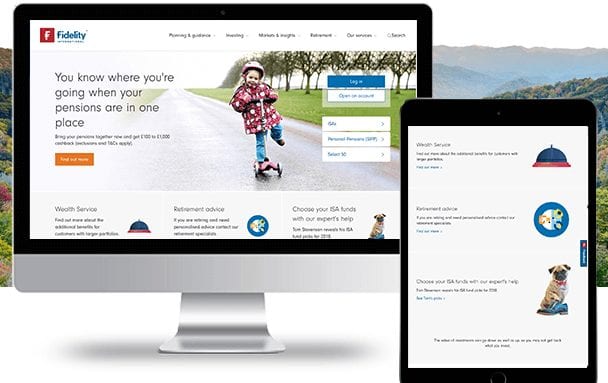 What does the Fidelity trading app do?
Fidelity offers trading through both its website and mobile apps as well as a desktop platform for active traders. Other traders have similar offers, and it is important to research other companies to get an accurate Fidelity app broker comparison. According to NerdWallet, the platform is easy to navigate and is comprehensive, and it has advanced screeners using research and strategy-testing tools based on ten years of historical data.
The free Fidelity app for mobiles is just as good – it provides real-time quotes, multi-leg options trading, a notebook where ideas can be saved from a mobile's browser, and a consolidated version of Fidelity's research. The app is also able to stream financial news from different business news sources, including Reuters and Market Watch; it maintains a watch list for particular stocks; and it also provides charts that will compare the value of stocks. The app makes it simple for customers to track all accounts side by side so that IRA, brokerage accounts and 401(k) accounts can be viewed in one place wherever you are at a glance. It is available on most mobile devices, so there is a Fidelity app for iPad, a Fidelity app for iPhone and a Fidelity app for Android.
About Fidelity Investments
Founded in 1946, Fidelity Investments is a full-service broker with over 19 million retail brokerage accounts and over $2tn in client assets. It is a multinational financial services corporation based in Boston, Massachusetts and is the fourth-largest asset manager with $2.4tn in assets under management as of December 2017. According to StockBrokers.com, it is highly regarded for its quality of customer service and all-round investment offering. As with its closest competitors, it uses a flat-fee trading structure and offers 12,505 mutual funds, 4,000 of which are No Transaction Fee (NTF) funds, and unlike most brokers, Fidelity charges only for the original purchase with no additional charge for redemption. StockBrokers.com also says that the organisation provides industry-leading execution and quality and is the only broker to provide its clients with a tally of savings from quality order to execution. The company is also praised for its research – for example, if you get a quote on Apple, you will find a page that is well laid out and includes graphs, rating and charts. The company has more than 25 million investors and provides a range of services to help people attain their financial goals, such as college savings, stock trading, retirement savings and research.
The Growing Influence of Mobile Apps
Fidelity's mobile app is part a growing trend of using mobile apps in almost every part of day-to-day life, and with the growing power of the millennial generation, who have grown up with internet use, social media and immediate access to information, it is important that all apps, including the Fidelity trading app, are constantly adapting and evolving. This demographic will require methods to take the complexity out of finance and do not want to take much time to do these tasks. To put it in context, in 2017, consumers downloaded 178.1 billion mobile apps to their devices, and by 2022, this is projected to grow to 258.2 billion app downloads. In the UK alone, a recent survey found that 33% of respondents had between one and ten apps installed, 29% had between 11 and 20 apps installed, 16% had between 21 and 30 apps, and 13% had 31 or more apps installed. 5% didn't know how many apps they had, and just 4% had no apps installed on their phone at all. The internet and social media are not just used for connecting, either. Fidelity also guides on how social media can help you to make investment decisions with Social Sentiment measured by the S-Score, which is provided by Social Market Analytics and is part of Fidelity's stock research.
How Good is the Fidelity app?
Many brokers now use mobile apps to allow users to connect whenever they want, so researching online for information on the best Fidelity app broker to use is simple. A recent Fidelity app review by StockBrokers.com said that Fidelity provides a quality experience, whether it is using an Apple, Apple Watch or Android device. There is a unique customisable dashboard displayed as a personalised feed when first logging in, and the feed includes a summary of market average returns, account balances and watch list summaries. From this, it is easy to see the same market summary from the feed with an added streaming real-time performance chart, including NASDAQ1 and DOW, enabling users to stay connected to every aspect of the financial world so that they can learn, track and trade at any time. It also has Active Trader Pro and Actionable Alerts. There were, however, only seven indicators on the charts, which is below the industry average of 36. In 2017, there were only two, so when doing a Fidelity app broker comparison, it is a good idea to see how others are adapting to changing customer requirements. The Fidelity app also has an enhanced voiceover experience, dynamic type, and you can simply tap to connect with a company representative in an instant.
What is on the Fidelity app?
According to the Fidelity website, accessing your personalised feed on the iPhone and Android apps is an "industry-first, dynamic experience with a timely and relevant portfolio, market and research information, plus customised news and tailored content". You can review details of your Fidelity brokerage account 402(k), 403(b), or other workplace investing accounts and trade stocks, ETFs, options and mutual funds from anywhere at any time. It is also possible to get multi-let option trading, tax lots for your positions and extended hours trading, among other things. You can also get quotes on Fidelity on Amazon's voice responsive device, Echo. Touch ID and Face ID are available via any apple device by activating it in app settings (on enabled Apple devices with iOS 10.3), so you can get account information without needing to log in. With Apple Watch, you can check trading with a markets Glance view and keep tabs on the market with Apple TV by watching Bloomberg TV. As well as keeping an eye on stocks and shares, you can use it to deposit cheques into the Fidelity account of your choice. There is also the option to use it to pay bills, receive notifications when bills are available, and pay bills on the move with most Fidelity accounts, including the Fidelity Cash Management Account.
Mobile App Security
Security is a huge issue for financial transactions, and in this increasingly online world, there are more threats to accounts and information. Mobile financial apps, including the Fidelity app UK, whether it's the Fidelity app iPhone or the Fidelity app Android, need to be kept as risk free as regular computer-based financial transactions, with simple things such as using strong passwords and changing them regularly. If someone contacts you and asks for personal or financial information, you should not do so unless you are absolutely sure that it is genuine. According to the website, Fidelity will never: "Call or email to ask for your full PIN or online password. Ask you to email or text personal or financial information. Email you a link to a page which asks for your login details. Call to advise you of investment opportunities. Send someone to your home to collect information or cash, or to offer investment opportunities. Ask you to carry out a test transaction online. Provide investment services through any mobile app other than our official app. Ask you to authorise the transfer of funds to a third party or to hand over cash."
For more information, call Fidelity's UK-based customer services team on 0333 300 3351.
Fidelity's General Online Experience
In recent years, Fidelity has received accolades for 'Best Online Broker', 'Top Online Brokerage Firm' and 'Best Overall Online Broker' from Barron's, Kiplinger's and Investor's Business Daily for its online platforms, so it comes with high expectations and proven quality. First-time users will find it easy to use, and it will be of interest to clients who want to know more about trading and investing. Fidelity also has 24-hour customer services, so whatever time of day you need help, it's there. There is also the option for advanced traders who make more than 36 trades a year to use Active Trader Pro. The company's patented Trade Armor has over 60 indicators and advanced studies, plus charting and tabbed charts, which can take up to ten combinations of time, indicators and frequency depending on what combination the traders want. Wealth-Lab Pro is for very advanced investors and traders and works as a desktop strategy-testing software, allowing clients to test multiple strategies at a time and place trades manually or automatically. Research has shown that Fidelity's website and mobile platforms are simple and aimed at all kinds of investors. There is also a virtual assistant for customer service issues, where questions regarding passwords, beneficiaries, etc., can be resolved by hitting the 'Ask' button.
Shop Around
With investments, there is never a one-size-fits-all option, and when you are looking for a stockbroker, it is important to compare and shop around before you make a decision and download the app, whether it be from Fidelity or another investment company. Choosing a stockbroker can be more complicated than it sounds. The right broker can open up your investing opportunities, but the wrong one can limit options and push up your costs. Do you want to invest in shares listed in your local stock market or foreign markets? If it is the latter, then the International Stock Broker Guide will show which firms trade in which markets. It is also vital to check costs as brokers levy a wide range of charges, and not just on dealing commissions. The International Investor has a guide on how stock brokers charge and has comparison tables for the UK, the US, Hong Kong and Singapore. Deciding on how you want to invest also influences your choice. If you are a frequent trader, you may well want high-speed online access and low commissions, while infrequent investors may simply want to deal by telephone and be less concerned about costs. You also need to find out how fast the online trading platform is, and how good the customer service staff are.
The Bottom Line on Fidelity app: Our Verdict
You can use your mobile to manage your bank account, book a restaurant table, and keep up with friends, so why not trade stocks and shares? Providing a financial investment service via mobile is an essential way for any business to operate in the 21st century. Fidelity is a well-established, highly regarded international name within the financial sector and has years of experience within it. By offering both traditional trading and via its mobile and online apps, the company is ensuring that it is catering to both those who prefer more traditional methods of investing and people who need to be more regularly connected and want more regular information on what is going on in their financial world. The apps, available for both Android and iOS phones, as well as iPads and Apple Watches, are easy to download and access and provide investors with a plethora of information and statistics for them to dip in and out of depending on how hands-on they are. Feedback on the applications is mostly positive, and this kind of online financial platform is a step on from the traditional phone calls and paper trading that still exists but doesn't suit all.
PEOPLE WHO READ THIS ALSO VIEWED: