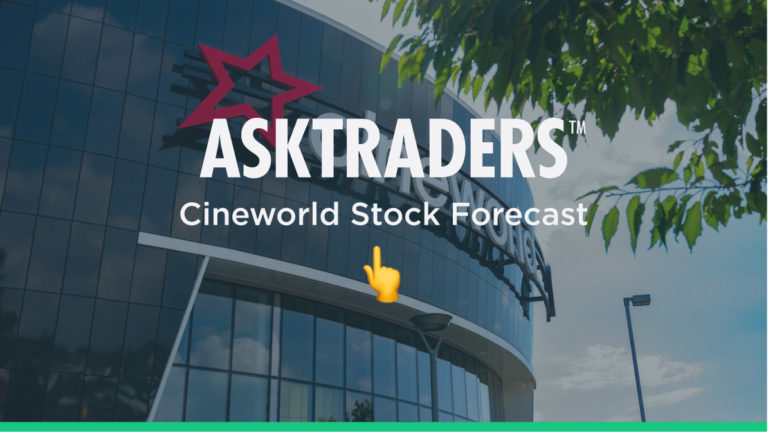 For many months rivals in the online streaming sector have been eating into market share and there are some who think footfall at movie houses won't recover any time soon, if at all. How then to explain the +380% surge in the Cineworld share price between November 2020 and March 2021 and is there more to come? How will Cineworld's stock forecast look into 2025 and beyond? This review will draw back the curtain on Cineworld's short-term, medium-term and long-term prospects and ask the question, is now the time to buy Cineworld?

Who Is Cineworld?
Listed on the London Stock Exchange and with a market capitalisation in the region of £1.07bn, Cineworld trades under ticker CINE. It is the only quoted cinema company in the UK but operates cinemas across the world in countries ranging from Israel and Romania to the USA. The US market currently accounts for three-quarters of the firm's revenue and the total of 9,500 screens make it the second-largest movie firm (by screen count) in the world.

The firm employs approximately 30,000 staff across 767 sites and, possibly surprisingly to someone who is new to the firm, makes almost one-third of its revenue from on-site retail sales. Box office sales account for just over half of all revenue.
The firm's turbulent recent history has caught the attention of all types of traders. Value investors were always likely to become interested in a firm that saw its share price plummet from £2.22 at the start of 2020 to just £0.22 in March. Study the price charts back to 2017 and the Cineworld share price was as high as £7.12.
It's not just buy-and-hold investors who have been circling the firm. Short-term traders running more speculative strategies are drawn to any market with such high levels of volatility. At present, trading in Cineworld has something for everyone, it's just a case of making the right calls.
Where Will Cineworld's Stock Price Be in 3 Months?
Now is the time to start sifting through the Cineworld situation because upcoming data releases are due to offer up some clues as to where the share price might be heading. The abysmal 2020 full-year results were released on 25th March 2021 and the AGM was held in May. The next item in the firm's financial calendar is the much anticipated and crucial interim results report, which is due on 12th August.
Sifting through the core business data will take some time. US cinemas might be running at only two-thirds capacity, but they are bringing in some much-needed revenue. Over the Easter weekend, the blockbuster Godzilla vs Kong raked in $32.2m in the US over its three-day opening weekend. The re-opening of UK cinemas on 19th May means analysts will be able to speculate on how that is going too. There are plenty of reasons to believe that short-term price action is as likely to be driven by factors associated with technical analysis.
The break of the multi-year downward trend line in mid-January of 2021 signalled a turning point for the stock. Bulls who got into positions will likely remain optimistic while price holds above the £0.66 price level of that break. A break below £0.66, on the other hand, being a bearish indicator, would leave the way to a testing of the year-to-date low of £0.61. A move below that price level opens up the door to further downward momentum.
Cineworld Share Price – Daily Price Chart – 2020 – 2021
*68% of retail CFD accounts lose money
The 20, 50 and 100-day simple moving averages point towards the situation getting worse before it gets better for the CINE share price. Within the last month, both the 20 and 50 have intersected the 100 SMA to the downside. A test of £0.66 can't be ruled out, but for many would form a 'kiss' of a key support level and open the door to a sustained price rally.
Cineworld Share Price – Daily Price Chart – 2020 – 2021 – with moving averages
*68% of retail CFD accounts lose money
Cineworld Share Price – Daily Price Chart – 2020 – 2021 – with moving averages
*68% of retail CFD accounts lose money
Where Will Cineworld's Stock Price Be in 1 Year?
Forecasting Cineworld's share price over the next 12 months requires factoring in some external factors as well as those specific to the stock.
Since the COVID lows of March 2020, a bunch of equity indices have not only recovered but have posted all-time highs. The Nasdaq, S&P 500 and Dow Jones Industrial Average have all surged on the back of the 'new way of doing things'. From a technical analysis perspective, this run could be entering 'overbought territory' with the RSI on the monthly chart of the SPX500 clipping 70 in May and still holding at 67.
Cineworld Share Price – Daily Price Chart – 2020 – 2021 – with moving averages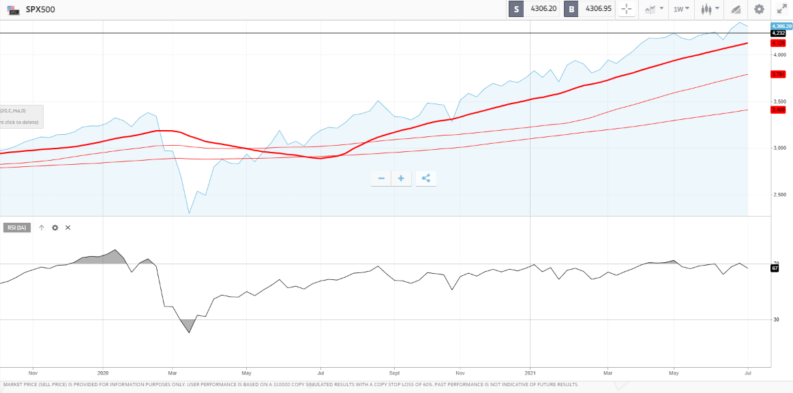 *68% of retail CFD accounts lose money
If all the good news is already priced in and a correction is around the corner, then the Cineworld stock price would suffer as part of that sell-off, even if it hasn't taken a full part in the interim recovery.
The weekly moving averages in the SPX500 that are providing support are at 20 wks (4,126), 50 wks (3,791) and 100 wks (3,409). Any break of those could indicate the broader market taking a downturn.
Another argument for Cineworld not being quite out of the woods yet is the firm's nemesis – COVID-19. Vaccine rollouts have led to a renewed sense of hope and an easing of lockdown measures, but new variants that are more resistant or more contagious are a strong possibility. The naming of the variant might change, but the impracticality of having people sat inside in close quarters to take part in a leisure activity does not.
Medium-term price volatility can therefore be expected. The two factors suppressing optimism about Cineworld's share price are out of the management's control and the risk of them happening increases as much as it decreases as time passes.
Having a sword dangling over it does not necessarily mean the share price will tumble. The strength in equity markets has been based on US markets, and remember, Cineworld generates most of its revenue in North America. In some ways, a decision to buy Cineworld shares is one that takes a proxy position on the health of the US economy.
It's also the case that Cineworld's activities are a play on the weather. The firm operates in Northern Hemisphere-centric regions. A glance across the globe shows countries currently imposing tighter social restrictions are in the south where seasonality and the onset of Autumn and Winter have played a part in an upsurge in cases. Even COVID role models such as Sydney, Australia, are extending their lockdowns as they struggle to contain the virus. From an epidemiological perspective, this is to be expected and the good news for Cineworld shareholders is that buys them time before the Northern Hemisphere peak virus season sets in.
Where Will Cineworld's Stock Price Be in 5 Years?
Imagine a world without COVID and you'll be imagining a world where the Cineworld share price is much higher than it is today. If the firm can survive the tough, short-term and medium-term conditions, there is little reason to think revenues will be significantly down.
Cineworld Share Price – Daily Price Chart – 2017 – 2021
*68% of retail CFD accounts lose money
It's by no means certain that consumers will stay at home to stream movies rather than watch them at the cinema, even if they have subscribed to online services. The imposed denial of the social aspects associated with group entertainment could lead to a COVID-bounce as liberated populations demonstrate a preference to making watching a film a social event. In fact, it could be the streaming services that suffer due to their association with lockdown. Disney+ and Netflix are in more direct competition than they are with cinemas.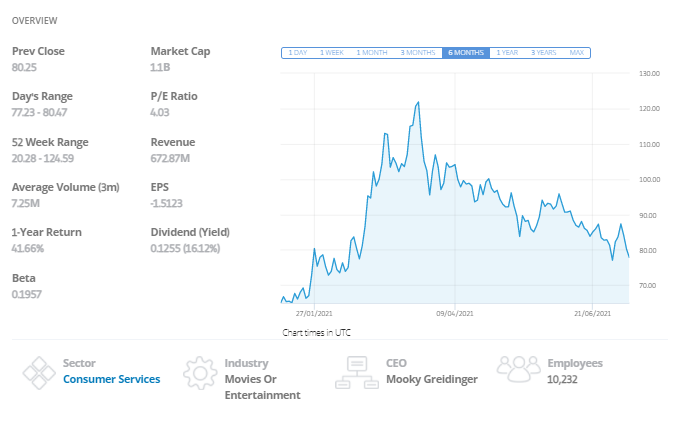 Source: eToro
There is also a baseline amount of investment likely to continue. Big pension funds with mandates to gain broad exposure to the markets may have gone 'underweight' in the leisure sector, but by the terms of their investment management agreements, they need to hold some firms in the sector. Having been forced to buy something in a weak sector, the likely choice is going to be one of the bigger and more robust firms, which might hopefully have the critical mass to make it through to the other side. The kicker is that if they get there, Cineworld will likely have the option to snap up market share from smaller chains that go bust.
There is a lot of headroom before resistance to upward price moves kicks in at pre-COVID price levels – £3.18 marks the 2020 high. Prior to that, expect resistance at the 2021 year-to-date high of £1.21.
 Cineworld Share Price – Daily Price Chart – 2019 – 2021
*68% of retail CFD accounts lose money
Is Cineworld a Good Buy?
The summer months can be a quiet period for the equity markets, but there is every possibility Cineworld will buck that trend this year. The firm's fortunes are on a knife-edge and a lot of the factors in play are out of its own hands. Is Cineworld a buy or sell? Short-term price volatility can certainly be expected, but if Cineworld makes it through to the autumn, then its prospects and share-price could be expected to improve.
The elephant in the room is COVID and data on flu infections highlights the autumn and winter months are associated with spikes in infection. Whether governments decide that people have to learn to live with COVID or resort to lockdowns could be key. The good news for CINE shareholders is that the political leaders of both key markets, the US and the UK, are currently at least making noises that it's important to support the economy as well.
Is Cineworld a good stock to buy? The real potential for Cineworld comes in the long run. If you can afford to buy-and-hold a stock and front up to the risk that it could well go bust, then there is significant potential upside over a five year-plus period.
The Best Brokers to Trade Cineworld Stocks:
eToro:
68% of retail CFD accounts lose money
Take a look
If you are ready to add some Cineworld stocks to your portfolio you'll need a broker that is regulated, has low fees and a user-friendly platform. Finding one can be a daunting task, which is why we've selected some of our favourites that tick all of these boxes to help you get started.