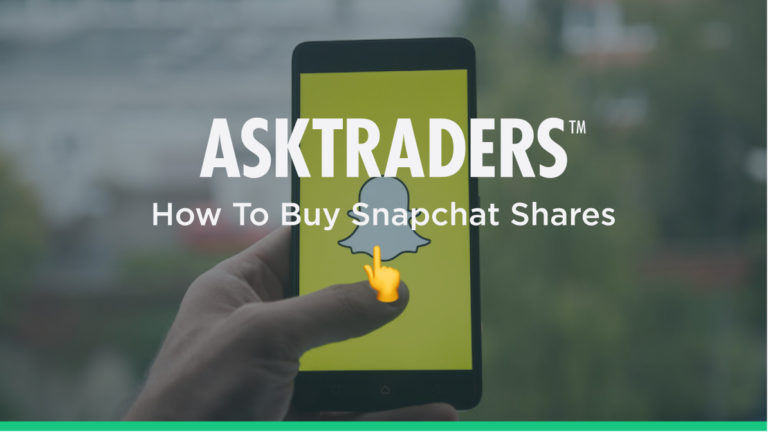 Tech stocks are a market where investors can make considerable returns, and the multi-media messaging app Snapchat is one example. Since the lows of 2020, the tech sector has rebounded dramatically as agile and innovative firms build market share thanks to the new post-COVID ways of doing things. The Snapchat share price has led the charge, surging by more than 700% between March 2020 and February 2021.
Any stock that posts a seven-fold increase in value in less than 12 months deserves to be considered part of an investment portfolio. The first question to ask is should you invest in Snapchat stocks? The second is when, and the third is how? This step-by-step guide will outline the route experienced traders take when buying shares in firms like Snapchat.

Expanding your understanding of the potential for Snapchat's future growth can be done using easy-to-access free research. Then selecting a good broker involves applying a degree of common sense to avoid particular pitfalls. We'll show you how.
Snapchat Stocks: The Basics
Snapchat first came into existence in 2011. It's the product of cooperation between three former Stanford University students who hit on the idea of developing a photo messaging service based on its messages, which disappear after being received.
The added privacy of their service has proved popular, and it has built a reasonably chunky niche in the market. By December 2020, the platform had 265 million daily active users, and many of them are in the much sought after 15-35 year old demographic.
Snap, the owner of Snapchat, is still headquartered in Santa Monica, California, and it's been possible to buy Snap shares since 2017 when the stock first listed on the Nasdaq Exchange under the ticker SNAP.
Recent and Historical Market Performance
Investors in Snap need to be prepared for something of a rollercoaster ride. For some time, analysts have struggled to value a company with certain features that can be copied by rivals and has an incredibly popular USP but is relatively limited in scope.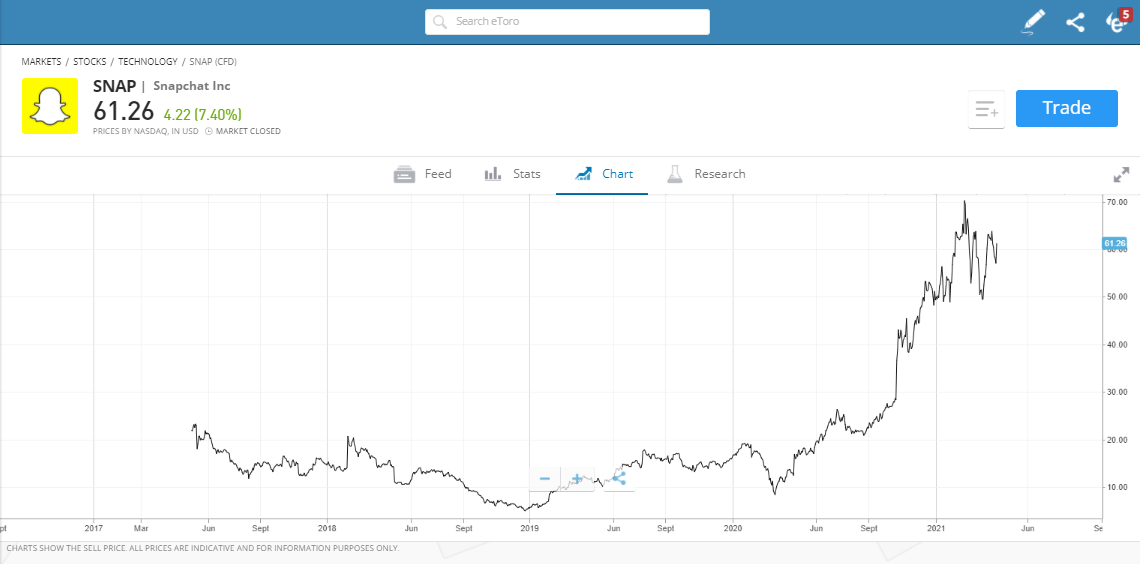 *68% of retail CFD accounts lose money
The firm first came to the market in 2017 as part of a blockbusting IPO, which at the time was the largest US tech launch since Facebook. When Snap shares launched, the firm had a valuation of $23.8bn, and the stock shot up a further 44% before it completed its first day of trading.
The initial float price of Snap shares was $17, and despite the first-day euphoria, the stock then headed south and hit an all-time low of $4.82 in December 2018.
You can't, however, keep a good messaging app down, and the Q1 earnings report for 2021 revealed that the firm was now beating analyst expectations. The all-time high of $73.45 was recorded on the 24th of February 2021, and the subsequent price slide down to below $50 has been an invitation for buyers to load up on the stock.
Is it a Good Time to Buy Snapchat Shares?
Snap's price volatility is very much a part of the firm's DNA. It's a growth stock with a lot of plates spinning in the air, and its target demographic of 26–35-year-old women are an advertiser's dream, but at the same time, it is somewhat erratic.
You'll struggle to find any experienced analyst suggesting you plough all of your spare cash into Snap. Remembering the adage that you should only invest as much money as you can afford to lose could pay off in this case.
Taking the emotion out of trading is the key to staying in a position and making the right trading decision at the right time. Snap does provide investors with the chance to add some juice to their returns, and those in a position to buy Snapchat shares will be looking at the current market and edging closer to pulling the trigger.
The most recent earnings report outstripped market expectations and points towards the fundamentals of the business model being strong. With price taking a dip from its 12-month 700% rally, it could be the time to buy Snapchat stock. Between February and March, it fell in price by 34%.
*68% of retail CFD accounts lose money
Steps to Buy Snapchat Shares
It's possible to invest in Snapchat from almost any country in the world, even if you're not a US citizen. Online brokers have revolutionised the investment industry and now provide a trustworthy, cost-effective and user-friendly trading experience. If you want to buy Snapchat shares from the UK, it's simply a case of choosing the right broker and following some easy steps. It can be done using a desktop or a mobile device.
1. Choose a Broker
This review of trusted brokers offers a user-friendly breakdown of the pros and cons of well-regarded firms that can help you buy Snapchat shares. They all have impressive track records, a solid existing client base and are regulated by financial authorities.
The newbie-friendly trading platforms they provide can be tried using demo accounts, which give you the freedom to try out trading using virtual funds. Even if you are sure you want to buy Snapchat stock, then practising using a demo account can help you become familiar with site functionality and iron out any beginner's errors.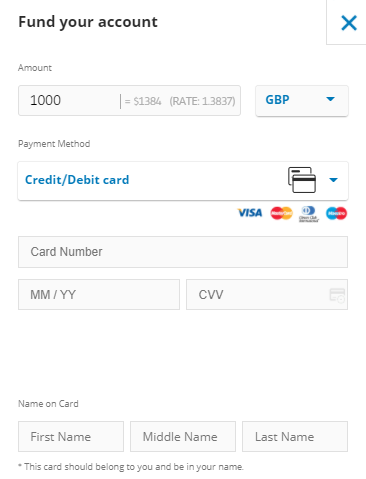 *68% of retail CFD accounts lose money
2. Open & Fund an Account
Setting up an online account takes just minutes. By entering personal information, you enable the broker to build a client profile that allows them to comply with Know Your Client regulations set out by the authorities, such as the Financial Conduct Authority (FCA).
After verifying your email address, you're in a position to transfer funds. It can be done using various payment methods, including bank transfer and debit/credit cards. Your account is now all set and moving onto trading Snapchat shares will convert some of your cash pile into Snap shares.
Best Brokers to buy Snapchat Stocks:
eToro:
68% of retail CFD accounts lose money
Take a look
If you are ready to add some Snapchat stocks to your portfolio you'll need a broker that is regulated, has low fees and a user-friendly platform. Finding one can be a daunting task, which is why we've selected some of our favourites that tick all of these boxes to help you get started.
3. Open an order ticket and set your position size
Thanks to the interest in Snap shares, you may find them on your broker 'Popular Markets' page, but if that's not the case, you can find the Snap market using the stock search function.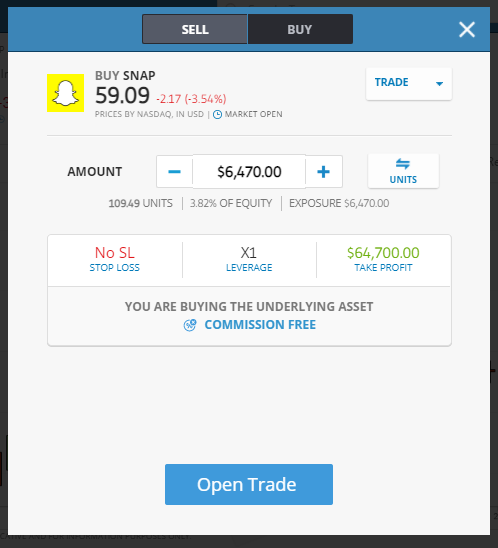 *68% of retail CFD accounts lose money
There are only a few data fields to complete, including the amount you want to buy and if you wish to purchase or sell. One neat feature found at some brokers, including eToro, is that you can input the amount you want to trade as a nominal amount of shares or expressed in cash terms. If you go for the latter option, the broker will buy the number of shares equivalent to the size of your designated cash instruction.
4. Set your stops and limits
Conventional wisdom encourages new traders to set a stop-loss, and to a lesser extent, take-profit orders. These are automated instructions built into the system that trade you out of positions if the price of Snapchat shares reaches a certain level.
Stop-losses and take-profits mean you don't have to watch the markets 24/5. Instead, you can let the system do some of the work for you. If your Snapchat position is a very small percentage of your wealth, then you might want to consider a different approach.
By trading in a small size, you will have already managed your risk and not using additional orders means you avoid the risk of getting stopped out during a 'flash crash'. The choice of which approach to take is yours and yours alone.
5. Select and Buy Snapchat Stocks
The onboarding and trading process can be done using a desktop or handheld device, so once you're happy that you've got your trade instruction set up correctly, buying Snapchat shares is as easy as clicking a button or tapping a screen.
At that point, your cash balance will decrease, and your stock balance will increase. The P&L (profit and loss) on your account will fluctuate according to the live market price of Snap stock. As you're now trading the markets, it's worth running some final checks, the kind that even experienced pros run.
Make sure you buy Snapchat shares, not CFDs – If you are looking to invest in Snap for longer than three weeks, you will probably find it more cost-effective to buy the shares outright. Contract for Difference (CFD) trading is increasingly popular, and CFDs have some additional client-friendly features, but they do incur overnight financing costs. This article explores that subject in greater detail.
After you buy Snapchat shares – Check the portfolio section of your account to ensure you purchased what you want (Snap) and that you didn't make any other errors, such as inputting the wrong trade size. Any errors are best spotted and corrected as soon as possible.
Fees When Buying Snapchat Stocks
The boom in online trading and investing has been good news for the little guy. Increased competition between brokers has driven down trading costs, but it's still worth checking the T&Cs on your account.
The below chart shows details of trade execution costs at trusted brokers. These firms make most of their revenue on the difference between the buy and sell prices they offer their clients – the bid-offer spread – so separate 'commissions' are essentially a thing of the past.
| | | | | | |
| --- | --- | --- | --- | --- | --- |
| | eToro | Plus 500 | Markets.com | AvaTrade | IG |
| Live Account Fee | No charge | No charge | No charge | No charge | No charge |
| Demo Account Fee | No charge | No charge | No charge | No charge | No charge |
| Bid-Offer Spread – Snap shares | 0.12 | 0.44 | 0.16 |                    0.77 | 0.07 |
| Cash Deposit Fee | No charge | No charge | No charge | No charge | No charge |
| Cash Withdrawal Fee | Yes – $5 per transaction | No charge | No charge | No charge | No charge |
| Inactivity Fee | Yes – $10 per month after 12 months inactivity | Yes – $10 per month after 3 months inactivity | Yes – $10 per month after 3 months inactivity | Yes – $50 per quarter after 3 months inactivity | Yes – £12 per month after 24 months inactivity |
| FX Conversion Fee | Offers accounts in USD, only | Offers accounts in USD, GBP and EUR | Offers accounts in 14 base currencies incl. USD, GBP, EUR | Offers accounts in USD, GBP, EUR, CHF | Offers accounts in 6 base currencies including USD, GBP and EUR |
| Minimum Deposit | $200 (or equivalent) | $100 (or equivalent) | $250 (or equivalent) | $100 (or equivalent) | $250 (or equivalent) |
There's little point in being penny-wise and pound foolish. Considering you could have thousands of pounds worth of cash at stake, the priority is to make sure your broker is appropriately regulated rather than marginally cheaper. A common trick used by scammers is to promise something too good to be true, and that extends to pricing.
Brokers make most of their money through the bid-offer spread – the difference between buying and selling prices, and some higher-end brokers can have wider spreads. That allows them to invest in additional services such as broker research, client training and news wire services.
There's no point in paying charges you don't need to, and shopping around and trying different brokers out using their Demo accounts can help you find a good fit that is cost-effective.
Full Overview of Snapchat
Niche and History
The Snapchat niche is incredibly simple but is adored by millions and used globally every day. It's based on pioneering work done by the firm in the early 2010s when they developed a messaging system where messages disappeared after a time, ranging from 1–10 seconds.
In terms of user functionality, the Snapchat system is often referred to as 'conversational' rather than 'transactional'. The disappearing messages, therefore, result in a more personal form of interaction.
In other respects, the Snapchat system is like many others. Photos and videos can be edited to include filters, text, captions and drawings.
Building off its strong brand, the firm has introduced additional services such as Snapcash in 2014, allowing users to transfer funds. In 2016 a 'Memories' feature was introduced, which edged towards conventional messaging by enabling messages to be saved in a private storage area. The 'My Eyes Only' functionality ensures privacy levels were maintained by allowing users to set pin code access on specific areas of their account.
In 2017 the firm went full circle and upgraded the system to allow messages to be sent with unlimited lifespans. Allowing users to set their account to adopt a very conventional approach to messaging hasn't diminished Snapchat's growth. In Q1 of 2021, Snap revenue was $770m, surpassing analyst forecasts of $743m.
Financial Overview
Charts of the firm's balance sheet history show it has started 2021 in a very favourable position, with the firm posting quarter-on-quarter revenue growth of 66%.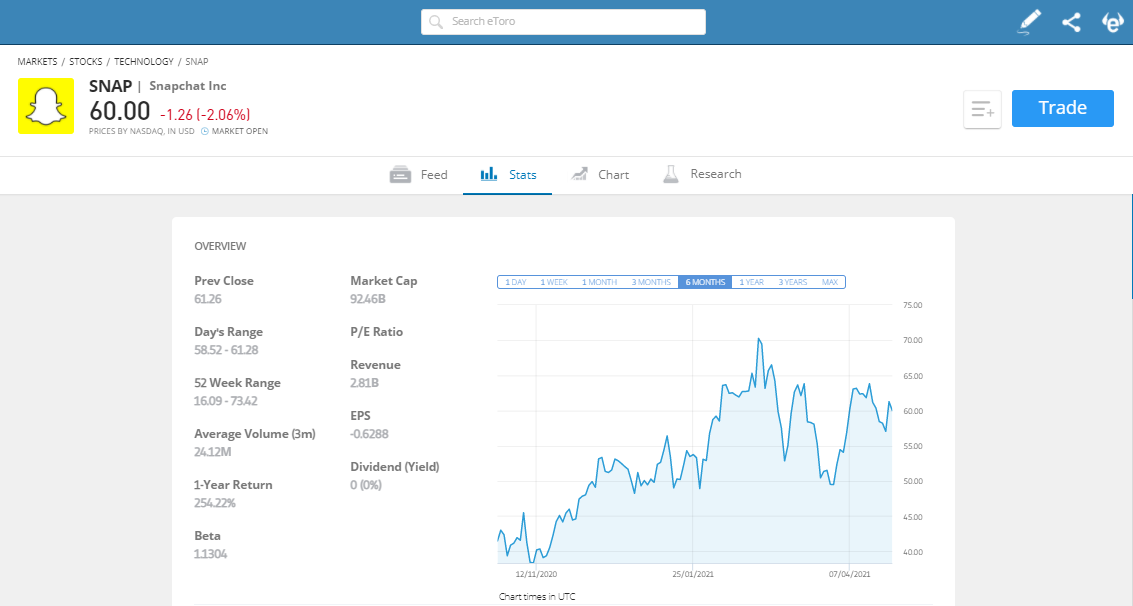 *68% of retail CFD accounts lose money
Snapchat market cap – $92.4bn
Snapchat earnings per share (EPS) Q1 2021 – $0.23
Snapchat P/E ratio– 20.66 The five-year average P/E ratio for the Nasdaq 100 index is currently 37.55.
Snapchat share dividends– Snapchat does not pay dividends.
The firm has been investing in a range of new products, including Snapgames and is expanding its reach into markets other than the US. These new schemes have boosted performance, which has already been enjoying a favourable tail-wind thanks to the COVID-19 pandemic. With global communities in lockdown and the internet becoming a greater priority, corporate advertisers carried out audits on which social media platforms gave them the most bang for their buck and, as a result, pumped more business Snapchat's way. For many advertisers, Snapchat offers the best route towards attracting the attention of the vital, but hard to reach, Gen-Z demographic.
Snapchat Ethical Rating
Environmental Impact
While Snapchat doesn't mass-produce physical products, the people who enjoy using the service still have a carbon footprint. Using the Snapchat app on a hand-held device requires electricity, and as the end-user could be charging their phone from a carbon-intense source, Snapchat is on the hook for some of the CO2 generated.
It's not the worst starting position for a business; Snapchat is still relatively light-touch in carbon usage, but the firm has taken steps to make up for the situation.
The firm's Data and Energy Efficiency Team have worked extensively on minimising the app's energy drain. Android and Apple devices have both seen a 50% reduction in their median battery drain.
At the same time, the company has calculated its total carbon footprint and has offset it by purchasing verified carbon offsets that support forestry, energy efficiency and renewable energy projects.
Treatment of Workers and Local Communities
Snapchat doesn't make any physical products, which means it scores relatively highly in the category. There's no need to chop down virgin rainforest and displace local communities every time the Snapchat engineers upgrade the app.
The firm deserves credit for being proactive in this area, as demonstrated by its philanthropy program, which empowers its team to build long-term, sustainable partnerships with local non-profit organisations.
Ethical Initiatives
Wherever you look, Snap is on the front foot in terms of developing new ways of engaging positively with its other stakeholders. This ethos runs right through the firm, and the founders have shared some of their personal wealth to set up the trail-blazing non-profit Snap Foundation, which in 2020 held $900m in assets.
Controversies
Like a lot of social media firms, Snap has to grapple with the issue of its users transmitting offensive and insensitive material. Items in question include speeding drivers sending snaps just before they crash into other vehicles and personal information being unwittingly shared.
The most prominent blemish on the firm's record occurred in 2013 when a bug in the Snapchat system allowed 4.6 million user accounts to be hacked, even though white hat hackers had flagged up the loophole.
Summary
The time to take action is now. Snapchat recently stepped up a gear, as shown by the most recent and forecast-beating earnings release. Its transition from being a loss-making unicorn into a cash-generating tech stock saw the Snapchat share price sky-rocket 9% in one day. That outbreak of buying pressure has since subsided, leaving the Snapchat share price trading at attractive levels and encouraging many to buy the dips.