Other considerations include risk management and portfolio diversification. This is so that there is enough juice in the trade to make it worthwhile, but not so much as to cause alarm. Emotional trading is bad trading and selecting beginner-friendly stocks needs to factor in both risk and return. The below list of the best starter stocks includes names that consider the needs of entry level investors and provide an ideal way to start trading.
The Best Starter Stocks For Beginners
Here are 5 of the best shares for beginners to buy today:
Apple (NASDAQ: AAPL)
Source: 123RTF
Two of the top tips for successful stock investing are, to buy what you know, and have a clear strategy. US tech giant Apple ticks both of those boxes.
Apple products are so widely held that it's easy to take a view on whether the new product line is hitting the spot with consumers, or not. The offices of institutional investors may be full of teams of analysts scouring financial reports on firms, but the information they prize the most are the views of end-users down on street level.
The roll-out of new iPhones and other devices can be easily diarised as it falls in the months before the peak Christmas buying season. If you find that you and your contacts approve of the new range and can't resist upgrading, then you've carried out high-value market research and might feel comfortable staying in your AAPL stock position for another 12 months.
Apple's market capitalisation of $2.73trn makes it one of the largest firms in the world and with an estimated cash pile of $179bn sitting on its balance sheet it offers investors some protection from any economic downturn. It's also resumed paying dividends so shareholders will benefit from regular cash payments currently valued at 0.526% per year.
Source: 123RTF
The banking sector has had a challenging few years thanks to base interest rates being so low. The spread between the rates they charge on loans and savings determines their profit levels and those spreads have been squashed due to base rates being close to zero – it's hard to offer negative interest rates on savings accounts as clients instead keep spare cash at home.
With inflation firmly out of the bag and interest rate rises predicted, it's easy to envisage bank revenues rising and a return to the boom years of 2000 – 2006 when the BAC share price rose by more than 200%.
Banking has traditionally been a lower risk-return proposition but getting into a long position in big firms when they are undervalued can result in considerable gains. Bank of America's comforting market capitalisation of $376bn and a current dividend yield of 1.82% are additional nice-to-haves for beginner investors.
Source: 123RTF
Entry-level traders who like the idea of investing in a firm with tangible assets might want to consider Southern Copper Corporation. The copper sector is hot right now due to the metal playing a key part in the shift from carbon-based energy to renewables. SCCO's network of mining operations is complemented by other divisions such as refining and smelting which operate along the life-cycle of the copper industry. This makes Southern Copper a more rounded, and less volatile way of getting exposure to the copper and mining markets.
Whilst the mining sector is considered to have an above average risk-return profile there is space for some allocation to mining as part of a well balanced portfolio which also has exposure to other lower risk sectors.
Southern Copper's fundamentals are attractive and earned the firm a place on this list of the best copper mining stocks to buy, largely thanks to the current dividend yield of 5.91% and modest P/E ratio of 15.38. Buying in at these current price levels could be rewarding in terms of dividend income and capital appreciation – the stock price going up. Analyst reports that a commodity super-cycle could be forming are creating a buzz in the sector as those multi-year trends are moments when commodity investors cash in.
Amazon (NASDAQ: AMZN)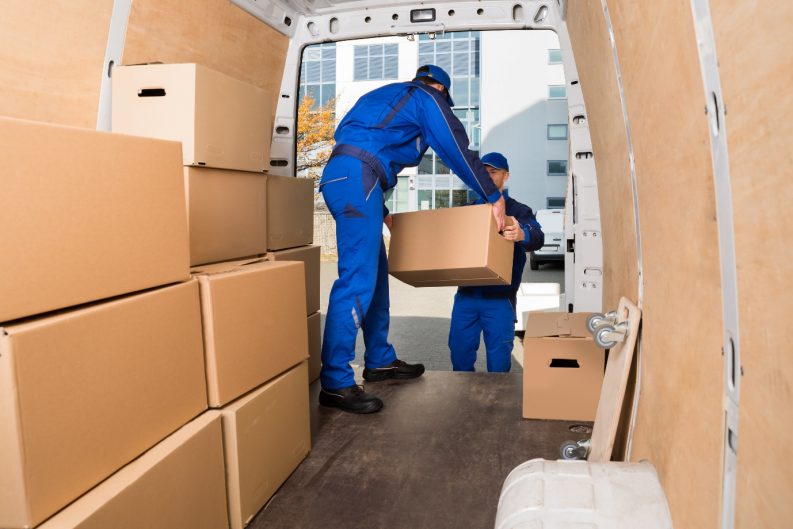 Source: 123RTF
Another tech giant with benefits from high barriers to entry is Amazon.com Inc. Its online shopping platform has an almost unassailable position and continues to generate billions of dollars of revenue each year. The firm's earnings report of 3rd February 2022 smashed forecasts with earnings per share (EPS), coming in at $27.75 per share when forecasts had predicted $3.77 per share.
The improved performance is largely down to Amazon continuing to pick the best new sectors in which to expand into. The AWS (Amazon Web Services) division is booming thanks to the world moving online post-Covid. AWS also has higher profit margins than the online shopping division, so whilst the cloud computing business accounts for 12% of total revenue it generates 60% of the group's total operating profit.
Amazon doesn't pay dividends to investors, instead, the management team are confident that their reinvestment of profits in new profits will result in future gains. So far, for every idea such as the Fire phone which doesn't take off, there is a winner such as AWS which more than makes up for it. That means Amazon is classed as a growth stock and whilst might have higher price volatility than other stocks on this list the firm's critical mass points to medium to long-term share price momentum continuing upwards.
Source: 123RTF
One of the best starter stocks is hand-cream to Covid-vaccine producer Johnson & Johnson. The large multinational has a proven track record of getting the most out of its product range with the share price appreciating by 8.14%, 7.97%, and 13.03% over the last three years.
That performance is impressive for a stock that is seen to be in a more defensive sector and healthcare and pharma stocks often hold their value quite well during market sell offs. The products they sell benefit from 'sticky' levels of demand.
JNJ's market cap of $429bn and an impressive current dividend yield of 2.59% mark it out as a stock that can be expected to generate some kind of a return, and at the same time offer stability in a portfolio which also includes some higher risk positions.
OUR FAVOURITE STOCK TRADING PLATFORMS
A lot of the work associated with investing is front-loaded and takes place during the decision making process. Picking the right stocks is part of that process but not all of it as choosing the right broker can also help the bottom line. Safety of funds is rule number one, so whether you're a beginner trader or an established investor the priority is choosing a trustworthy firm.
The platforms on this list of trusted brokers are regulated by well-regarded financial authorities so provide a safe way to enter the markets. They also offer a range of services designed to support your trading including free research, risk management tools, and mobile trading Apps.
Why Shares Are Ideal For Your First Trade
The underlying principles of share trading are very simple. Shareholders own a part of the firm they buy into and that means they benefit from when it grows in size or periodically returns a share of the profits to investors in the form of dividends. Risk can be managed by selecting stocks with lower levels of price volatility and building a portfolio of stocks with different characteristics.
If you're looking to buy stocks listed on reputable exchanges such as the New York Stock Exchange, London Stock Exchange, and NASDAQ then you're buying a regulated instrument. That means the markets in them are monitored to ensure trading is fair and efficient and that the companies have to comply with reporting requirements which means it's easy to get a clear picture of their performance.
Getting Into Shares Trading As A Beginner
Online broker platforms have been designed to make the trading experience as easy as possible. The functionality of the sites helps minimise user error and as they have been operating for years the software is robust and reliable. Buying into the best starter stocks has never been simpler and competition between brokers has also driven down trading costs.
Diving straight into the markets is one option but registering for an online Demo account is also highly recommended. These allow you to practise stock picking, test out brokers, and learn the mechanics of trading using virtual funds in a risk-free environment.
Online brokers
Firms that offer free to use share dealing accounts include eToro and IG. By simply completing an online registration process and wiring funds you'll be set up to enter the quantity of a stock you want to buy and click a button to execute the trade. At that point cash in your account is converted into a stock position.
Devoting some time to developing an understanding of how to get the best out of your platform can pay off in terms of investment returns and the below breakdown of the process and some of the terms used has been compiled to cut through some of the jargon.
Putting on a trade
Global broker eToro has more than 20m existing clients so is a good platform to choose to break down the process of buying shares. Once you get through to the platform's home page locating the stocks you want to buy is done by filtering by sector or using the search function. It's also possible to set up a Watchlist of potential targets.
Source: eToro
Once you're at the home page for a particular stock, such as Johnson & Johnson, it's possible to access risk management tools such as Limit Orders and Stop Loss and Take Profit instructions. Using these is optional but is favoured by some traders who like to build in automated instructions to buy or sell a stock if the price reaches a certain level.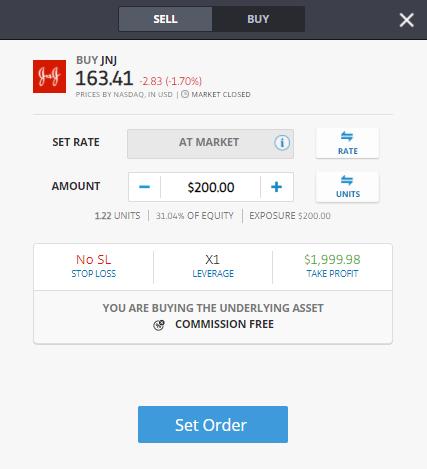 Source: eToro
Profit & Loss
After executing a trade, the stock position you have bought will have its value determined by live market prices and performance can be tracked using the Portfolio section of the site.

Source: eToro
The Portfolio section of the platform is the place to head to when the time comes to selling some of your position. The process of selling is the reverse of the one used to book the initial buy trade and profit and loss (P&L) on the position will be crystalised and reflected in the cash balance. If you're looking to scale up in terms of risk and invest in uranium or solar stocks, or Tesla competitors that cash can be used to book a new trade. Alternatively, it can be left in the account for a future opportunity or returned to the bank account which funded the brokerage account in the first place.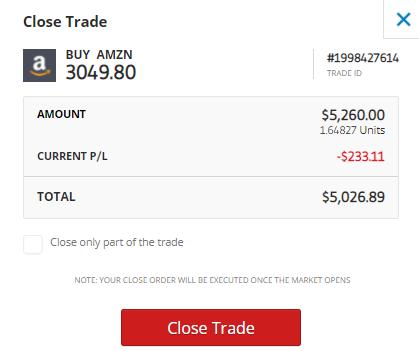 Source: eToro
Experienced traders will strongly advise checking the Portfolio section of the site immediately after executing a trade. Anyone can make 'fat finger' errors and spotting and correcting mis-booked trades will stop any errors from becoming costly ones.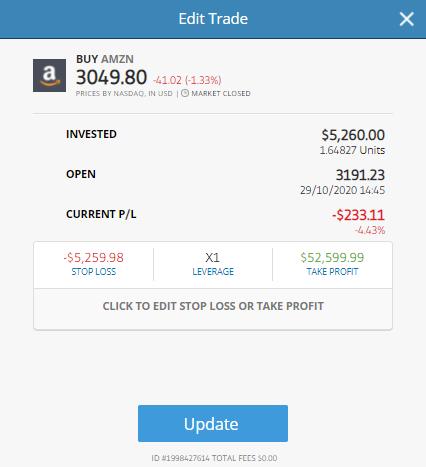 Source: eToro
What Are The Qualities of Great Beginner Shares?
Buying shares in relatively stable companies can help smooth out returns. It can also help inexperienced traders stay in positions for long-term gain instead of bailing out of positions during short-term market sell-offs.
Volatility & Dividends
Dividends are profits that are returned to investors in the form of cash payments or more shares. The management of each company decides the date and amount of any dividends and firms which pay generous dividends are known as income stocks.
Amazon is an example of a firm that has never paid a dividend and instead the management chose to reinvest profits in new business schemes. The strategy hopes that the new projects will boost revenues and result in the AMZN share price outperforming the broader market. Beginners need to factor in that growth stocks tend to be associated with higher levels of price volatility. Any updates on how likely those projects are to be successful can result in dramatic price swings.
Share price history & Technical analysis
Exponents of technical analysis use historical share price performance data to help predict future price moves. Other technical analysis tools which good brokers provide free of charge include SMA's (Simple Moving Averages), Fibonacci levels and Heiken Ashi candles which can be used to identify optimum trade entry and exit points. Some traders base their trading on these metrics whilst others lean more towards the use of fundamental analysis.
Source: IG
Holding periods and what to avoid
The question of how long you intend to hold your position will be influenced by personal investment aims. One common error to avoid is diverging too far from the initial plan and over-trading is a common problem for beginners and widely regarded as being a drag on returns.
Beginner-friendly Stock Analysis and Trading Strategies
If you're new to trading, then it's worth establishing how much time you can realistically devote to the markets. Some investment products such as Exchange Traded Funds (ETFs) involve buying a basket of stocks with the click of one button. This makes them an alternative option for those who are time-poor.
Buying large-cap firms can also be a good idea for beginners. The larger the firm, the more free research will be available and more brokers offering markets. In addition, institutional investors such as pension funds who allocate millions of dollars of capital carry out due diligence on large firms which offer another layer of reassurance.
When the time comes to develop new strategies Demo accounts are once more great tools to use. All of the below trading systems can be tested using virtual funds before deciding to use real cash in your live account.