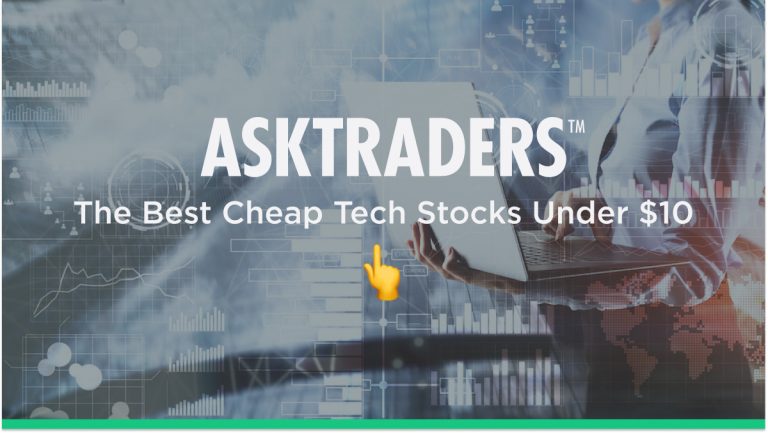 You don't have to look too far to find stories of early-day investors buying cheap tech stocks and making life-changing amounts of money. If it were that easy, everybody would be doing it. But, given the potential for the sector, there is some benefit from identifying the best cheap tech stocks to buy.

Carrying out fundamental analysis on small-cap tech stocks can help investors identify prime targets, and technical analysis can help pinpoint the optimal time to buy them. This review of cheap tech stocks to buy now considers the prospects of some of the hottest names in the sector.
Best cheap tech stocks
Best cheap tech stock in the chip sector – United Microelectronics Corp (NYSE:UMC)
Taiwan-based chip manufacturer United Microelectronics has a New York Stock Exchange and a Taiwan listing thanks to international investors showing considerable interest in the firm. The ADR has shown significant price strength over the last 12 months, but as recently as July 2021 was trading under the $3 level.
United Microelectronics (ADR) – Fundamentals and Dividend Yield
Source: IG
UMC's P/E ratio has risen to 27.67. But there could be further price gains, thanks to new areas of the tech sector ranging from homeworkers to the metaverse, and ultimately all requiring chips. The current dividend yield of 2.528% is an impressive return, beating rates offered on bank savings accounts, which means investors could benefit from income and capital gains.
United Microelectronics (ADR) – Share Price Chart 2020 – 2022
Source: IG
Best cheap tech stock to buy now – iClick Interactive Asia Group Limited (NASDAQ:ICLK)
Online marketing platform iClick provides data analysis and other digital services and has a strong position in the booming China market.
Aegon NV – Fundamentals and Dividend Yield

Source: IG
iClick's current share price of $4.30 puts it in the group of tech stocks under $10, but it has a track record of trading well above that level. As recently as February 2021, ICLK was trading at $18.6 per share, meaning it has already indicated what could be possible.
iClick Interactive – share price chart 2018 – 2022
Source: IG
The fall-back in price can be considered a chance to move into one of the market's most undervalued tech stocks, which is suffering a temporary blip.
Best cheap tech stock with exposure to India – Wipro Limited (NYSE:WIT)
India-based Wipro Limited has a global client base. If the idea of an Indian multinational technology company providing information technology and business consulting services sounds familiar, then it is. Bangalore-based Infosys leading that sector, and its market capitalisation of $103bn offers an idea of how far Wipro could go.
Wipro Limited (ADR) – Fundamentals and Dividend Yield

Source: IG
Wipro stock has benefited from significant buying pressure since March 2020, and the recent pullback looks more like a pause for breath rather than a sign to sell.
Wipro Limited (ADR) – Share Price Chart 2018 – 2022
Source: IG
Best cheap tech stock that is cheap for a reason – BlackBerry Limited (TSX:BB, NYSE:BB)
Blackberry's fall from grace as the go-to handset for corporate users saw the BB stock price crash from $138 to below $10. Shareholders who suffered on the downside may be looking for opportunities to bail out of positions. But, those approaching the situation with a fresh pair of eyes will find Blackberry has moved on to become a global leader in the provision of cyber-security software, which uses artificial intelligence and machine learning. It is also investing in another massive growth market, the Internet of Things (IoT).
BlackBerry Limited – Fundamentals and dividend yield

Source: IG
Blackberry is operating in a competitive sector but could be about to experience a change in fortunes. As much as it might be a target of old jokes, cash is king, and in Q4 of 2021, it reported a net income of $74m, which compares well to the loss of $130m reported at the end of 2020.
BlackBerry Limited – Share price chart 2020 – 2022
Source: IG
Best cheap tech stock– Nokia (HSE:NOKIA; NYSE:NOK)
Like BlackBerry, Nokia moved out of the phone handset game in the last decade, but its shift into the 5G network business has been much more successful. The stock is still trading under $10, but Nokia takes the position as the best cheap tech stock to buy, thanks to a series of factors aligning at the same time.
Nokia Uyj – Fundamentals and dividend yield
Source: IG
Cash from long-term 5G contracts is beginning to flow into Nokia's accounts to the extent that the firm is looking to increase the dividend payment to investors. Income streams could rise even further. Not only is 5G one of the most exciting growth sectors in the economy, but political tension between the West and China is blocking Nokia's competitor Huawei from taking up market share.
Nokia Corp (ADR) – share price chart 2018 – 2022
Source: IG
Why buy cheap tech stocks now?
Trading in the same direction of a trend is a fundamental rule of successful investing. From March 2020 to December 2021, the NASDAQ 100 index, which is taken as the flagship of the tech stock sector, increased in value by 134%. During that bull run, it seemed that buying into a position in a tech stock would have sometimes resulted in the position showing an immediate profit. At other times, any short-term dip would soon correct itself and turn into a gain.
NASDAQ 100 Index 2021 – 2022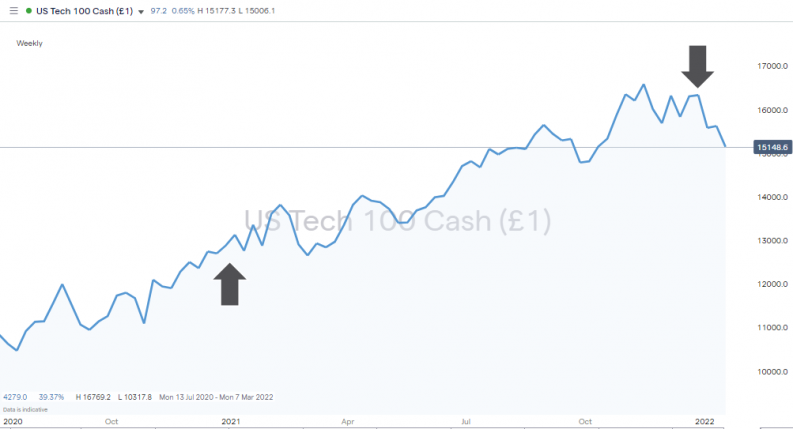 Source: IG
The surge in stocks positioned to benefit from the post-Covid 'new way of doing things' stalled at the end of 2021. Previous performance is not a guide to future returns, but the current slide in tech stock prices is sector-wide and could be seen as a dip to buy. With the NASDAQ 100 posting a +8% price fall from 1st to 18th January 2022, this could be an opportunity to get in at lower price levels before the market takes off again.
As small-cap tech stocks price at under $10 are long-term propositions, buying into a dip isn't necessarily crucial. But if the possibility arises, then returns can be optimised.
What to know before investing in cheap tech stocks?
There are reasons to approach the cheap tech stock sector with caution. Amazon, Facebook and Zoom all started life as cheap tech stocks and have since posted staggering gains but not all currently undervalued tech stocks will be winners.
Picking winners is made harder by small firms tending to be less well covered by researchers and analysts. Finding crucial information might require investors devoting time to dig down into company accounts to a granular level.
Big tech firms also have another advantage associated with their scale. Amazon's dominant position in the home shopping market, for example, means that any disruptor firms face countless barriers to entry should they want to compete.
With new tech start-ups, therefore, focussing on innovation and more obscure corners of the economy, there is a chance they don't get things right.
The final potential pitfall of investing in cheap tech stocks is they can take time to come good. That potentially involves periods where a position is showing a loss, and the question of whether to cut losses takes up a lot of time. The opportunity cost of tying capital up in a buy-and-hold style position also needs consideration. Could those funds generate a better or at least earlier return invested in other assets?
How to buy cheap tech stocks
Finding the right tech stock priced under $10 is only part of the process. It is crucial that the broker you select offers markets in smaller firms and is trustworthy.
1. Choose a broker
This broker shortlist includes firms well-respected in the trading community with experience dealing in small-cap firms. They are also regulated by Tier-1 authorities such as the SEC and FCA and reviewed by the AskTraders team.
2. Open and fund an account
The process of opening an account is relatively straightforward. It takes minutes to sign up and can be done using a handheld or desktop device.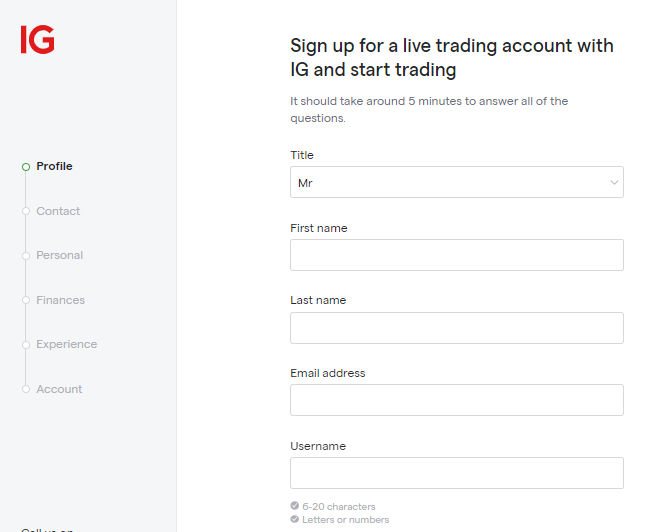 Source: IG
Wiring funds to a new account can be done in various ways, with the simplest and fastest approach being debit and credit cards. Alternative payment methods are available but check the T&Cs to ensure there aren't any charges on deposits and withdrawals.
3. Open an order ticket and set your position size
Once funds are in your account, the next step is to buy the target stocks. The trading dashboard for each stock can be located using the 'search' function.

Source: IG
Enter the number of shares you want to buy into the appropriate data field and click or tap 'buy'.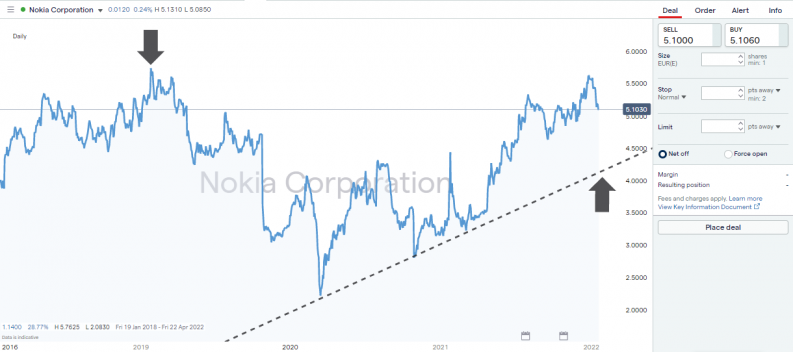 Source: IG
4. Set your stops and limits
Stop Loss instructions and Take Profit orders are risk-management tools instructing a broker to automatically close out some or all of a position if the price reaches a certain level.
Buy-and-hold investors operating a long-term strategy often decide to not use stop loss and take profit orders. It avoids being kicked out of a position that might ultimately experience a price rise.
Trading in small size is recommended as an alternative way to approach risk management. Diversifying your investment across several cheap tech stocks will help avoid single stock risk.
5. Make your purchase
After you click buy, the Portfolio section of the platform will report the live P&L of the position.
Best broker for trading stocks online
Whether you're an experienced investor or new to trading, the cheap tech stock sector is worth considering. Modern trading platforms are perfect for gaining exposure to firms that have the potential to sky-rocket in value. Brokers who are fully regulated also offer a safe and secure trading environment as well as additional services designed to help you succeed. Choose the right broker, and you'll receive everything you might need to get started and book your first trade.