Key points:
4d Pharma shares rallied 9.11% on positive asthma treatment data.
Investors cheered the news, as evidenced by the rally in its shares.
Some of the company's treatments are almost at commercial stages.
The 4d Pharma PLC (LON: DDDD) share price rallied 9.11% after releasing the second set of data from its Phase I/II clinical trial of MRx-4DP0004 as a treatment for asthma.

MRx-4DP0004 is a single strain Live Biotherapeutic delivered orally to treat asthma. The drug met its primary endpoint in part A of the Phase I/II trial evaluating its safety and efficacy.
Today's data was taken from the trial results examining secondary endpoints, including the Asthma Quality of Life Questionnaire (AQLQ), Asthma Control Questionnaire (ACQ-6), lung function, the use of short-acting beta-agonist (SABA) rescue medication, and exacerbations.
Today's results indicated that MRx-4DP0004 met all the secondary endpoints benchmarked against the placebo, with participants taking the drug reporting better results than those on the placebo.
MRx-4DP0004 met the study's primary endpoints, which measured its safety and tolerability when combined with inhaled corticosteroids (ICS) as maintenance therapy and with or without a long-acting beta-agonist (LABA).
As revealed in today's announcement, the drug beat the placebo on all secondary endpoints by a significant margin.
Investors cheered the news triggering the rally in 4d Pharma shares that have been fallen 65.38% in the past 12 months. However, the company's shares started the year on the wrong footing since they have fallen 23.8%.
Duncan Peyton, 4D Pharma's CEO, commented: "The further clinical results announced today are highly encouraging. Beyond achieving the primary endpoint, we have seen positive trends in multiple secondary endpoints of efficacy that we will be assessing in Part B, including statistical significance at all time points in what will be the primary endpoint in the Part B phase of this trial,"
Adding:
"These results further demonstrate the ability of 4D pharma's MicroRx platform to identify Live Biotherapeutics that are able to drive systemic effects and deliver new treatments to patients in need."
4d Pharma shares appear cheap at current prices, given the significant potential of its live biotherapeutic treatments.
This year, the company's shareholders are hoping for a better outcome as some of its treatments progress through phase III trials and could soon be sold to consumers upon receiving regulatory approval.
I like the company and its innovative treatment approach, but long term investors are sitting on significant losses as 4d Pharma shares trade near lows last seen in July 2020.
*This is not investment advice. Always do your due diligence before making investment decisions.
4d Pharma share price.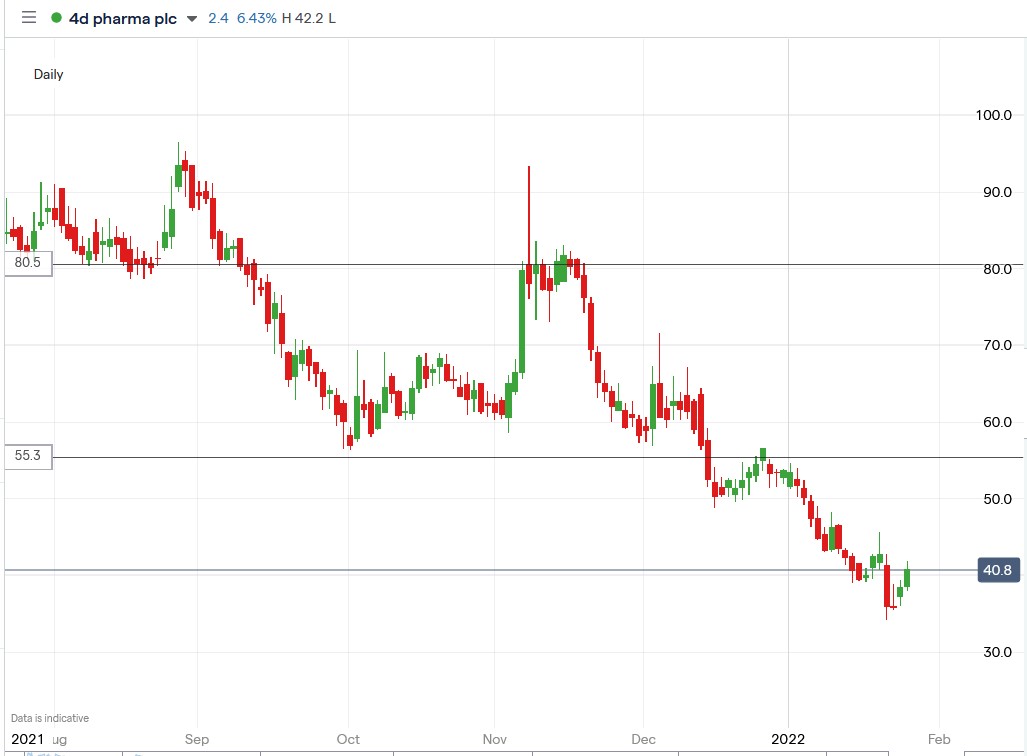 4d Pharma shares rallied 9.11% to trade at 41.9p, rising from Wednesday's closing price of 38.4p.