Key points:
Farmmi shares surged 20% premarket on excellent full-year trading results.
The agricultural supplies company is on an aggressive growth trajectory.
However, its current valuation does not reflect its positive fundamentals.
The Farmmi Inc (NASDAQ: FAMI) price surged 20% during premarket trading after reporting upbeat results for the 2021 financial year.

Some of the report's highlights included a 188% increase in the company's net income during the 2021 fiscal year compared to fiscal 2020.
The Chinese agriculture products supplier said that it grew total shareholder equity to an impressive $159.9 million as of September 30, 2021, compared to 428.3 million at the end of September 2020.
Investors cheered the excellent results, evidenced by today's premarket rally in Farmmi shares.
Ms Yefang Zhang, Farmmi's Chairwoman and CEO, told investors that the company achieved its excellent results driven by its ability to secure inventory and deliver it to customers at the right time despite the significant global supply chain challenges.
The company also experienced higher order volumes and grew its relationships with suppliers and customers to ensure a steady stream of business.
Farmmi launched a diversification initiative to expand the number of products it offers to customers while reinforcing its end-to-end supply chain to ensure that its clients receive the products ordered on time.
Ms Yefang Zhang, Farmmi's Chairwoman and CEO, added: "We unveiled our ambitious diversification and growth strategy in September 2021, which was designed to deliver greater opportunities for revenue and profit growth, as we work to build on the strong platform and demand we are continuing to benefit from in the edible fungi market worldwide. Importantly, our stronger balance sheet gives larger domestic and international customers added confidence in Farmmi as a partner and allows us to accelerate investments in our organic business while also pursuing strategic M&A opportunities."
The company is planning on an aggressive expansion plan unveiled in September 2021 and believes that its current share price is not an accurate representation of its business value.
Farmmi hopes to close the gap between its market valuation and its business fundamentals this year, which could result in a higher stock price and increased shareholder value.
Investors cheered the news, but today's rally was not enough to lift Farmmi out of negative territory as its shares are down 10.97% this year. Furthermore, the shares have lost  84% of their value over the past 12 months.
Farmmi looks cheap at its current share price, but there are no guarantees that its price will rally higher and close the valuation gap explained above.
*This is not investment advice. Always do your due diligence before making investment decisions.
Farmmi share price.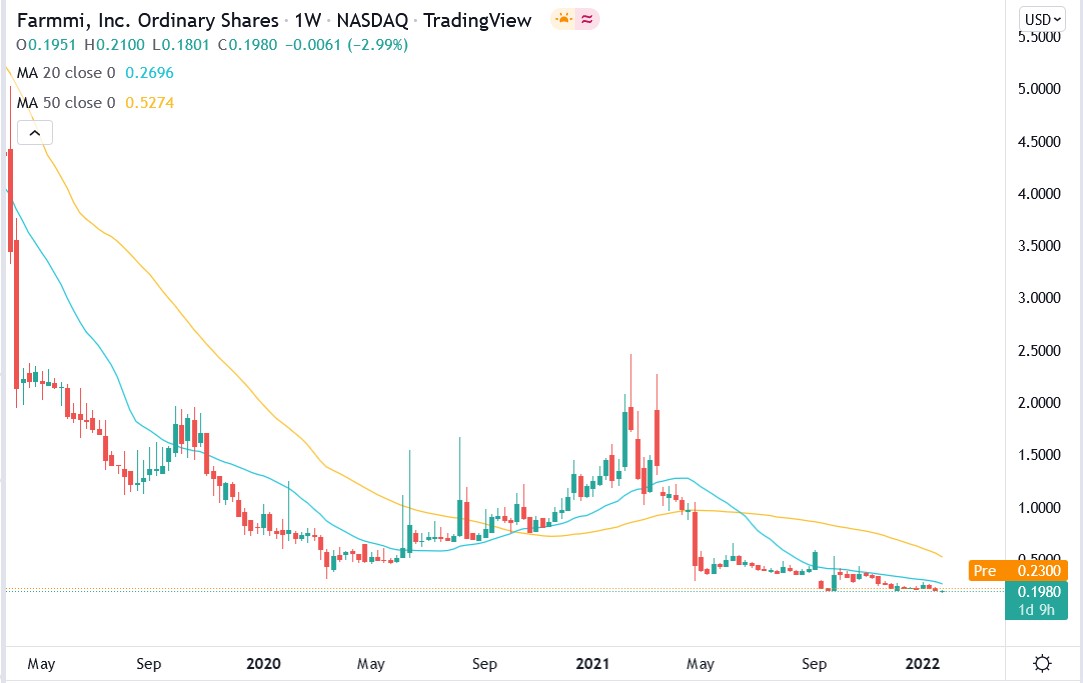 Farmmi stock price rallied 20% to trade at $0.2377, rising from Wednesday's closing price of $0.1980.