Key points:
Amazon shares surged 11.6% on mixed Q2 earnings results.
The company's revenues beat expectations, while earnings missed.
The Big Tech company is expecting better performance in Q3.
The Amazon.com, Inc. (NASDAQ: AMZN) stock price surged 11.6% during premarket trading after the eCommerce giant released its Q2 earnings results yesterday after the markets closed. Amazon shares rallied despite the company reporting a 20-cent loss per share, missing analysts' estimates of a 13 cents profit by 33 cents.

Also read: Best Tech Stocks To Buy Right Now.
Investors were impressed by the company's revenues, which surged to $121.2 billion, representing a 7% increase from 2021, beating analysts' estimates of $119.18 billion recorded in Q2 2021. Amazon stood out from its Big Tech peers, including Apple, who reported disappointing results earlier this week.
Amazon also raised its revenue outlook for Q3 2022 to between $125 billion and $130 billion, impressing analysts and investors alike, who expect Q3 revenues to come in at $126.4 billion based on estimates from Refinitiv.
Andy Jassy, Amazon's CEO, said: "Despite continued inflationary pressures in fuel, energy, and transportation costs, we're making progress on the more controllable costs we referenced last quarter, particularly improving the productivity of our fulfilment network."
While amazon's overall loss was disappointing, the company's rosy outlook appealed to investors grappling with the latest US GDP growth data. The US economy just recorded its second quarterly contraction, which puts the country in a technical recession.
However, there is significant debate on whether the US economy is in a recession, given that the country has added over 2.7 million jobs since the year began.
Amazon's rosy outlook is a good sign that the economy is not in a terrible position, given that the e-commerce giant is counting on greater consumer shopping, more sales of its web services and a surge in advertising revenues.
A negative aspect of the earnings report was that Amazon slashed over 99,000 jobs reducing its employee count to 1.52 million, to lower some of its costs as record-high inflation, supply chain disruptions and higher logistics costs eat into its profits.
Many experts are betting on the Fed slowing down the pace of rate hikes, with many expecting it to reverse some of its hawkish policies and embrace quantitative easing once again to support the economy by the end of the year.
*This is not investment advice. Always do your due diligence before making investment decisions.
Amazon stock price.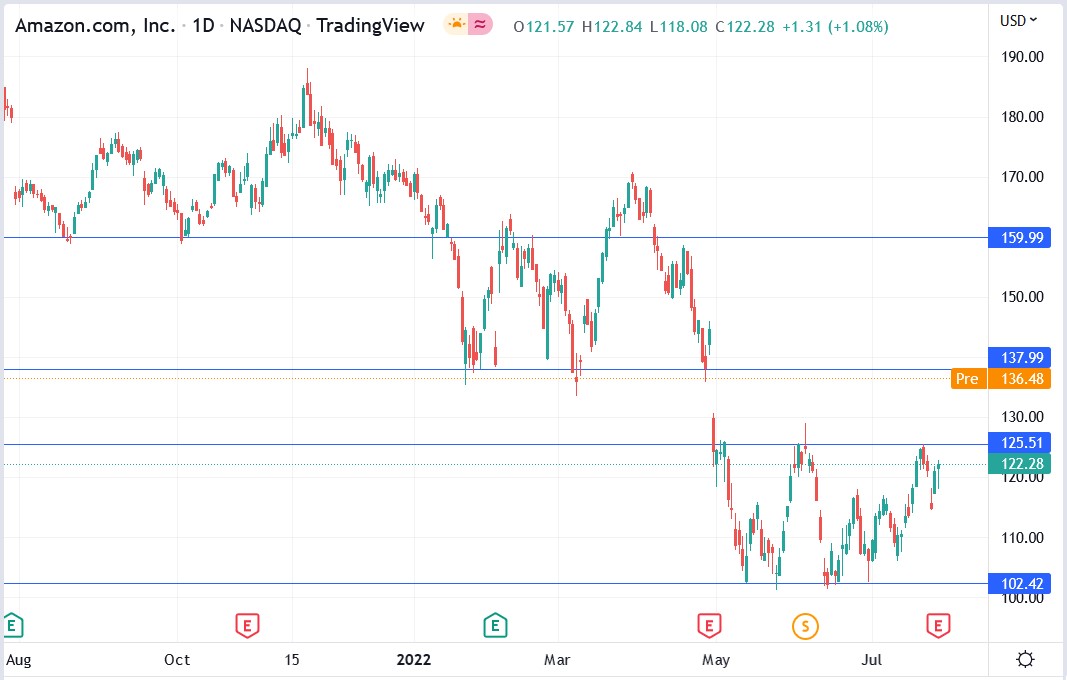 The Amazon stock price surged 11.56% to trade at $136.48, rising from Thursday's closing price of $122.28.