Key points:
The Upwork stock price fell 18% despite upbeat Q2 earnings results.
Investors reacted negatively to the company's high operating costs.
However, Upwork's fundamentals remain solid, making it attractive.
The Upwork Inc (NASDAQ: UPWK) stock price fell 18% despite the work-management platform reporting positive results for the just-ended quarter. The company's revenues surged 26% to $157 million in Q2, while its gross margins inched 1% higher to 74% from last year's 73%.

The company also reported that its charges on fees paid through the platform rose to 15%, the highest level it has ever reached since its 2018 IPO. Yet, despite the positive figures, investors sold Upwork shares, causing them to fall by 18%.
The main reason behind the selloff in UPWK stock is that a critical measure of the company's profitability was negative. Upwork upgraded its full-year revenue forecast to between $612 million and $617 million, representing a 22% annualised increase.
On the other hand, the company's operating costs surged 29%, primarily due to extra spending on sales and marketing activities. Investors were spooked because the company's revenues surged 26%, yet its marketing costs rose 29%.
It appears that Upwork's increased spending on sales and marketing activities is not resulting in a proportional revenue increase. Therefore, demand for the company's services seems to be slowing despite its revenues rising.
Upwork shares were headed lower after the open as sellers remained in control. It seems that the bears are keen to push Upwork prices lower. However, I expect a rebound once the shares hit the crucial $15.82 support level or somewhere close to that level.
The bulls have previously stepped up at this crucial support level, and I expect the same to happen this time. However, the company's fundamentals remain strong, and we cannot use a single quarterly result to judge its future performance.
We have to wait for data covering at least two-three quarters before we draw permanent conclusions about its business and the demand for its service.
So, is Upwork stock a buy? The answer is yes, but I would wait until the stock changes course and heads higher before buying. The best buying opportunities are at the support level or on a break above the resistance level.
*This is not investment advice. Always do your due diligence before making investment decisions.
Upwork stock price.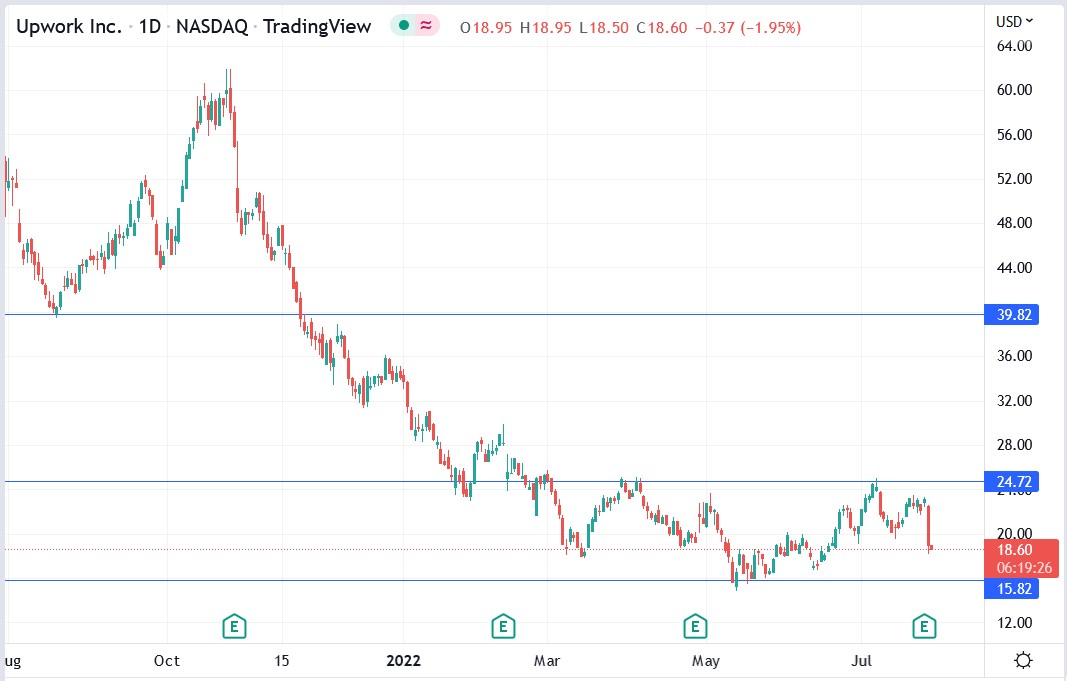 The Upwork stock price fell 18% after releasing its Q2 earnings. What next for the gig-economy company?