Key points:
Boohoo shares have fallen 49.2% in 2022 amid falling revenues.
Will the shares rally higher, and when can we expect a rally?
Read on to see my perspective on Boohoo's future.
The Boohoo Group PLC (LON: BOO) share price has fallen by 49.2% in 2022, bringing its total losses over the past 12 months to 80.64%. So should you buy the fast-fashion company's shares, given the massive declines? Let's break down what could happen next before deciding if we want to buy the shares or not.

Firstly, Boohoo recently released its Q1 2022/2023 earnings results, where the impact of significant customer returns and supply chain constraints weighed on the company's performance.
The fast-fashion company also started feeling the impact of the rising cost of living during Q1 2022, as evidenced by the high number of customer returns as consumers adjusted their spending on clothing and fashion items.
However, Boohoo's management team remained optimistic about the company's prospects saying that they expect to return to growth in Q2 2022. The firm is counting on tighter supply chain controls, especially regarding its stock levels and other cost controls, to lower its operating costs.
Another critical aspect of Boohoo's future profitability lies in its capital expenditures as it builds its first distribution centre in the United States, which should significantly impact its operations.
Boohoo's sales in international markets, especially the US, have been hampered by the lack of a local distribution network forcing the company to ship products ordered by US consumers from outside the country. This has led to significant delays in customers receiving the goods ordered.
The company believes it has been losing sales to its competitors who have an operating base in the United States, a scenario that it will quickly remedy once the distribution facility in Elizabethtown, Pennsylvania, is completed a starts operations in mid-2023.
Overall, Boohoo's investments in its supply chains will keep paying off even as it automates its flagship distribution centre in Sheffield, Northern England. The company's ultimate goal is to roll out automation at all its distribution centres in its core UK market.
Boohoo has four distribution centres in the UK that serve its British customers and its European clients. However, some analysts are worried that Boohoo could lose market share to cheaper competitors. One of them is Shein, a Chinese company that does not have the same levels of regulatory oversight as Boohoo.
While Shein can produce much cheaper fashion products without worrying about regulators, Boohoo might win over the long term as it continues to prove to its clients that it has streamlined its supply chain and none of its employees is working under sweatshop conditions.
*This is not investment advice. Always do your due diligence before making investment decisions.
Boohoo share price.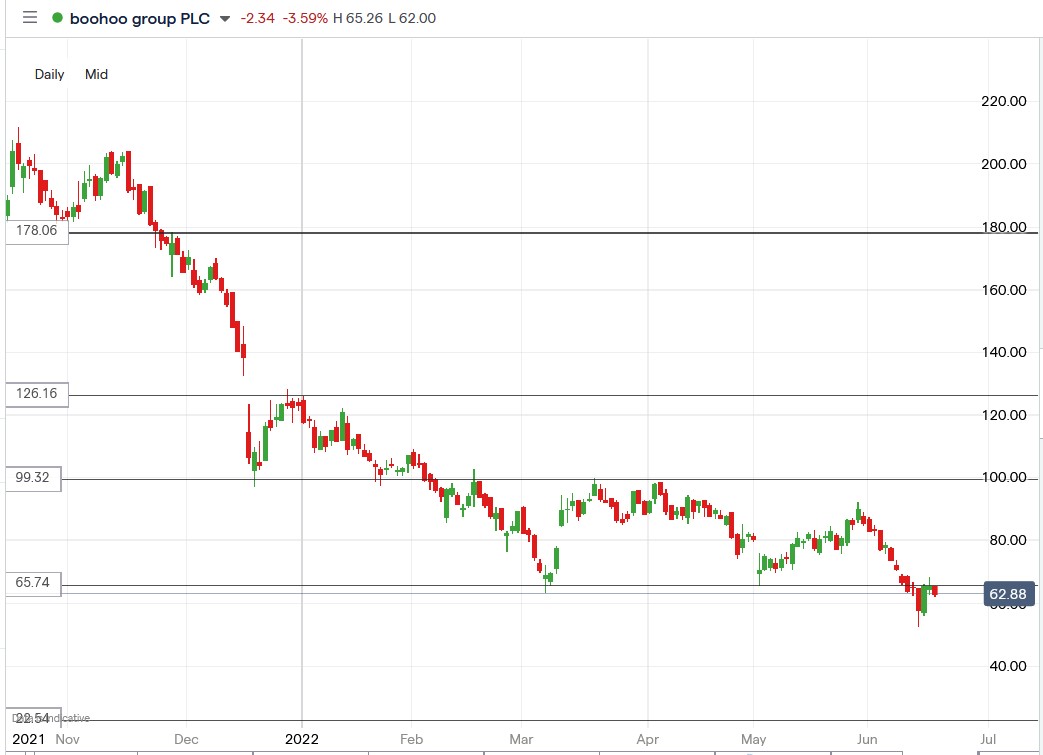 The Boohoo share price is down 49.2% in 2022, with its losses over the past 12 months being 80.64%.