Key points:
The iShares Russell 200 ETF (IWM) stock price is down 25.8% in 2022
Is there hope for a reversal anytime soon, or will the downtrend continue?
Here's what could happen to the IWM stock price
The iShares Russell 2000 ETF (NYSEARCA: IWM) stock price has fallen by 25.8% in 2022 and is officially in a bear market. As a result, most investors are wondering what comes next for the Russell 2000 index, which is an accurate indicator of the health of small to medium-sized US companies.

Unlike the more popular indices, the S&P 500, the Dow Jones, and the Nasdaq, the Russell 2000 index tracks the value of the 2000 smallest companies in the Russell 3000 index. Hence, it is a good barometer for measuring the performance of US-based small-cap and mid-cap companies.
The Russell 2000 index has fallen 26.7% this year, and the IWM ETF tracks its performance, allowing investors to bet on movements in the underlying index. But, as most investors know, you cannot trade an index. Hence, the only way to profit from an index's price changes is to buy or sell an ETF that tracks the index's performance.
The Rusell 2000 in bear territory means that most small-cap US stocks are in bear territory, which means that US businesses are not performing well. In addition, fears that the US economy has entered a recession are gaining traction, yet the Federal Reserve is raising interest rates further.
Many of the crucial indicators that have been used in the past to predict recessions are already flashing warning signs, indicating that a recession in the United States is almost certain now. However, the Federal Reserve has indicated that it could raise interest rates by another 0.75% during its July meeting, with another hike planned for September.
US businesses face challenging operating conditions as consumers cut their spending on non-essential goods and services to cope with the high cost of living triggered by record-high inflation.
For those wondering whether now is a good time to buy IWM stock. The answer for me is a resounding no, the business environment in the United States is likely to get worse over the next few months, and we could see further declines in the IWM stock price.
However, a change of tune by the Federal Reserve could trigger a bullish rebound in the Russell 2000 and other stock indices.
*This is not investment advice. Always do your due diligence before making investment decisions.
IWM stock price.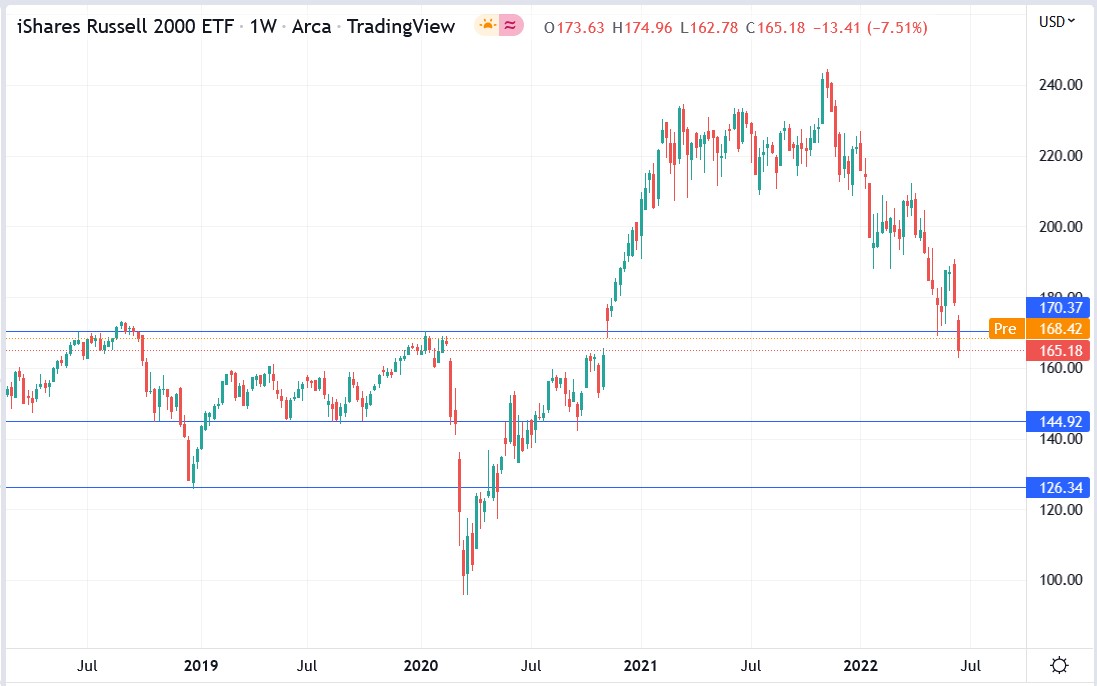 The IWM stock price has fallen by 25.76% in 2022 and is officially in a bear market.