Shares of luxury carmaker Aston Martin Lagonda Global Holdings PLC (LON: AML) are up 96% since November despite the company reporting a huge loss last year as potential clients cut spending on luxury items.
The luxury car manufacturer seems to be making a major effort to put its troubled financial past in the rearview mirror as Lawrence Stroll the current CEO steers the company in a different hopefully more profitable direction.
Since November, Aston Martin shares have formed a wide ascending channel indicating the potential for further gains and the company's fundamentals support the bullish thesis.

I do not expect Aston Martin shares to rally straight up. The shares are currently in the middle of the channel. I wouldn't be surprised if we got a pullback to or around the 1800p level where there is significant support before heading higher.
Investors seem confident in Strolls ability to turn Aston Martin's fortunes around given his vast experience in luxury sales and in the formula one racing circuit where he runs the Aston Martin F1 team formerly known as Racing Point.
Aston Martin still has a long way to go in revamping its current fleet to align with EU emissions standards over the next few years. Nevertheless, its partnership with Mercedes is likely to reduce the development time on its new engines significantly.
The recently renamed Aston Martin F1 Team's performance during the 2021 F1 Racing season could also boost the brand's image among younger consumers reestablishing it as a premier brand alongside Ferrari and Lamborghini.
The strategy implemented by Aston Martin's current management has ensured that the company weathered the coronavirus pandemic lockdowns and is in excellent shape to capitalise on the resumption of normal economic activities.
I think Aston Martin's shares are a bit overpriced given the recent rally. Still, investors keen on opening new positions in the company could open new positions on a pullback to the lower band of the channel to minimise their risk exposure.*
*This is not investment advice.
Aston Martin share price.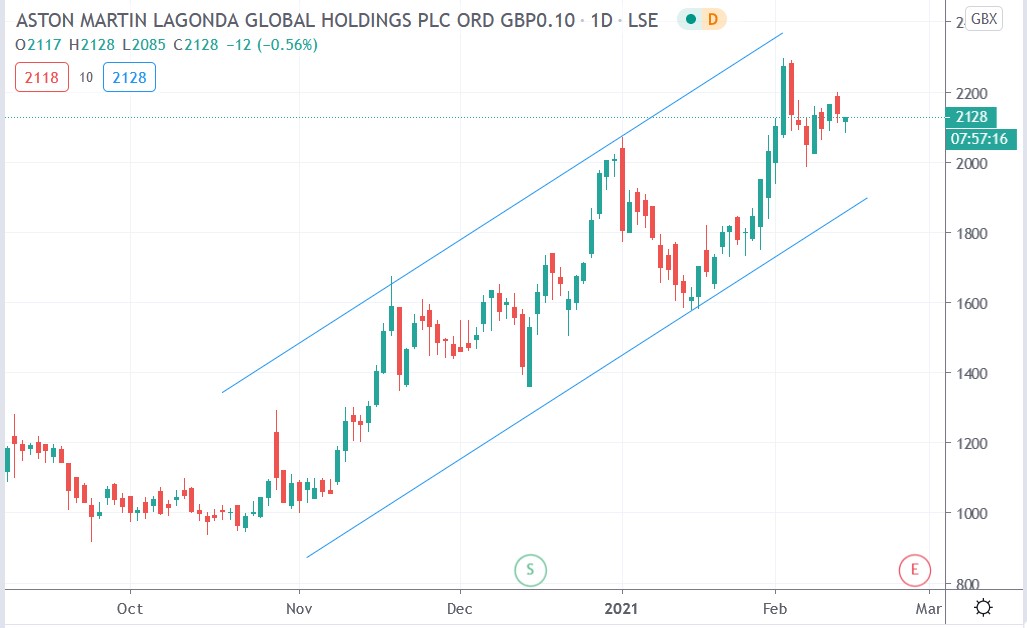 Aston Martin shares are up 96% since November and have formed an ascending channel indicating future gains.