Key points:
Atalaya Mining shares are down 35% on the year, 9.6% today
The problem is a triple pincer of moves against them
Lower profits, a falling copper price and rising operating costs
Atalaya Mining (LON: ATYM) shares are down 37% on the year to date and 9.6% this morning as the Q2 2022 results are announced. The problem is really very simple, higher costs and lower revenues, leading to profits roughly a third compared to the quarter a year ago and first half about half a year ago. While there's a neat symmetry to that last phrase that's not, in fact, what we want to be seeing. Atalaya is being hit by general macroeconomic factors so there's also not a huge amount that the company can do about it.

Well, there are long term things that Atalaya can try and do and it's doing them too. For example, the build out of the 50 MW solar plant will divorce energy costs from market prices, but at the cost of substantial capital. Similarly the E-LIX Phase 1 plant should, in time, reduce operating costs but again at the cost of substantial capital spend now.
The specific problems are as in that second sentence. Revenues fell, a bit, from €99 million to €93 (-ish) comparing Q2 2021 and Q2 2022. Operating costs soared though, from €47 million to €79 million. These are in the short to medium term issues that are outside management's control. As we've all noted energy costs have soared and given that copper mining is energy intensive that's just how it's going to work out.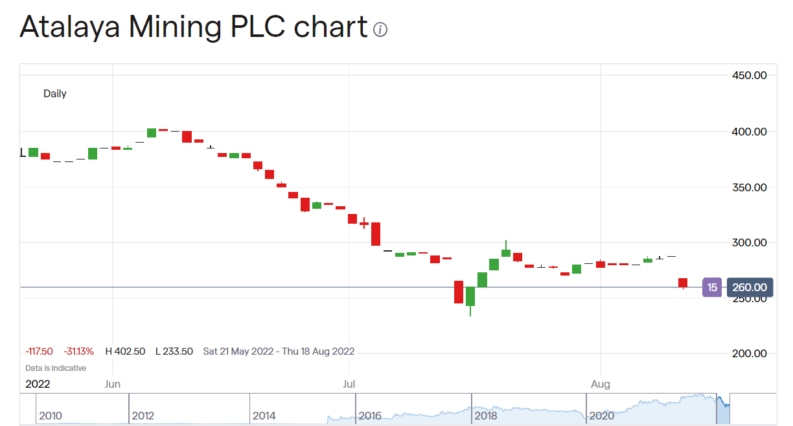 Also Read: The Best Copper and Mining Stocks to Watch in 2022
The combination of those figures means that EBITDA is is down to €14.6 million from near €52 million and profit to €11.8 million from €32.2 million.
What would be more concerning is this:

The problem is this: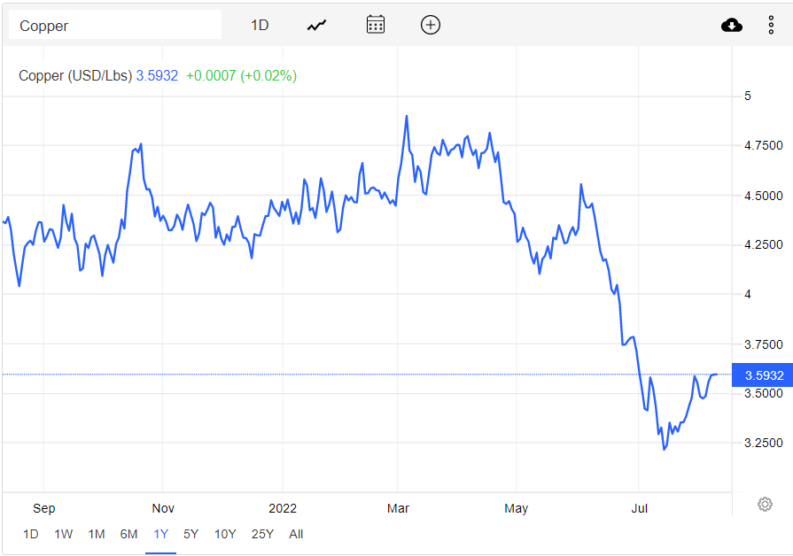 Atalaya has higher operating costs, yes. But it also needs to carry the overhead of activities. This means that when volumes fall – as they have done – then the overhead looms larger in the profit calculation. As we can see the copper price has been trending down, substantially, recently and has actually hit – even below – Atalaya's all in production cost at least briefly. This is the explanation of the weakening of the ATYM share price over the past few months – it doesn't take genius to work out that a falling copper price impacts the profits of a copper miner. But for Atalaya the problem is worse than this as there's also that production fall/overheads interface.
It's entirely true that Atalaya managed a higher sales price this quarter than a year back. But that's now what a share price reacts to, rather to likely future sales prices. And while copper demand is rising on that EV revolution thing so also is copper supply on the back of the very same thing. And the realisable price for copper depends upon both supply and demand.
Atalaya is caught in that triple pincer of rising operating costs, lower production volumes and a falling – perhaps – copper price. The way out of it is to invest in reducing production costs, exactly what ATYM is doing, but success will depend upon, well, the success of that process.