Baidu Inc (NASDAQ: BIDU) stock price edged 3.13% lower after revealing that it made a loss of 16.6 billion yuan ($2.6 billion) during Q3 2021 despite its overall revenues surging 13% to beat analysts' estimates.

The Chinese search engine giant revealed that it made a significant non-cash loss of 18.9 billion yuan from its long-term investments, which led to the 16.6 billion yuan quarterly loss.
However, the company's overall revenues rose to 31.92 billion yuan beating analysts estimates of 31.52  billion. Revenues from its core operations rose 15% to 24.7 billion yuan on an annualised basis.
Baidu has ventured into other industries such as AI, cloud computing and autonomous driving technology to diversify its income sources. As a result, its revenues were driven higher by surging demand within its artificial intelligence (AI) and cloud computing divisions.
The tech company reported that its core online marketing revenues grew 6% despite the massive crackdown by the Chinese government on large tech companies, including Tencent Holdings and Alibaba, to deter their monopolistic practices.
Rong Luo, Baidu's CFO, said: "Baidu Core delivered another solid quarter, powered by our AI cloud revenue growing 73% year-over-year."
Baidu seems to be largely unaffected by the strict regulations imposed by the Chinese government to tame large tech companies.
The company has partnered with Geely, a Chinese vehicle manufacturer, to develop electric vehicles emulating many other tech companies that have expanded into the fast-growing sector.
The Chinese government is keen to lower the greenhouse emissions in the country given that some Chinese cities such as Beijing have very poor air quality driven by pollution from cars and industries.
The government is pushing for the mass adoption of electric vehicles to lower air pollution, especially in major cities.
*This is not investment advice. Always do your due diligence before making investment decisions.
Baidu stock price.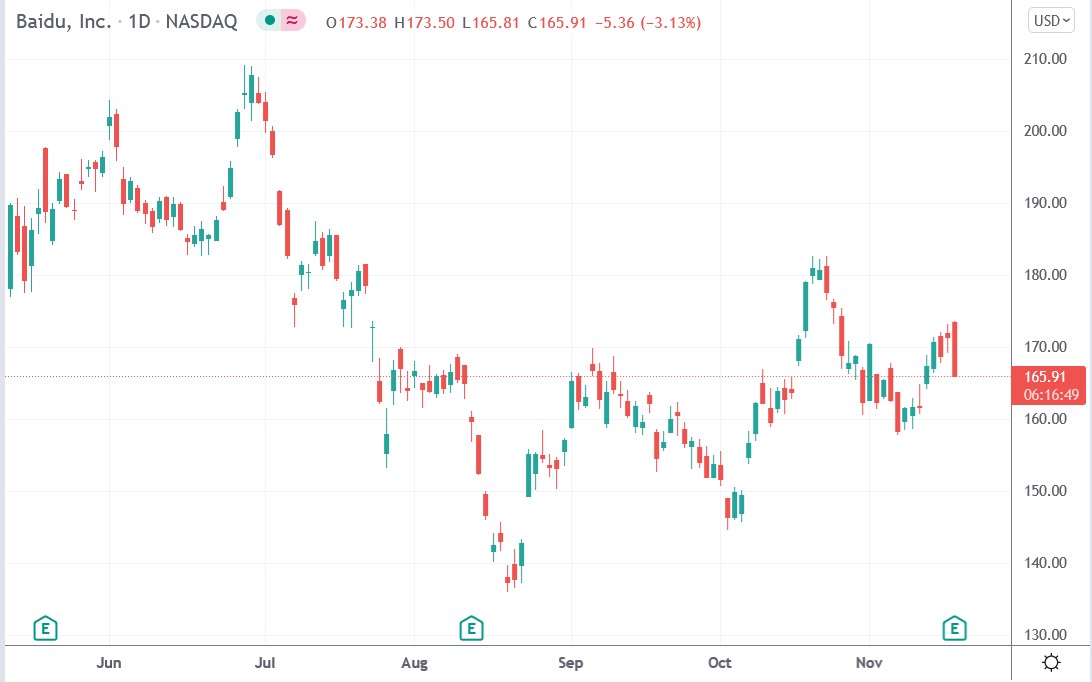 Baidu stock price edged 3.13% lower to trade at $165.91, rising from Tuesday's closing price of $171.27.
Should you invest in Baidu shares?
Tech stocks offer some of the best growth potential, but time and time again, traders and investors ask us "what are the best tech stocks to buy?" You've probably seen shares of companies such as Amazon and Netflix achieve monumental rises in the past few years, but there are still several tech stocks with room for significant gains. Here is our analysts view on the best tech stocks to buy right now.