Shares of waste management firm Biffa PLC (LON: BIFF) surged 9.35% despite the company revealing that it had booked a loss during its 2021 financial year ended 26 March 2021.
Asset write-downs primarily drove the company's loss after the quantities of waste generated by food outlets shrunk considerably because of the coronavirus lockdown measures.
Biffa swung to a £40.5 million ($57.6 million) loss, or 0.13 pound per share, compared to an attributable profit of £45.6 million, or 0.18 pound per share, in fiscal 2020, after its revenues fell 10.4% to £1.04 billion.

The company noted that its operations were the worst hit in the first half of its fiscal 2021 when volumes dropped to 50% of the previous year, but the second half of the year marked a sharp recovery driving full-year volumes to 82% of the prior year. 
Biffa reported asset impairments of £8.2 million within its Poplars AD plant and £13.7 million in its IT replacement project. The company's management is keen to diversify and grow its revenue sources, as evidenced by the recent acquisition of a collections and recycling business.
Biffa recently announced that it is in the process of acquiring a collection business and some recycling assets Viridor Waste Management for £126 million ($178.6 million) in cash. 
The deal will boost Biffa's industrial and commercial collections by revenues by £85 million and will start generating cash for the company upon completion. 
Biffa intends to raise £150 million via new seven and 10-year private placement facilities with MetLife Investment Management and Pricoa Private Capital. 
The waste management company clarified that it is well-positioned to capitalise on the post-pandemic economic recovery. Biffa is an attractive investment from a long-term perspective. 
*This is not investment advice. 
Biffa share price.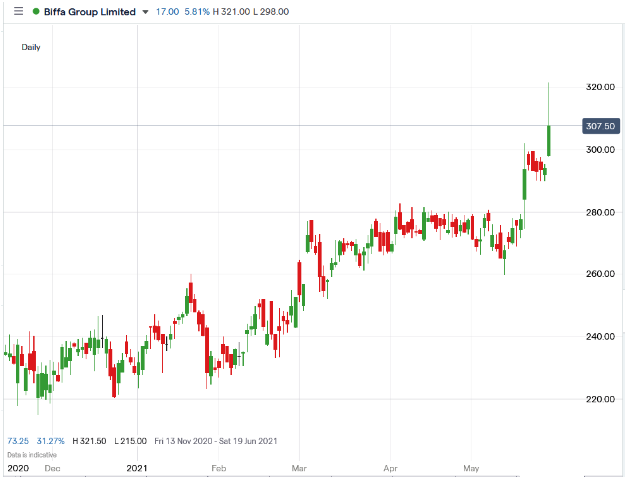 Biffa shares spiked 9.35% higher to trade at 321.5p rising from Friday's closing price of 294p.