Shares of Ferro-Alloy Resources Ltd (LON: FAR) edged 4.68% higher after announcing that Mick Davis, the former CEO of Xstrata Plc, is its new chairman.
The mining company, which is focused on developing the vanadium resources at its Balasausqandiq mine in Kazakhstan, welcomed the seasoned mining executive's promotion to its team earlier today.
Davis has an impressive track record of guiding Xstrata through an aggressive growth phase that transformed it into a global mining company before its merger with Glencore in 2013.

Today's appointment marks the culmination of Mick Davis investment in Ferro-Alloy Resources after the executive agreed to invest up to $12.6 million via his investment vehicle Vision Blue in the company in mid-March.
Ferro-Alloy agreed to appoint Mick Davis as its Chairman after completing his initial investment in the mining company, which seems to have happened given today's appointment. The company's former chairman Chris Thomas will assume a non-executive director role.
Mick Davis commented: "Since Vision Blue's initial investment in March, we have worked closely with the team at FAR to identify areas where we can work together to optimise the Balausa Project feasibility study to maximise value and reduce development risks.
Ferro-Alloy will benefit from Davis' significant experience and connections in the mining industry to advance its flagship Khazakstan vanadium project with estimated reserves of 23 million tonnes.
Vision Blue completed its initial investment worth $3.1 million made in two tranches of $1.5 million and $1.6 million in line with the fulfilment of the company's conditions in March. The company will issue over 12.7 million shares to complete the transaction.
Mick Davis will invest a further $9.5 million in Ferro-Alloy with the first tranche of $7.0 million due within three months of the company receiving consent from the Kazakhstan authorities, which was received on 19 May 2021.
Ferro-Alloy Resources share price.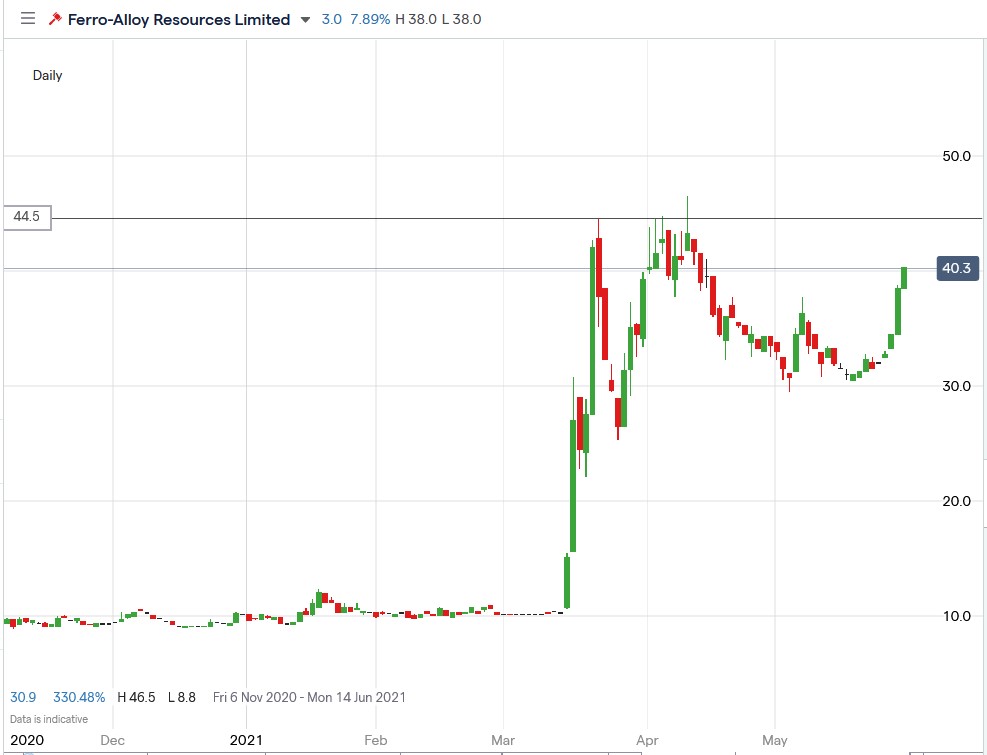 Ferro-Alloy Resources shares edged 4.68% higher to trade at 40.3p, rallying from Tuesday's closing price of 38.5p.