Key points:
Boohoo shares have fallen 30.23% in the past month. What's next?
The fast fashion company faces challenges that fueled the decline.
So, should you buy Boohoo shares at current prices? Read on to find out.
The Boohoo Group PLC (LON: BOO) share price has fallen 30.23% over the past month amid concerns about its business prospects. Investors are concerned that the high inflation environment will affect the fashion retailer's business in the future.

The fashion company has been forced to slash its revenue guidance multiple times this year as it dealt with many customer returns primarily driven by consumers' lower disposable incomes due to the record-high inflation. However, the retailer has streamlined its supply chain and is currently building a massive distribution centre in the US, reducing the shipping times of products sold to US consumers.
Also read: The Best Clothing Stocks To Buy.
Boohoo has also taken tangible steps to consolidate its supply chain by cancelling supply deals with manufacturers that did not meet its new stringent workplace policies after the Leicester scandal tarnished its reputation. However, the firm is yet to recover fully from the sweatshop labour scandal.
The downtrend in Boohoo shares has also been accelerated by the weak British pound, which has increased the cost of imports. However, the pound's weakness is not expected to change soon as the US Federal Reserve continues to pursue a hawkish monetary policy stance.
Furthermore, Boohoo faces stiff competition from otter fast-fashion companies, especially Shein, a Chinese company that operates like Boohoo. However, Boohoo has the edge over Shein after improving the transparency of its supply chain compared to Shein, which has been accused of using sweatshop labour in China.
So, what comes next for Boohoo shares? Given the current massive downtrend since June 2020, I would exercise caution regarding Boohoo shares. The company has a solid business model, but investors remain bearish. Therefore, I would wait for the confirmation of an uptrend before buying Boohoo shares.
*This is not investment advice.
Boohoo share price.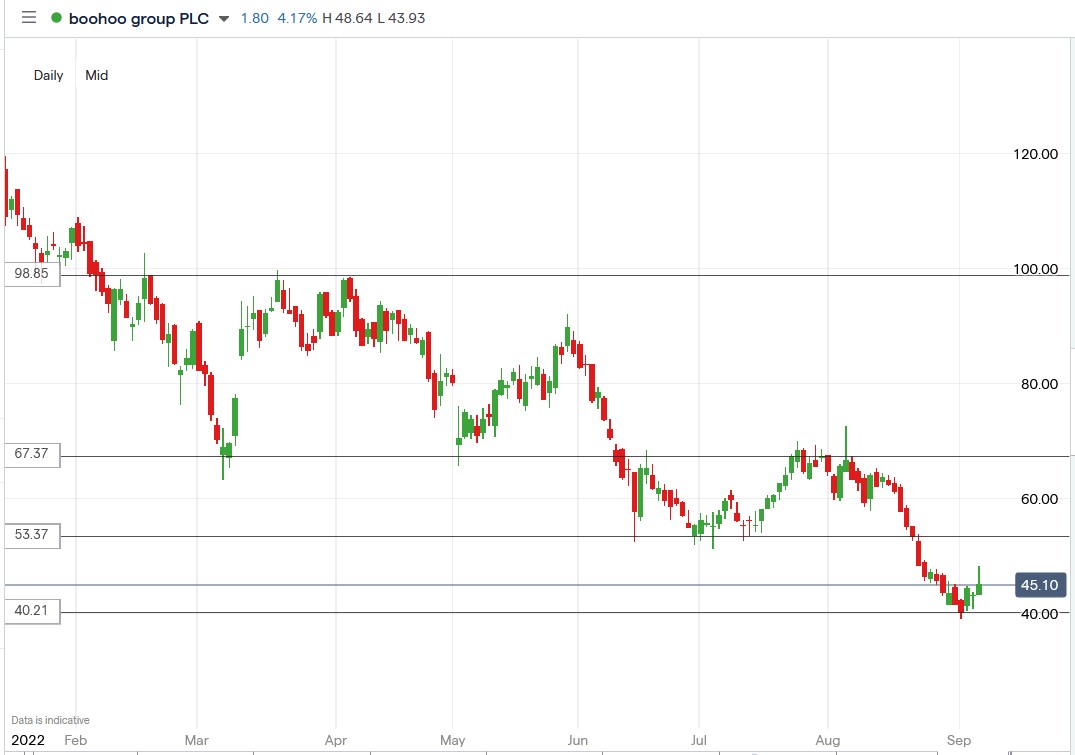 The Boohoo share price has fallen 30.23% in the past month. Can it reverse course and rally higher?