Key points:
CVS Health stock edged higher on the $8 billion Signify Health purchase.
The health company is expanding into the primary healthcare market.
Will the acquisition work out over the long term? Read on to find out.
The CVS Health Corp (NYSE: CVS) stock price edged higher after the healthcare giant announced that it would acquire Signify Health for $8 billion, valuing each Signify share at $30.50.

CVS is pushing into the US home healthcare services industry as it expands from being a leading drugstore chain to a healthcare provider. However, pivoting into new segments is not easy, as evidenced by amazon's closure of its Amazon Care telehealth division.
Also read: Best Healthcare Stocks To Buy Right Now.
Other tech companies have also failed to break into America's trillion-dollar healthcare industry dominated by a few players, primarily due to the complexities built into the industry. However, Amazon has not given up entirely on penetrating the Healthcare industry since it is acquiring One Medial, a primary-healthcare provider, despite shutting down its Amazon Care program.
CVS's acquisition of Signify Health is not surprising since the company has announced plans to acquire a primary healthcare company by the end of 2022. On its part, Signify Health had announced that it was exploring strategic alternatives, including a potential sale in early August.
Karen Lynch, CVS Health President and CEO, said: "This acquisition will enhance our connection to consumers in the home and enables providers to better address patient needs as we execute our vision to redefine the health care experience."
CVS has been pushing further into the healthcare industry after acquiring Aetna, a healthcare insurance provider, and Caremark, a pharmacy benefits manager. Two converging trends drive the scramble to establish a position in the US healthcare industry. One is the increasing number of people above the age of 65 and the high number of young people.
Many older adults need specialised care in their old age, including primary and in-home care, as they live out the rest of their years. On the other hand, the high number of young people led by millennials starting families is another population bracket driving demand for healthcare services.
CVS shares just bounced off a significant support level and could be headed higher in the future.
*This is not investment advice.
CVS stock price.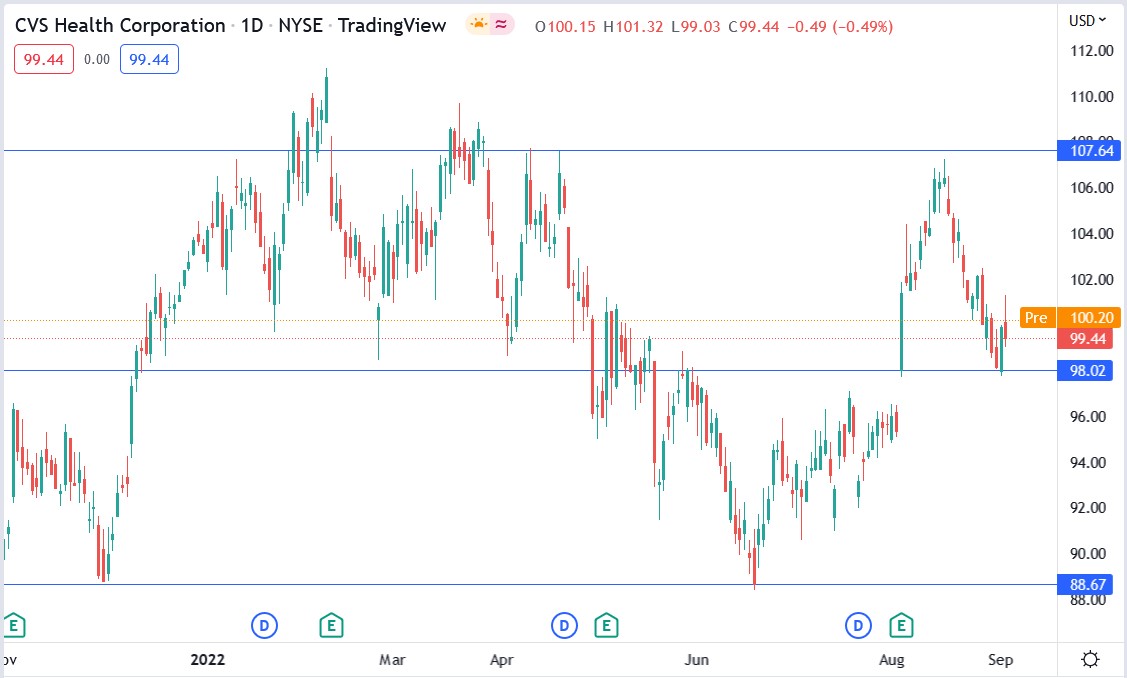 The CVS stock price edged 0.76% higher to trade at $100.20, rising from Monday's closing price of $99.44.