Key points:
Boohoo shares barely moved despite its shift into the NFT space.
The fashion company recently launched Boohooverse, a Metaverse project.
The project is unique since it empowers women in a male-dominated industry.
Read on to find out what we think will happen next to Boohoo's share price.
The Boohoo Group PLC (LON: BOO) share price barely moved after the company announced the launch of its NFT program known as Boohooverse. The project started as an NFT project but promised to expand into a larger Metaverse project.

The project launched on March 10, 2022, seems to have been largely ignored by investors as Boohoo's share price has barely moved since then. Instead, it has been trading sideways as buyers and sellers fight for control.
The Boohooverse project targets women as the company seek to balance out the male-dominated NFT space by creating a specific project for women. But, could it be that the project's focus on women might be why it has not gained traction among Boohoo's investors and within the NFT space?
We cannot answer that question now, but what's certain is that the project's fundamentals are pretty admirable, given that it has zero gas fees, with the NFTs being free to claim but restricted to just one NFT per wallet.
Boohoo has partnered with Third Web, a blockchain company that helps individuals and businesses build web3 apps. The company claims that 5,000 NFTs have already been claimed. However, Boohoo shares have not reflected the excitement associated with the Metaverse project.
I have mentioned that the markets have punished Boohoo's share price since the sweatshop labour scandal in Leicester broke out in July 2020. However, things have never been the same for the fast-fashion company.
A massive walkout by institutional investors saw its share price plummet. The company was worth over £5 billion at the time of the scandal and is now worth £1.11 billion, showing how much long term investors have lost in the past nineteen months.
So, is there hope for the company? Yes, Boohoo's long term prospects are pretty promising, given that demand for fast fashion items remains high given their relatively lower prices compared to other similar items.
The rising global inflation has left consumers with less money to spend on fashion items, which could lead to more people buying Boohoo's fashion pieces than other more expensive items.
However, Boohoo has been struggling with longer shipping times for its international orders driven by the supply chain constraints, but it expects the same to ease later in the year. The company has also been dealing with a rising number of returns, which it expects to remain high in the foreseeable future.
Boohoo's public image might be hard to crack since investors seem unwilling to forgive the fast-fashion company's past mistakes. However, all investors can hope that Boohoo's solid fundamentals will increase its share price.
*This is not investment advice. Always do your due diligence before making investment decisions.
Boohoo share price.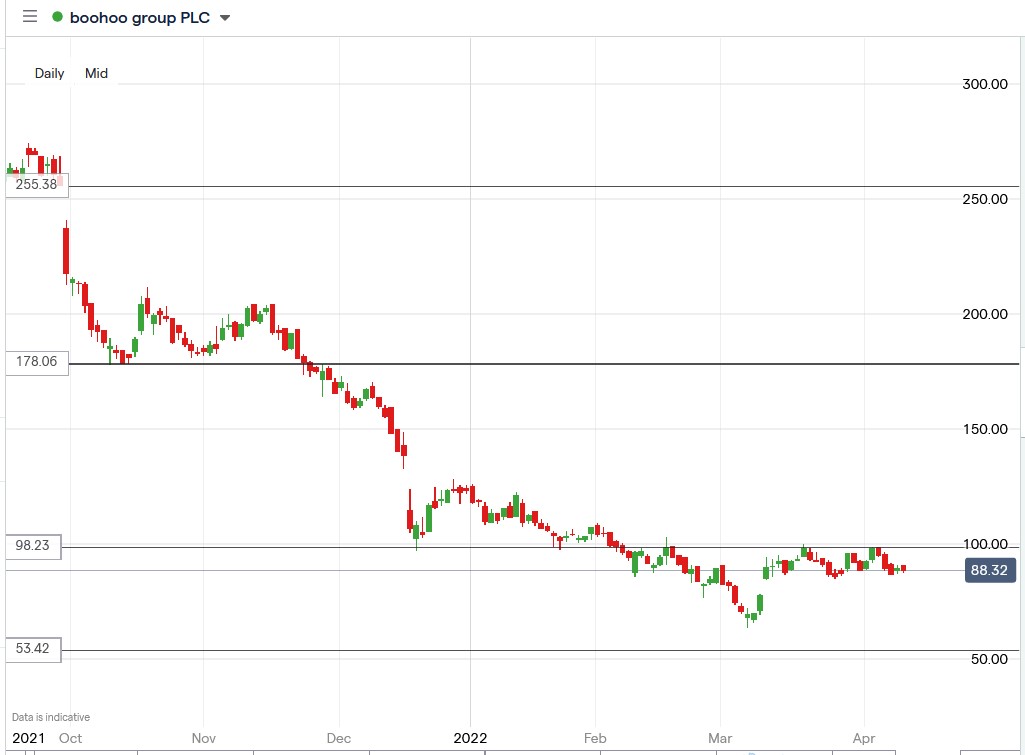 Boohoo shares were trading down 1.40% today despite news of its pivot into the blockchain.