Key points:
Homeserve has just agreed to be acquired by Brookfield for £4.08 billion.
The acquisition is set to be approved by shareholders and the courts.
The moe shows that UK stocks remain in demand from global funds.
Homeserve plc (LON: HSV) announced that it had accepted an acquisition offer from Brookfield Asset Managers, valuing it at £4.077 billion as each outstanding share was priced at 1200p.

Interestingly, Homeserve shares did not rally to the 1200p offered by Brookfield via its indirect subsidiary Hestia Bidco Limited (Bidco). This is because the terms of the takeover deal prohibit Homeseev from issuing any dividend payment after the announcement.
Market analysts have pointed out that UK stocks are on the radar of leading investment firms since they are considered cheap compared to their peers in other developed countries. As a result, the number of UK firms receiving takeover offers is expected to keep rising.
However, the acquisitions have a dark side: they reduce the number of investment opportunities available in the UK stock markets. Once a company is acquired, it is usually delisted and becomes a private entity.
Brookfield Asset Managers is a renowned Canadian investment firm that invests primarily in the infrastructure sector and has over $725 billion of alternative assets. Unfortunately, investors who do not currently own Homeserve shares had missed out on the opportunity to buy the shares at a discount since they were trading at 800p-850p when the takeover negotiations began in early April.
The takeover has been structured as a court-sanctioned scheme of arrangement, which is expected to be unanimously approved by the shareholders and the UK courts. As a result, there are no regulatory hurdles that could prevent the deal from closing.
Richard Harpin, HomeServe's Founder and CEO, said: "Since HomeServe was founded in 1993 with just £500,000 of capital from South Staffordshire Group, the company has gone from strength to strength and now operates in 10 countries with a workforce of around 9,000 employees. HomeServe has become a world-class business with an important purpose – to make home repairs and improvements easy for homeowners and trades. I am proud of the company we have built and am delighted that Brookfield is committed to providing long-term capital and global expertise, which I am confident will accelerate progress towards our vision to be the world's largest, most trusted provider of home repairs and improvements."
*This is not investment advice. Always do your due diligence before making investment decisions.
Homeserve share price.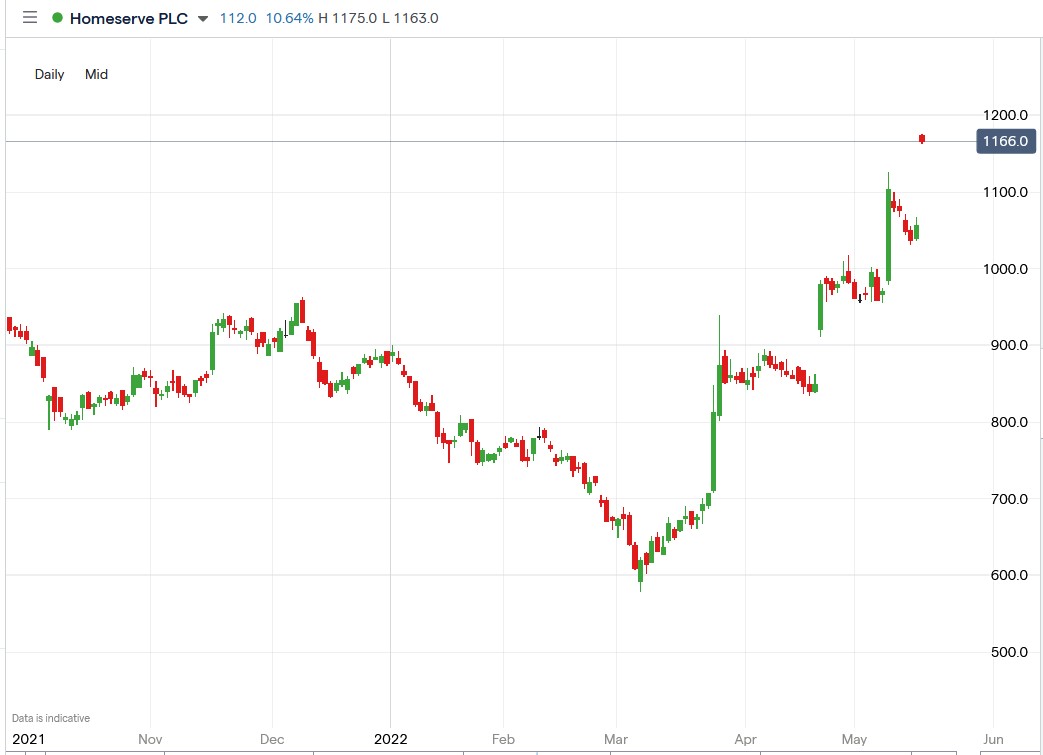 The Homeserve share price surged 11.32% to trade at 1175.0p, rising from Wednesday's closing price of 1055.5p.