Key points:
Bitcoin (BTC) And Ethereum (ETH) Leap Post US CPI
Intermediate-Term Bases And Recovery Theme Reinforced
Bullish BTC And ETH Price Projections
The majority of the wide cryptocurrency market saw solid gains on Wednesday in the wake of the better-than-expected (that is, lower) US Consumer Price Inflation (CPI) report. This positive price action has seen many crypto coins and notably Bitcoin and Ethereum, signal even more robust short- and intermediate-term bottoming patterns and sustainable recoveries. This sets up bullish price prospects into August, the balance of Q3, and even through year-end.
Bitcoin (BTC) And Ethereum (ETH) Leap Post US CPI
Most of the cryptocurrency markets saw solid gains on Wednesday and again into Thursday in reaction to the release of the US CPI data. This important measure of inflation in the world's largest economy saw the headline number come in at 8.5% over the year and flat for July compared with June, with consensus forecasts at 8.7% and 0.2%, respectively. This lower-than-expected data print cheered riskier assets, particularly US and global stock indices and saw a broad decline in the safe-haven US Dollar across most currencies and versus most crypto coins. In fact, the whole crypto market has very much been positively correlated throughout 2022 with riskier assets.
BTC has seen gains of up to 7% since the CPI release, whilst ETH has added up to 12%.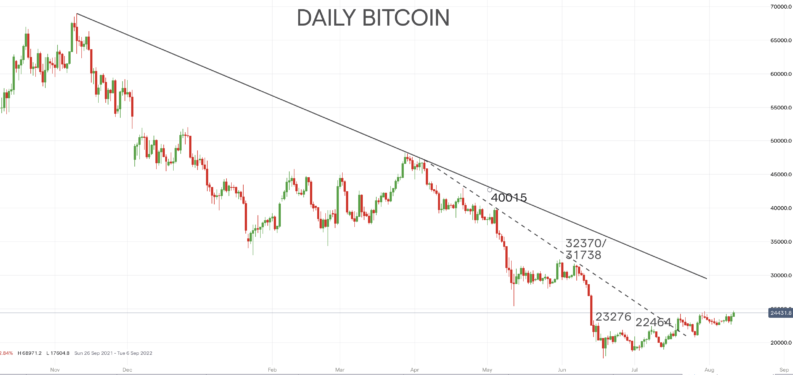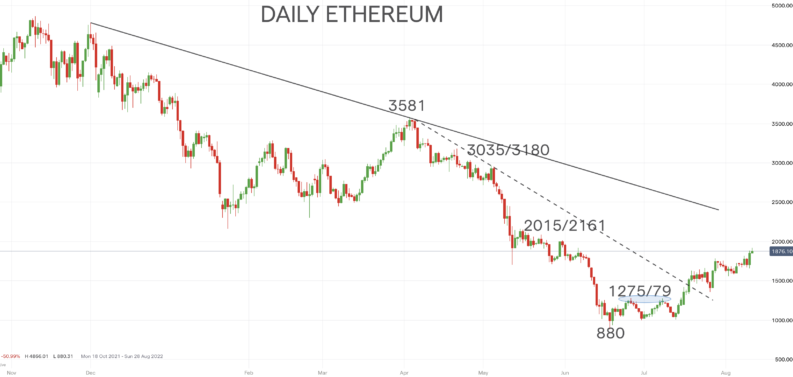 Also Read: Cryptocurrency, NFTs, or Shares – Which Is the Better Long-Term Investment?
Intermediate-Term Bases And Recovery Theme Reinforced
The solid gains posted by both Bitcoin and Ethereum have seen prices eclipse previously set recovery highs set in July/ August. Moreover, this positive price action has reinforced the intermediate-term basing patterns we highlighted in our previous report back in mid-July Ethereum Merger Countdown – Are ETH and BTC Looking Bullish? The threat is now for further significant gains in both the short and intermediate-term.
Bullish BTC And ETH Price Projections
The threat now into August and the balance of Q3 is for a better recovery and advance towards notable upside targets.
For BTC, the initial August/ September targets would be the 31738/32370 area. For ETH, we would see the threat for a move towards the 2015/2161 area over the same period, maybe as high as 3035/3180.
Bigger picture, for the balance of 2022, we would see a risk for a bigger advance for Bitcoin, with a target at 40015. For Ethereum, the threat into year-end would be a more forceful advance for targets at 3581.