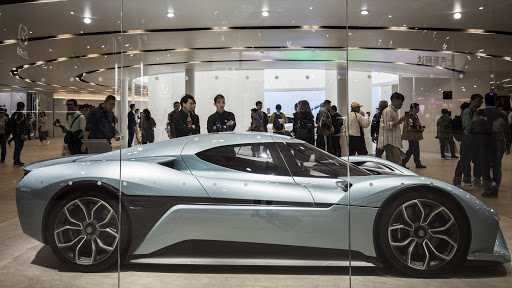 The Chinese market continues to dominate the NEV market, breeding competition amidst changing government subsidies
Nio posted a record Q4 and Xpeng recorded the highest number of December sales amongst all manufacturers
2022 is shaping up to be a fierce environment for EV production, will China remain at the helm?

As it stands, the Chinese economy is set to be the proud pinnacle of electric vehicle adoption. With more electric vehicles on the road than anywhere else, the number of NEV's (new energy vehicles) flooding the markets is continuing to grow. Whilst there is a global shift biting at the heels of traditional motors, the Chinese government introduced incentives on the purchase of EVs, offering subsidies as a means of attracting the masses to the new wave of clean transport. 
The Chinese government has always said that eventually, EV incentives should be reduced to zero over time as more and more adapt to the growing movement. Now, looking at popular Chinese EV manufacturers like Nio (NYSE: NIO) and XPeng (NYSE: XPEV), its' interesting to see how the companies most recent delivery numbers arguably coincide with 2022's dawning subsidy cut. 
With the turn of the new year, subsidies for NEV's were cut by 30% from immediate effect after January 1st. What did this mean for EV manufacturers? It meant that buyers flocked to Nio and XPeng in the penultimate months of 2021 to secure a last-chance discount – obviously having a great effect on the recent delivery results of Nio and Xpeng. 
In a move to capitalize on this, Nio went the extra mile by assuring customers that if a deposit was placed before midnight on December 31st and collected before March 31st, 2022, the company would absorb the difference from the old to the new subsidy – a clever last-minute move from the burgeoning EV manufacturer. It seemed to have worked, with Nio delivering 25,034 vehicles in Q421, boasting new record-high quarterly delivery as customers flocked to avoid subsidy changes. 
When it comes to Xpeng, the narrative is very much the same. In fact, looking at December numbers, XPeng won the crown with a total of 16,000 deliveries – a new monthly record for the company and the highest out of the EV manufacturers – totaling an impressive 263% rise from 2020 production levels…the trend speaks for itself.
What does this mean for investors? Well, impressive delivery levels will no doubt elevate the financial sustainability of these companies (for the most part). Earnings estimates will most likely rise to match an improving financial portrait and the overall health of the Chinese EV market. Nio, Xpeng, Li Auto, and others all recorded solid gains over 2021, but 2022 could be the real year for growth.
Should You Invest in EV Shares?
One of the most frequently asked questions we receive is, "what stocks are best to buy right now?" It's a wide-ranging question, but one that we have answered… Our AskTraders stock analysts regularly review the market and compile a list of which companies you should be adding to your portfolio, including short and longer-term positions. Here are the best stocks to buy right now