Key points:
BYND Cannasoft was up 312% this morning
It's back to 120% up at pixel time
The issue is how good is the deal announced?
BYND Cannasoft (NASDAQ: BCAN) stock is up 312% this morning on buying out an Israeli company's CBD delivery system. It's possible to think, as many seem to, that this is a wondrous deal. It's also possible to think that this might be a bit of an over-reaction to something that is not even patented as yet, let alone proven to have a substantial market. But then it's exactly those sorts of differences of opinion that make markets, right?

It's also true that premarket prices can be hugely volatile – BCAN stock is, in the time it took to write the above paragraph, down to only 196% up. So, what is it that is driving this volatility?
BYND Cannasoft as a company is part of the infrastructure of the world-be cannabis industry. It has a customer relationship management system for the industry – tying together prospects, orders, accounts and so on and certain additional products that aid in the running of a cannabis farm. Now we've muttered often enough about how there are so many competitors in cannabis that we're not sure that any of them are going to be all that profitable. But this doesn't necessarily apply to those marketing tools about cannabis. Most gold miners never made money but those in a gold rush who sold shovels to miners did.
BYND Cannasoft has been on the Canadian markets for some time and only arrived on NASDAQ at the end of May. As we noted, BCAN was highly volatile immediately after introduction.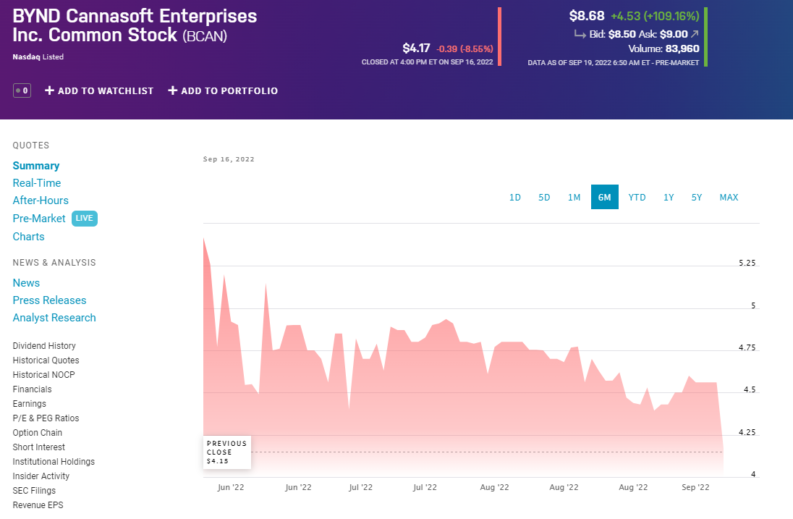 There is also the Canadian quotation to consider:
The price difference there is because of the C$/US$, or CAD/USD exchange rate.
Also Read: Five Best Pharmaceutical Stocks to Watch in 2022
It's possible to think that the BCAN stock price will settle down once Canada is fully open but actually it's the NASDAQ quote that provides most of the volume.
As to what's actually happening here BYND Cannasoft has announced that it is to buy a firm making "which holds the patent pending intellectual property for a therapeutic device (the "EZ-G device") that uses low concentrations of CBD oils, such as hemp seed oil and other natural oils, to treat certain women's health issues." Or, as another description has it "regulates the flow of low-concentration CBD oils into the soft tissues of the female reproductive system."
We should note that this is not patented as yet, has no proven market and also seems quite a long way from CRM tools. It moves BCAN from marketing to a small and known base of cannabis industry insiders to the more general retail market – a very different thing.
It's possible that this is worth the 312% the BCAN stock was up when this piece started, the 196% part way through or the 120% it's up now as it finishes being typed. The only certainty we have is that the price reaction to this deal is highly volatile.