Key points:
BCAN's recent arrival on NASDAQ is producing price gyrations
It could be that the market simply doesn't know how to value it
The key point is that price volatility is something that can be traded
BYND Cannasoft's (NASDAQ: BCAN) stock price is all over the place since the introduction to NASDAQ just that week back. Given that BYND Cannasoft is also quoted in Canada does this give us an opportunity to play in a new market? Even, given the obvious problems NASDAQ is having in applying a consistent value to BCAN is this something we should be looking at anyway?

As to what BCAN actually does it's a software maker for the cannabis industry. They have a CRM (customer relationship management) and ERP (enterprise resource planning) system optimised for that cannabis industry. Everything from tracking when to apply fertiliser through to the legal structures each customer might have in receiving product from a grower.
Well, that's nice, although we might think it a bit niche. There are, after all, only so many cannabis growers out there. But then again there's that old point about gold rushes – it's the guys selling shovels who get reliably rich while the prospectors themselves are playing a high risk tournament – some will get fabulously wealthy and most will lose all. Selling into the cannabis industry might well be a more reliable source of profits than being a grower. In fact, looking at the accounts of the cannabis growers and retailers we'd rather hope it would be.
But this here is a short term issue with BCAN and also the Canadian quote for BYND Cannasoft (CSE: BYND). Here's the NASDAQ chart for BCAN: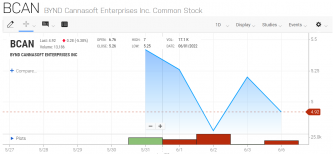 That's now up $1.65, or 33%, again this morning.
Here's the same stock in Canada: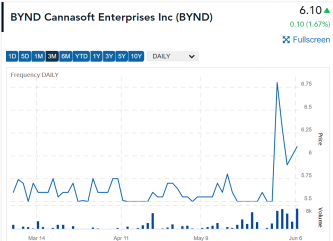 As we can see there's a certain amount of confusion as to what the BCAN – or BYND – stock price really should be. As we can also see from the lack of significant prices moves in that Canadian stock price before the NASDAQ introduction it is that NASDAQ quote for BCAN which is driving this price volatility.
Any trading decision needs to be driven by a selection of factors. One obvious thought is that perhaps the prices between those two exchanges will get out of step at times – that's something worth at least monitoring to see if that is true.
But then we get on to two other ideas. One is that the underwriter of the NASDAQ offer isn't doing a very good job. This is always possible of course. That underwriter will have some allocation of BCAN stock which it is to use to smooth the path of the newly introduced stock. Wild price gyrations like this are circumstantial – and no more than that – evidence that they're not doing it very well.
The third possibility is that NASDAQ just isn't really sure how to value BCAN. It's a thin market – 25,000 daily volume – but even that is grossly overshadowing the CSE volume of perhaps 7,000 a day. So. for the first time BYND Cannasoft stock is facing some significant liquidity and that's producing those price gyrations.
Price volatility is, of course, the trader's friend. It's getting on the right side of the price movements which makes the profits.