Shares of GameStop Corp. (NYSE: GME) were trading at $195 today as investors digested the company's latest earnings results amid rumours of a looming partnership with fellow meme stock, AMC Entertainment.

AMC had hinted at a possible partnership between the two meme stocks last week but had not elaborated on exactly how the two companies could work together in the future.
However, since AMC is a movie theatre operator and Gamestop is a video game retailer, the two companies could have several avenues of collaboration to generate revenues for their shareholders.
Gamestop investors were disappointed after releasing its mixed earnings report that left many wondering exactly how the company plans to turn its business around given the massive shifts in the video gaming market over the past two decades.
Unlike AMC, whose business is well defined, Gamestop has to find a way to remain relevant and ride the meme stock rally for the long-term by diversifying its business into other sectors that appeal to its core customer base of young gamers.
While we have to wait for the company's board of directors to chart a way forward, one of the different ways Gamestop could remain relevant is by jumping on the non-fungible tokens (NFT) space, which is exploding at the moment.
It is extremely likely that the crown, which bid up Gamestop shares to the current level, is still the same group behind the NFT craze. So while many people might think the NFT craze is going nowhere, NFTs are here to stay, and I think Gamestop should jump on this train.
Gamestop could also find ways to incorporate crypto and the blockchain into its business from a gaming perspective to keep its core market interested in its services and ensure its medium to long-term survival.
From a stock traders perspective, Gamestop shares are trading in a triangle pattern. They could break out in either direction in the future, given the inherent volatility associated with such patterns.
*This is not investment advice.
Gamestop share price.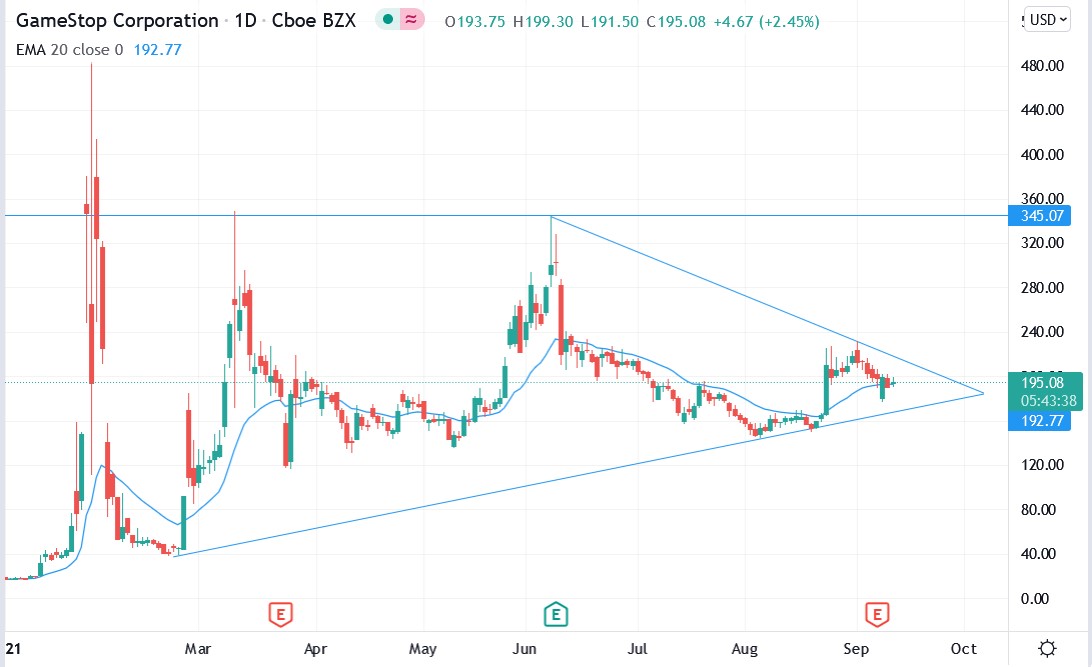 Gamestop shares are still up 936.62% this year despite the retreating from the June and March highs near $350.
Should You Invest in GameStop Shares?
One of the most frequently asked questions we receive is, "what stocks are best to buy right now?" It's a wide-ranging question, but one that we have answered… Our AskTraders stock analysts regularly review the market and compile a list of which companies you should be adding to your portfolio, including short and longer-term positions. Here are the best stocks to buy right now