Key points:
Darktrace shares have fallen 39.5% in three months.
Will Mike Lynch's departure boost the firm's share price?
Does the company have much deeper problems? Yes, it does.
The Darktrace PLC (LON: DARK) share price has fallen 39.5% in the past three months and was down slightly today despite Mike Lynch's departure as an advisor.

While Mike Lynch's departure, as reported by the Telegraph, may offer some relief to those investors concerned with ethical issues, his role at the firm was not massive. Instead, he was just an advisor.
He relinquished his role as a director at Darktrace in 2018 after he was first charged with defrauding HP Enterprise when he sold his former company Autonomy for $11 billion to HP in 2011.
HP sued Mike Lynch, Autonomy's founder and CEO and the firm's CFO, Sushovan Hussain, for inflating its revenues to make it seem more valuable than it was. As a result, HP was forced to adjust Autonomy's value by $8.8 billion just a few months after purchasing the firm.
Mike Lynch's latest move comes after the London High court ruled against him in a suit by HP accusing Lynch of inflating Autonomy's value via a series of complex reselling tactics to conceal hardware sales while inflating software sales.
However, Darktrace has another problem partly related to Mike Lynch's history: the vast number of early investors that sold their shares after the 6-month holding period ended following the IPO.
Leading investors like Deep Defence, PE firm KKR, and Summit Partners all sold significant portions of their holdings in the company immediately after the holding period ended.
Analyst at Peel Hunt also issued a broker note saying that the company's artificial intelligence (AI) software that thwarts cyber-attacks is a gimmick, which spooked many investors given Mike Lynch's history at Autonomy.
Therefore, Darktrace shares will likely remain under selling pressure until it proves that its software is gaining traction among its target clients driven by higher revenues and new contract wins.
The firm's following quarterly results could shed significant light on its finances and maybe reassure investors that it deserves a higher share price than its current price, hovering around its 330p IPO price.
Meanwhile, I would stay away from the firm until we have several positive developments that restore investor confidence.
*This is not investment advice. Always do your due diligence before making investment decisions.
Darktrace share price.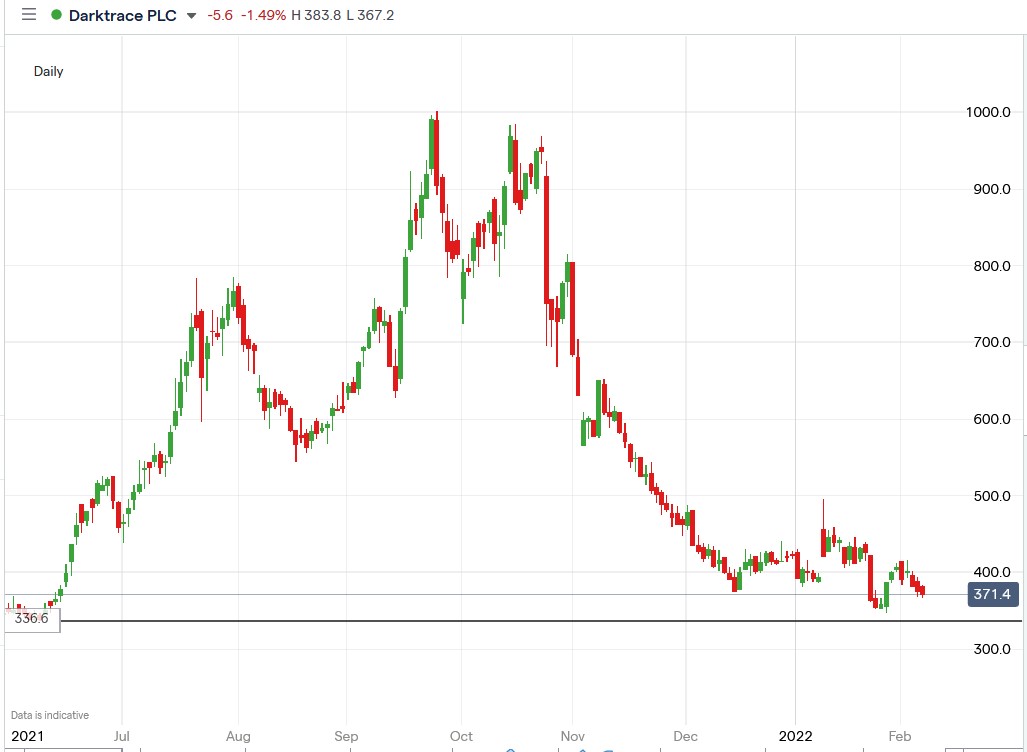 Darktrace shares have fallen 39.46% in the past three months and were lower today even after Mike Lynch relinquished his role at the firm.