Key points:
Mode Global shares have fallen 34.2% this year, but have they bottomed?
The company just announced a new Bitcoin salary partnership with Heroes.
The fintech company's prospects are promising, making it attractive.
The Mode Global Holdings PLC (LON: MODE) share price has fallen 34.2% this year, and many are wondering if the fintech company's shares have bottomed and are on their way up.

The daily price chart below shows that the Mode share price could have bottomed, but we can only be sure that the share price has hit rock bottom once it has started rising.
Mode Global revealed that it had signed an agreement with Heroes, a tech-driven eCommerce platform, to allow its employees to receive some of their monthly salary in Bitcoin.
In a survey among crypto investors, the company said that over 81% of investors aged 25-34 would love to have a portion of their salary automatically converted into crypto and set aside as an investment.
The programme is open to all Heroes employees. Still, it is voluntary, and employees who choose to participate in the scheme will have a portion of their salaries automatically deposited into their mode wallets in equivalent crypto.
Mode Global can execute such payrolls arrangements after partnering with PayEscape, a payroll provider, in November 2021.
Today's announcement is a step in the right direction for Mode, which recently had organisational changes after its CEO Ryan Moore abruptly stepped down following a debacle with the Bitcoin rewards scheme announced late last year.
Mode Global's founder Jonathan Rowland assumed the role of executive chairman after Ryan's resignation to clear the decks and return Mode to the right track.
From an investment perspective, Mode Global's services have significant uptake potential, suitable for the company's future performance as more young people embrace crypto since it offers simplified crypto services.
Mode Global has taken away all the complexities associated with investing in crypto, including storing and transferring crypto without having to use complicated crypto addresses, making its products appeal to the masses.
Speaking of today's partnership, we can see that the firm is on the right track with attracting new investors to crypto.
Rita Liu, Chief Compliance Officer at Mode, said: "We are delighted to be working with the Heroes team to bring their employees an innovative and secure way of investing in Bitcoin for the longer term through our payroll product. They are a great example of forward-thinking employers who answer to increasing demand from the employees' community to be paid in digital assets."
*This is not investment advice. Always do your due diligence before making investment decisions.
Mode Global share price.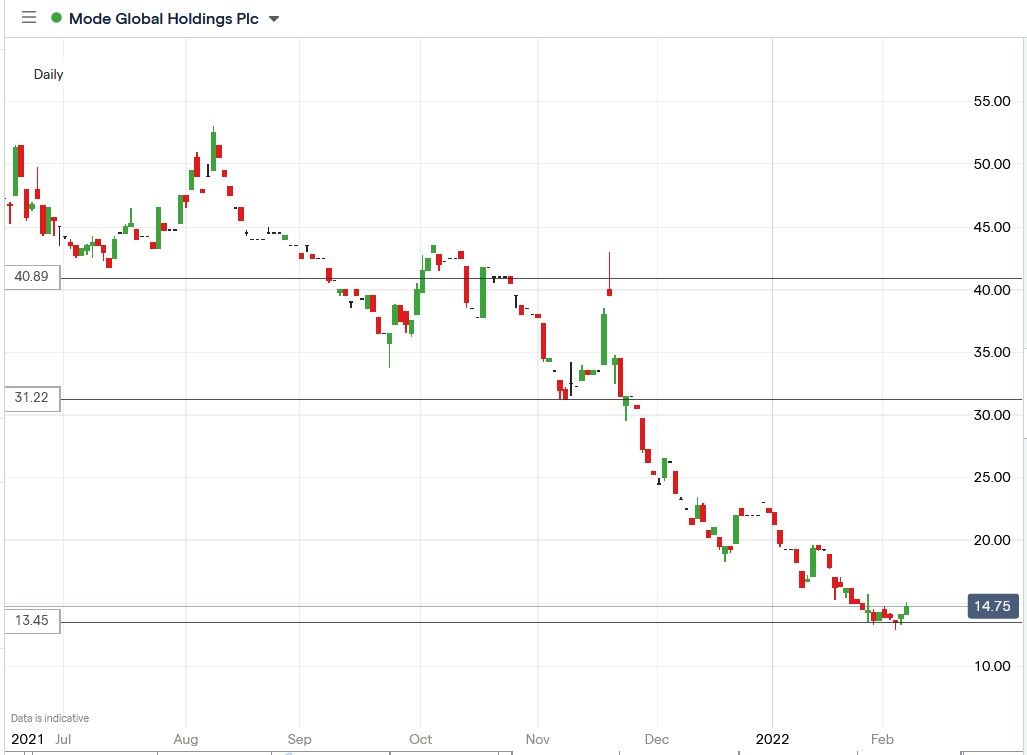 Mode Global shares have fallen 34.16% this year. Have the shares bottomed, and are they headed higher?