DeepVerge (LON: DVRG) announced on Wednesday that it has signed a non-binding Memorandum of Understanding (MoU) with China Resources Environmental Protection Development Limited, a wholly-owned subsidiary of China Resources Group.
The MoU will see the two companies enter into a Joint Venture for the manufacture, assembly and sale of environmental monitoring equipment to potentially develop smart environmental platforms, equipment/devices and network management software capability.
They will now look to negotiate, agree, and execute several definitive agreements for the joint venture, which are expected to be signed by June 30th, with the venture becoming operational by the beginning of September.

If the deal goes ahead as planned, DeepVerge will own 49% of the joint venture, with China Resources holding a 51% stake.
The companies are currently undertaking scoping exercises to assess the level of start-up cost and non-cash consideration to be introduced by each.
The definitive agreements will look to address the commercial framework agreement, a license to be executed by DeepVerge or a subsidiary with a support agreement for the technology, and the joint venture agreeing on a reseller agreement with DeepVerge concerning future manufactured products.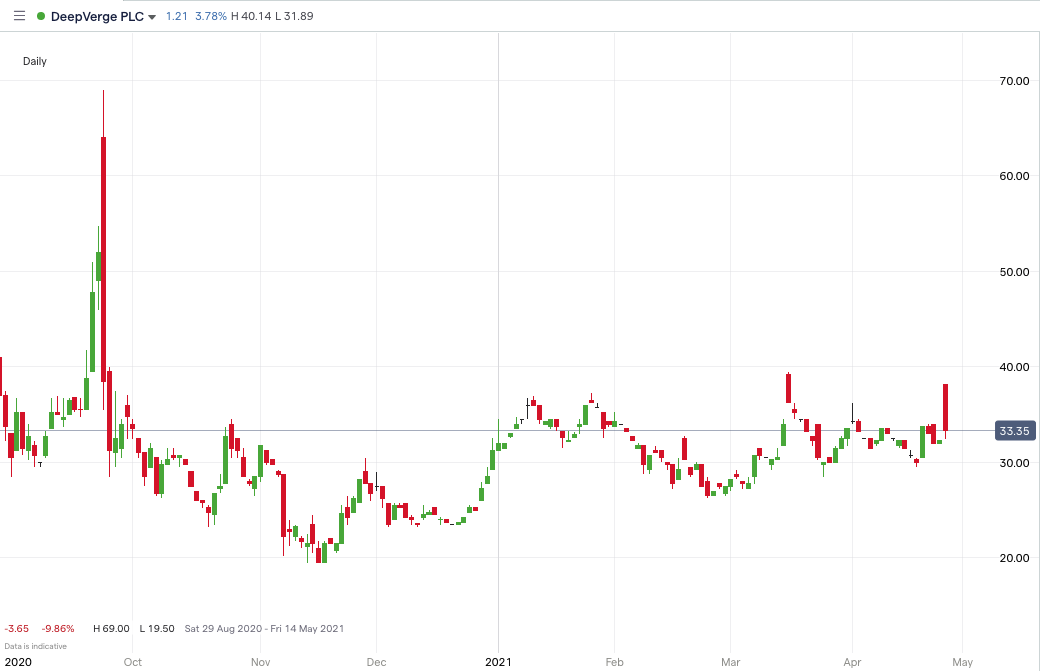 Gerard Brandon, CEO of DeepVerge, said: "This joint venture is the most efficient route to deliver our world-leading water technologies throughout the 23 provinces of China.
"A joint venture with a division of one of the world's largest natural resource groups can meet the growing demand for manufacturing and assembly of existing Microtox and Microtrace equipment for environmental monitoring across the rest of the world, that is struggling to manage a global health pandemic.
"By partnering with China Resources we can futureproof DeepVerge as a leading innovator of smart environmental platforms with AI, equipment/devices and network management software capability."
DeepVerge's share price jumped to highs of 40p following the news. They have since given up the majority of those gains, sitting at 33.35p, up 3.78%
Should You Invest in DeepVerge Shares?
One of the most frequently asked questions we receive is, "what stocks are best to buy right now?" It's a wide-ranging question, but one that we have answered… Our AskTraders stock analysts regularly review the market and compile a list of which companies you should be adding to your portfolio, including short and longer-term positions. Here are the best stocks to buy right now