Dell Technologies (NYSE: DELL) share price is rallying after the company announced plans to spin off its ownership stake in VMWare.

Negotiations about a potential spin-off had been ongoing for months but are now confirmed, with the move set to generate approximately $9 billion for Dell, who owns an 81% stake in VMWare.
The companies will "strengthen their mutually beneficial strategic relationship and continue to co-engineer solutions for customers through a commercial agreement," Dell said in a statement.
"By spinning off VMware, we expect to drive additional growth opportunities for Dell Technologies as well as VMware, and unlock significant value for stakeholders," said Michael Dell, chairman and chief executive officer, Dell Technologies.
"Both companies will remain important partners, providing Dell Technologies with a differentiated advantage in how we bring solutions to customers. At the same time, Dell Technologies will continue to modernize its core infrastructure and PC businesses and embrace new opportunities through an open ecosystem to grow in hybrid and private cloud, edge and telecom," he added.
VMWare is a cloud computing firm that joined Dell under its monstrous $67 billion deal to acquire IT giant EMC in 2015.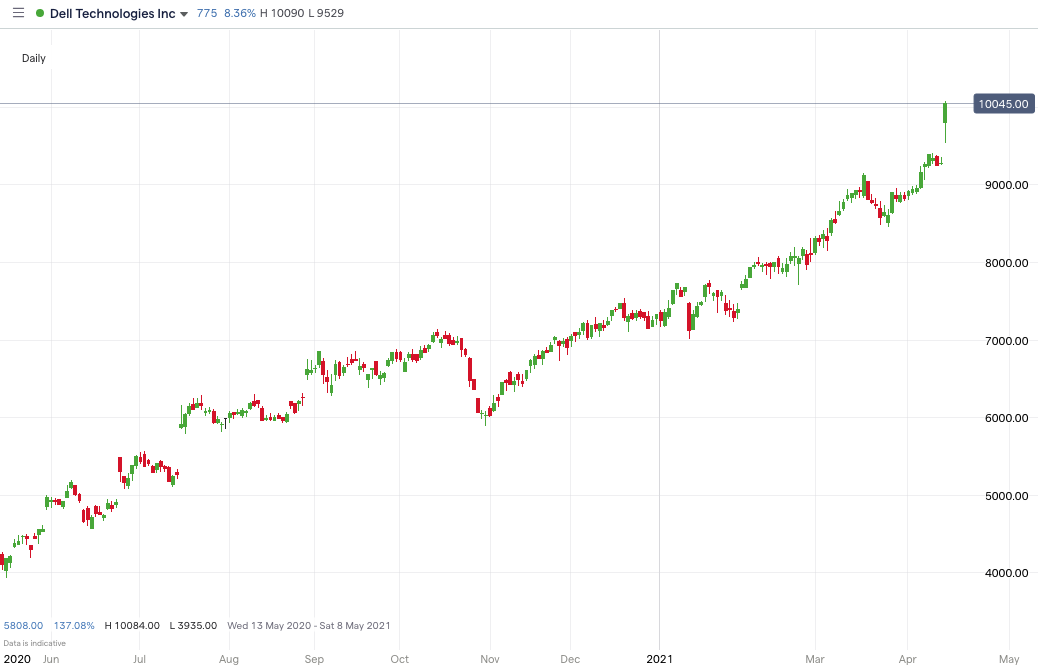 Dell's share price fell as low as $25.51 following the coronavirus pandemic outbreak but have gained over 142% in the past year and have today crossed the $100 mark, trading at $100.70 per share, up 8.63% on the day.
Under terms of the planned spin-off, VMware will distribute a special cash dividend of $11.5 – $12 billion to all VMware shareholders, including Dell Technologies.
Should you invest in Dell Technologies shares?
Tech stocks offer some of the best growth potential, but time and time again, traders and investors ask us "what are the best tech stocks to buy?" You've probably seen shares of companies such as Amazon and Netflix achieve monumental rises in the past few years, but there are still several tech stocks with room for significant gains. Here is our analysts view on the best tech stocks to buy right now