Key points:
Dogecoin Continues To Trace Out A Basing Pattern
Dogecoin Price Projection to 0.0895/ 0.0961
Dogecoin Explainer
The meme coin, Dogecoin (DOGE), has seen the intermediate-term bottoming effort that has been developing since mid-June challenged in the last week. But we still see the basing formation as intact, highlighted by the recent solid rebound effort. The skewed risk now into late September and on into October is for a better recovery phase towards our highlighted projection targets at 0.0895 and 0.0961. The year-end threat remains for an even more robust rally.

Dogecoin Continues To Trace Out A Basing Pattern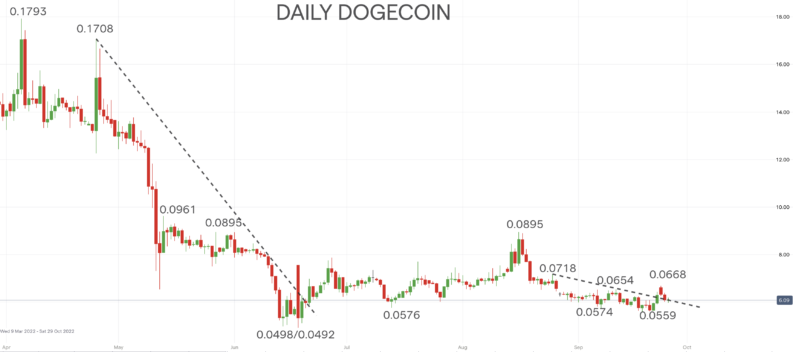 The Most Recession-Proof Cryptocurrencies
The intermediate-term bottoming effort that has been forming for DOGE from June was challenged by both the early and more latter September tests to mid-July support at 0.0576, then to the early September low at 0.0574, with last week's push down to 0.0559. However, the recent rebound from 0.0559 up to 0.0668 saw a push up through both the 0.0654 swing resistance and also the tentative downtrend line from latter August.
This recovery effort has indicated a reluctance to send a more negative technical signal on both short- and intermediate-term timeframes, and indicates a willingness to try to renew bullish forces, as previously seen during the August rally up to 0.0895.
We still see a more sustainable intermediate-term bottoming and recovery theme for DOGE, as we highlighted in our previous blog projections here and here.
Dogecoin Price Projection to 0.0895/ 0.0961
Whilst holding above the recently set swing low at 0.0559 we see a positive basing and recovery phase, with the asymmetric threat to the upside. Initial targets for this week into quarter-end are towards 0.0668 and 0.0718 and possibly above. Into October, the risk is still higher for chart targets at 0.0895 and 0.0961, from August and May. The overshoot threat for year-end is potentially even towards 0.1708/93 peaks from April.
However, should the swing low at 0.0559 be surrendered, the immediate challenge would be down to the June and 2022 bear market lows at 0.0498/0.0492. Surrender here would the maybe open up threats for a more aggressive bearish extension move.
Dogecoin Explainer
Based on the Doge meme which features a Shiba Inu dog, Dogecoin is a cryptocurrency created on 8th December 2013. It began when Jackson Palmer originally created it as a joke, but quickly grew in popularity and now has a circulating supply of over 132 billion coins (and a supply of unlimited coins). DOGE reached its all-time high price of $0.7376 in 2021 and despite falling in price with the broader crypto market since then, Dogecoin is still a popular altcoin with a strong investing and trading community. Check out our handy guide about buying Dogecoin in How To Buy And Store Dogecoin In The UK.