Key points:
DoorDash stock surged 22.2% on impressive Q4 and FY 2021 results.
The meal delivery firm is now the largest such company in the US.
DoorDash shares look attractive at current prices after a 52% decline.
The DoorDash Inc (NYSE: DASH) stock price surged 22.2% at the open after reporting excellent Q4 and full-year 2021 results after the market closed yesterday.

The meal delivery company generated $42 billion in orders on its platform in 2021 from its 25 million active monthly users. The firm also clarified that 10 million of its customers were paying clients.
Investors cheered news that DoorDash expects to generate $48 million to $50 million in meal orders in 2022. However, many were expecting demand for meal deliveries to subside with the easing of coronavirus-related restrictions.
However, the company does not expect demand for meal deliveries to fall off even as many countries return to a new normal as the coronavirus threat continues to subside as many people are now vaccinated, and new cases are falling.
Additionally, like many of its competitors, DoorDash did not report a profit but lost $155 million for the year after generating revenues worth $1.3 billion, beating analysts estimates set at $1.28 billion.
Tony xu, DoorDash's CEO, said: "I think we've put to rest, I think, this question of what happens to demand as diners go back and eat inside restaurants (in the post-Covid era),"
Adding:
"It's possible to eat inside a restaurant and get delivery because we eat three times or more per day, and that's over 100 shopping moments per month. And I think that's what we've certainly seen in the restaurant delivery business."
The meal delivery company also gave upbeat guidance for its fQ1 2022 sales. It expects its customers to order meals worth $11.4 billion to $11.8 billion, with the $11.6 billion mid-point being higher than analysts estimates of $11.4 billion.
Matthew Condon, an analyst at JMP Securities, said: "With unquestionable execution, and as we believe it remains early days for delivery as DoorDash's 2021 GOV accounts for 5% of restaurant food sales, the company is less than 10% penetrated for US users,"
Adding:
"Non-restaurant verticals are extending its service (and) we believe it can sustain elevated growth rates beyond the pandemic."
Therefore, we can see that analysts are optimistic about DoorDash's prospects in 2022 and beyond, which aligns with the firm's recent growth and plans.
The company was a minor player in the US meal delivery industry but has now outpaced former leaders GrubHub and UberEats to take the leading position controlling over half of the entire US market.
DoorDash also recently launched DoorDash Capital, a lending service to provide working capital to restaurants. Restaurants can repay the advances via regular deductions from the orders placed by customers.
DoorDash Stock looks attractive at current prices following a 52% decline in the past 12 months. The stock has fallen 36.2% since the year started. I would buy it at current levels. However, there are no guarantees in the markets.
*This is not investment advice. Always do your due diligence before making investment decisions.
DoorDash stock price.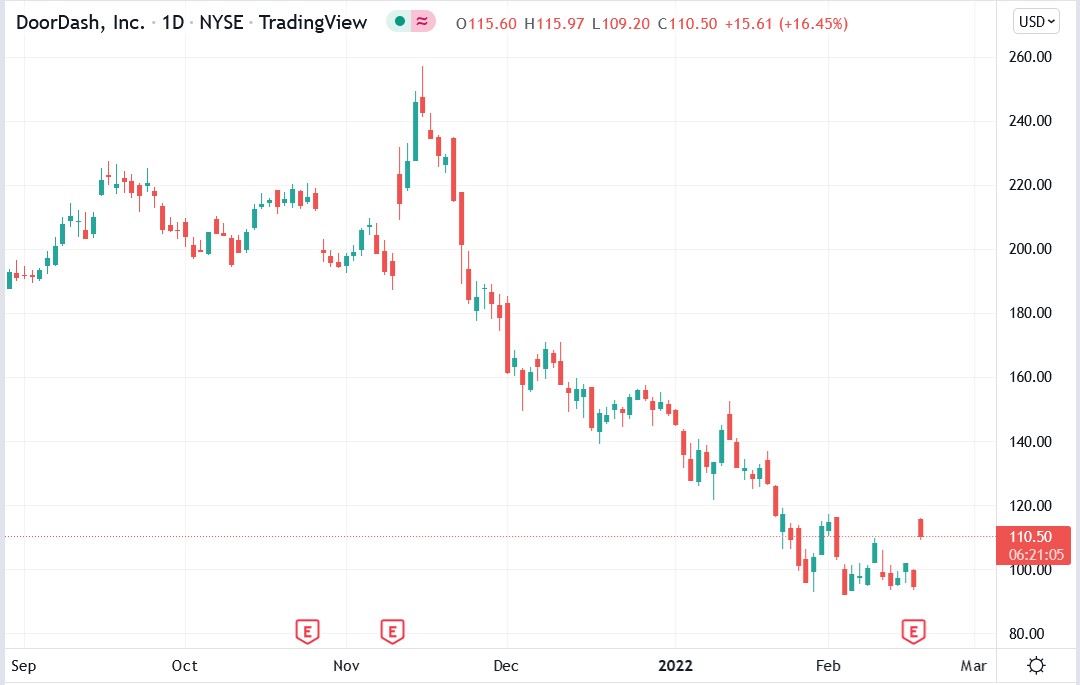 DoorDash stock surged 22.24% to trade at $115.85, rising from Wednesday's closing price of $94.77.