EQTEC PLC (LON: EQT) share price rallied 8.47% as the company's top executives, led by CEO David Palumbo, landed in the United States to inspect the technology installed at the North Fork project in California.

Investors were impressed by the company's commitment to its projects, including the one in California where its advanced gasification technology has been installed and used to generate 2 megawatt's of electricity.
The waste-to-energy gasification company recently invested an additional $2.8 million in the project, raising its stake to 49% after delivering its technology to the site and starting the construction process.
Furthermore, Eqtec tweeted a story by the Place North West about its Deeside energy plant. The report highlighted the Flintshire County Council's decision to approve the proposal for a 9.9MWe plant that will create a local waste-to-energy solution.
The Deeside project will have a 182,000-tonne waste reception plant combined with an anaerobic digestion plant and will utilise Eqtec's advanced gasification technology.
Eqtec is working with Logik Developments and Anaergia Inc. to deliver the multi-technology project with Anaergia delivering the engineering design for the waste processing facility and the AD plant.
Investors cheered the two separate developments as Eqtec expands its global footprint while increasing the number of projects it is developing in partnership with other companies.
Eqtec is well-positioned to benefit from the rising demand for clean electricity in most developed countries, keen to lower their carbon emissions over the next few years.
Since January, the company's shares have fallen 49.81% and may present an excellent buying opportunity for long-term investors. Still, some might argue that the company is richly valued based on its current revenues.
However, when investing in growth companies, one should focus on future growth potential instead of current revenues.
*This is not investment advice. Always do your due diligence before making investment decisions.
Eqtec share price.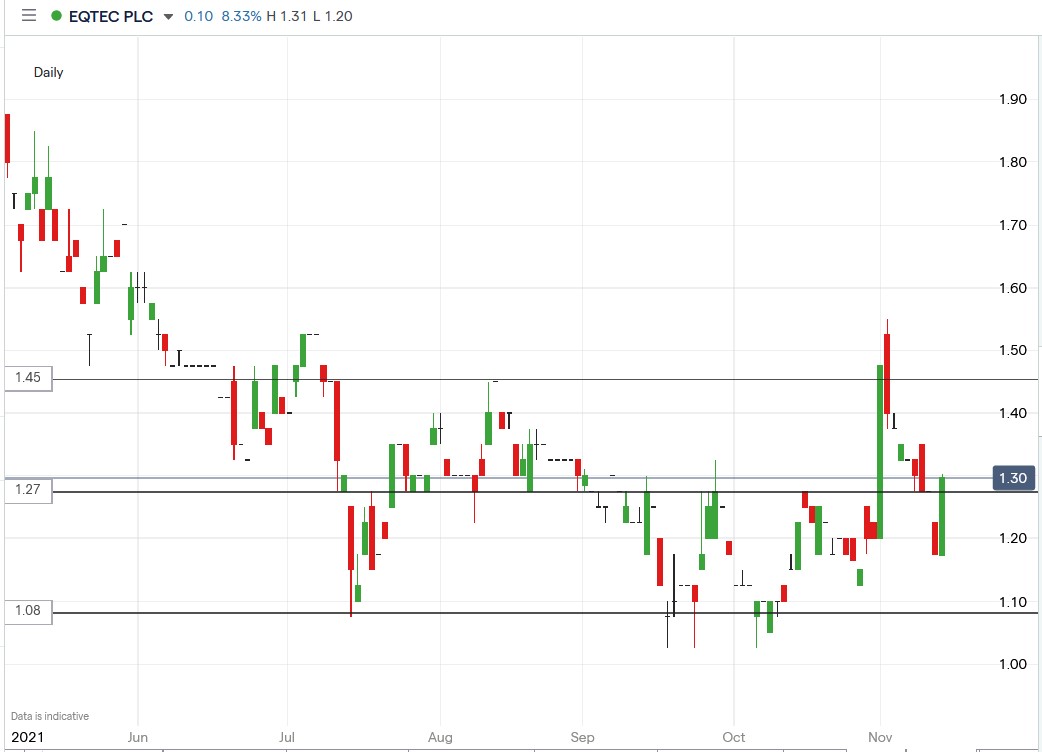 Eqtec share price rallied 8.47% to trade at 1.28p, rising from Thursday's closing price of 1.18p.
Should You Invest in Eqtec Shares?
One of the most frequently asked questions we receive is, "what stocks are best to buy right now?" It's a wide-ranging question, but one that we have answered… Our AskTraders stock analysts regularly review the market and compile a list of which companies you should be adding to your portfolio, including short and longer-term positions. Here are the best stocks to buy right now.