Hemogenyx Pharmaceuticals PLC (LON: HEMO) share price barely moved today after revealing that it had signed a lease for 10,000-square-foot office space in New York's Manhattan Borough.
The biotech company will move from its current campus in the Downstate campus of the State University of New York (SUNY) to the Mink Building located in the Manhattanville Factory District.
Hemogenyx shares barely moved despite the company's move to a better location as investors remained largely unimpressed. The company's shares have fallen 81.3% lower since the start of the year amid investors apathy.

The company has achieved some significant milestones this year, such as the redemption of the Mint Capital loan notes worth £8.1 million, which had zero impact on the share price, despite providing extreme financial relief to the company.
Hemogenyx also secured a patent award for a bi-specific antibody for conditioning bone marrow and hematopoietic stem cell transplantation, providing a less toxic cancer treatment method than chemotherapy.
It appears that investors are disappointed in the company despite its impressive drug pipeline that could lead to significant commercial success once they reach such a stage.
However, it might be a while before any of its current treatments reach commercial stages, which might be the underlying reason for the investor's apathy towards the stock.
Investors who have been holding Hemogenyx shares since May may be pretty frustrated given the lack of movement as the shares have been trading in a tight sideways range.
However, all is not lost, it only takes one positive development to change a stock's current price trajectory, and we could get such an announcement at any time.
I believe investors might change their view of the company if it announces a new partnership or licensing agreement with a leading pharmaceutical company to fast track the development of its current drug pipeline.
*This is not investment advice. Always do your due diligence before making investment decisions.
Hemogenyx share price.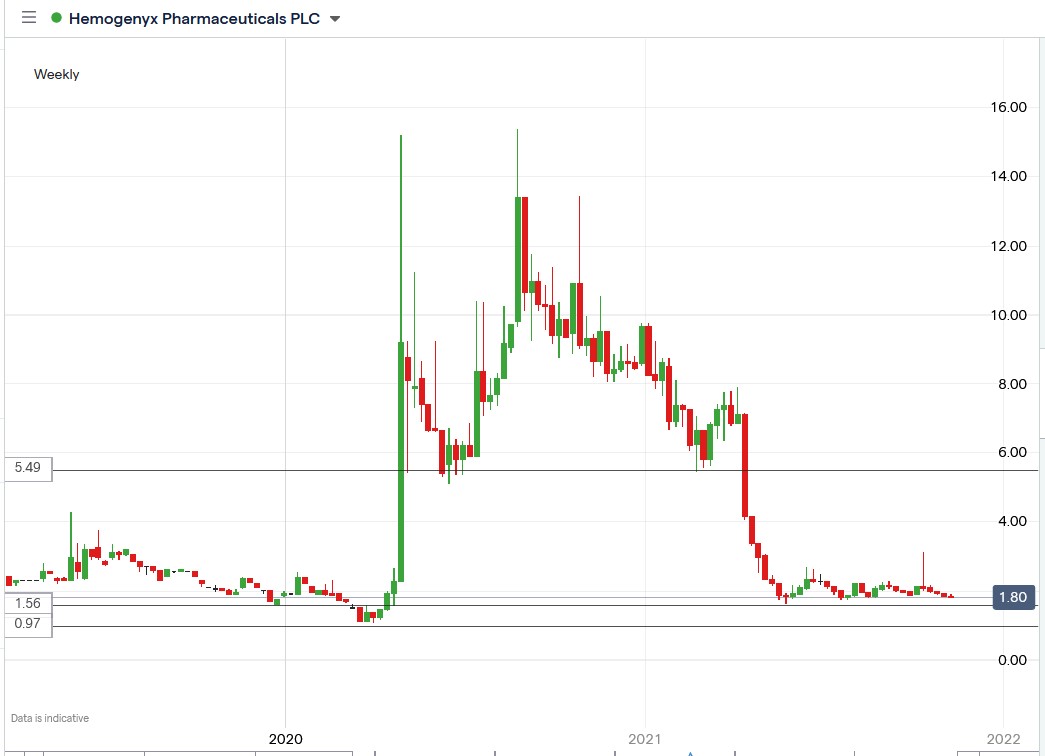 Hemogenyx share price barely moved despite the company leasing new office space.
Is Now a Good Time to Invest In Hemogenyx Shares?
Healthcare stocks, including Hemogenyx shares, saw a wave of investors buy their shares during the pandemic. Governments also pumped money into the companies in an attempt to speed up the vaccine process. But, what happens now vaccines have been approved and the pandemic is becoming less prominent? Should we still invest in coronavirus-focused healthcare stocks? Or should we look to firms tackling other areas? Here are the best healthcare stocks to buy now…