Key points:
The EURUSD price edged higher ahead of Jerome Powell's speech.
Investors are waiting to gauge the future direction of Fed rate hikes.
Many are hoping that the Fed will tone down its hawkish policies.
The EURUSD currency pair today edged 0.47% higher in anticipation of the speech by the Federal Reserve chairman, Jerome Powell, at the end of the Jackson Hole symposium that brings together the heads of the world's major central banks and other economists.

The Fed Chair is expected to address the conference at 10:00 AM New York time, with many looking for clues as to the direction of US interest rate hikes. So far, Fed speakers led by James Bullard have advocated for further rate hikes, but can the world economy survive future rate hikes?
As I have covered in a previous article, the strong US dollar and the Fed's rate hikes are affecting the US economy and having a much bigger impact on other countries. For example, developing countries with dollar-denominated debts find it much harder to pay their debts as the strong dollar weakens their national currencies.
Also read: Forex Trading For Beginners.
Given that the Jackson Hole symposium is a gathering of central bankers from across the world, many expect the Fed to tone down its hawkish rhetoric, especially after today's US Personal Consumption Expenditure (PCE) data fell short of analysts' estimates. The core PCE data rose by 0.1% instead of the expected 0.2%.
The euro's gains against the dollar were also driven by the minutes of the last ECB Governing Council meeting, which showed that the 50 basis point rate hike was not a unanimous decision. The ECB is lagging far behind inflation in terms of interest rates; hence, they may be forced to keep hiking rates to fight inflation in the eurozone.
Investors will also be watching the University of Michigan consumer sentiment survey, set for release at the same time as the Fed Chair's speech. But, the say's key highlight will be Jerome Powell's speech.
Conservative traders may be best served waiting for the speech before taking positions, while aggressive traders may choose to trade through the speech, which is very risky but rewarding for experienced traders.
*This is not investment advice.
EURUSD price today.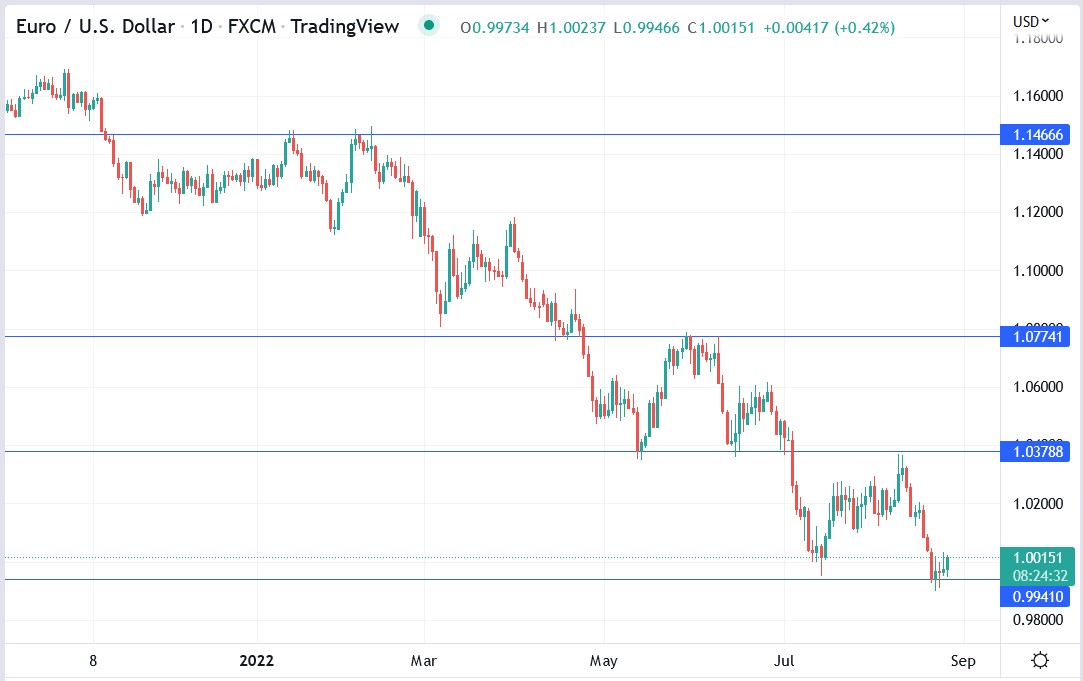 The EURUSD currency pair edged higher today ahead of the much-awaited speech by Federal Reserve chairman Jerome Powell.