Key points:
The GBPUSD currency pair had fallen over 200 pips after the BoE rate hike.
Investors interpreted the jumbo (0.75%) rate hike as dovish due to comments.
The pair fell due to the strong dollar following yesterday's Fed rate hike.
The GBPUSD currency pair had fallen over 175 pips at writing after the Bank of England raised interest rates by 75 basis points for the first time in 33 years. However, the pound fell against the dollar after the BoE warned investors that it was not planning on more aggressive rate hikes unless they were needed.

The BoE's Monetary Policy Committee insisted that its rate hikes would peak much lower than the markets' consensus estimate of 5.25%. The committee warned that such a high rate would reduce the UK's GDP growth rate by 3%, which is unacceptable to the bank.
Also read: The Best Currency Pairs To Trade in The Forex Markets.
Investors reacted negatively to the multiple outlooks published by the BoE, with one outlook indicating that the British economy would experience a shallower recession if the interest rate remained at the current 3% level, while inflation would fall to 2.2% within two years before falling to 0.8% in year three.
The BoE said that today's massive rate hike, which has pushed interest rates to their highest levels in 14 years, would reduce the need for much bigger rate hikes in future. Furthermore, the central bank admitted that it might need to hike rates even "more forcefully" in future if the record-high inflation levels persist.
The outlook indicates that UK inflation will peak at 10.9% in the coming months and fall back to zero by 2025. However, the central bank also noted that the UK cannot avoid a recession and that GDP growth will contract for eight ocncescutiev quaretrs up to mid-2024 before resuming positive growth.
Bank of England Governor Andrew Bailey said that the MPC believes that inflation risks are skewed to the upside and that the bank was not committed to a specific interest rate level despite issuing a constant rate outlook.
The Governor also warned that rates on fixed-rate mortgages do not need to rise as they have done since the economic downturn has dampened domestic inflationary pressures. The GBPUSD's decline was also motivated by yesterday's Fed rate hike of a similar magnitude.
The dollar was much stronger than the pound pushing the GBPUSD pair down further by the time of publishing.
*This is not investment advice.
The GBPUSD price chart.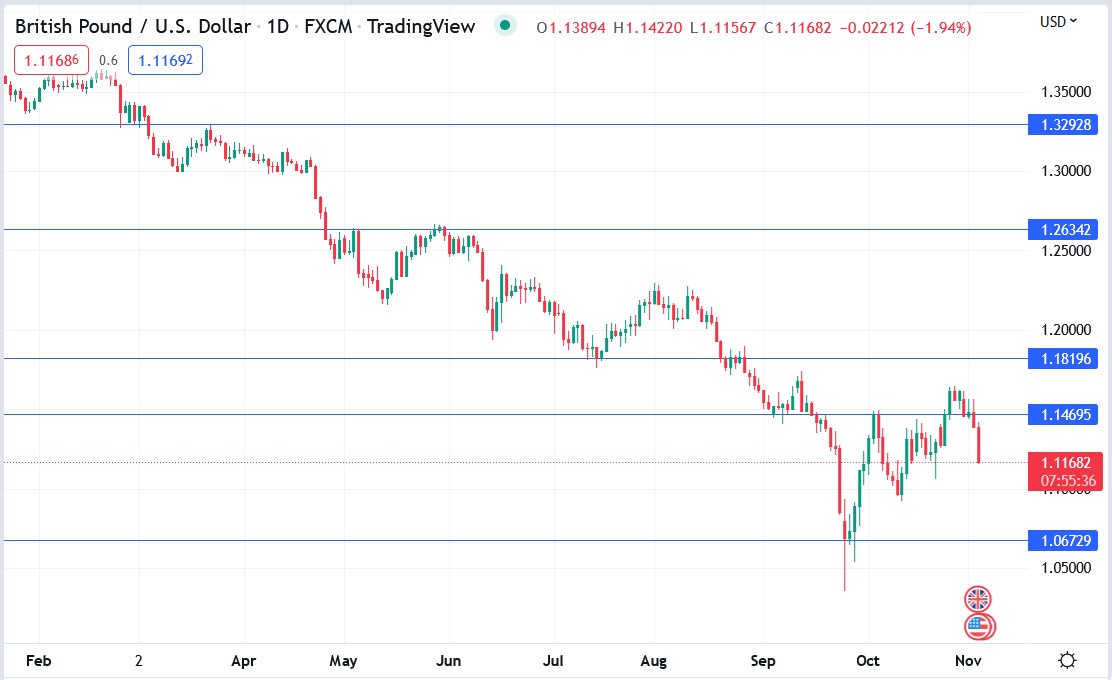 The GBPUSD currency pair was trading down 226 pips (1.99%) at writing after the BoE rate decision.