Key points:
Glencore shares rallied higher despite agreeing to pay a $1.5bn fine.
Investors cheered the settlement since it would no longer distract the firm.
Glencore remains one of the most successful UK mining companies.
The Glencore PLC (LON: GLEN) share price rallied higher despite the global mining and trading company agreeing to settle bribery charges in the US that could see it pay up to $1.5 billion in fines.

In a classic "buy the rumour, sell the news" event, Glencore shares rallied higher as investors breathed a sigh of relief as the corruption and bribery charges against the company drew to a close.
What drove the latest rally?
A big reason behind the rally was that Glencore had already set aside $1.5 billion for the settlement in February as talks with the US Department of Justice progressed. Furthermore, the payment is more like a slap on the arm for the mining giant with revenues exceeding $200 billion.
Glencore's UK subsidiary, Glencore Energy UK, pleaded guilty to seven bribery and corruption charges to generate a profit in Equatorial Guinea, Cameroon, Nigeria, Ivory Coast and South Sudan. This is not the first time that Glencore has faced bribery charges, but it is the first time that it has had to pay such a huge fine to settle the charges.
The mining giant has also been criticised for not abandoning its coal business as the world moves towards cleaner energy sources. Still, the decision has paid off handsomely as global demand for coal has soared amid constrained demand.
Glencore's revenues jumped to $203 billion in 2021 from $148 billion in 2020, driven by the high demand for coal and higher crude oil prices. Going back to the recent fine, the mining company will pay a $1 billion fine to US regulators. At the same time, the Department of Justice will install an independent compliance monitor and Glencore for three years.
The DoJ having a full-time compliance monitor at Glencore is brilliant since it will force the commodities company to implement and adhere to strict compliance measures or risk facing even stiffer charges from the DoJ.
Should you buy Glencore shares?
If you are an investor who values sustainability and cares about the transition to green energy and a sustainable future, you might want to skip Glencore entirely. There are other companies out there that meet these essential criteria.
However, Glencore might be attractive to you if you are looking for a global leader in the mining and commodities sector with a proven track record and a diversified operation.
*This is not investment advice. Always do your due diligence before making investment decisions.
Glencore share price.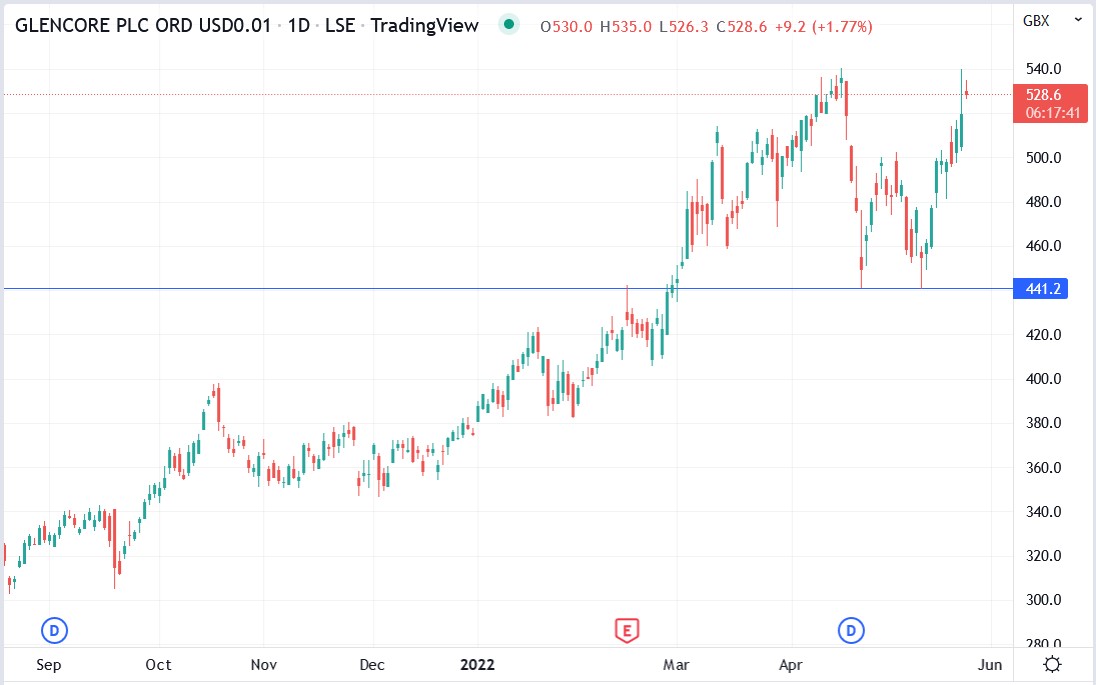 Glencore shares have risen 41.4% this year and are trading near their recent highs of 540p.