Key points:
Synairgen shares plunged 20% after releasing its FY 2021 results.
The company's losses rose to £57.9m versus last year's £17.7m loss.
Will the biotech firm ever recover? Read on to find out.
The Synairgen plc (LON: SNG) share price plunged 20% after releasing its full-year results for 2021, where its losses ballooned to £57.9 million compared to the £17.7 million loss recorded in 2020.

Investors reacted negatively to the earnings release primarily because the losses were linked to the research and development (R&D) work done on SNG001 during the phase 3 SPRINTER trial, which failed to meet its primary endpoints.
The biotech company's ACTIV-2 trial targeting patients with COVID-19 in a home environment within the United States was eventually halted without proceeding to phase 3 by the National Institute of Allergy and Infectious Diseases (NIAID) which was sponsoring the study.
Therefore, the chances of Synairgen's SNG001 drug candidate being used as a COVID-19 treatment were thwarted by the SPRINTER's study's failure and the abandoning of the ACTIV-2 trial targeting patients at home.
The news saw SGN shares plunge over 90% to their current lows. Recently, some hope for SNG001 has emerged after a closer analysis of the study data indicated that SNG001 could prevent the progression to severe disease or death within 35 days in patients with compromised respiratory function.
Syanirgen revealed that it is currently in talks with other parties to figure out how best to study the effects of SNG001 in the above patient groups. Still, this potential market is much smaller than if SNG001 could have been used as a COVID-19 treatment for a more significant portion of the global population.
Richard Marsden, Synairgen's CEO, said: "We are now working in haste on discussions with platform trial organisers and investigators, as well as regulatory authorities, the pharmaceutical and biotech industry and government bodies to identify and establish the optimal method of conducting further trials to confirm these findings and move forward, not just for COVID-19, but also as a potential treatment for patients hospitalised due to a range of viruses including influenza, RSV, adenovirus, parainfluenza and rhinoviruses."
Meanwhile, investors are hoping the company can recover from its massive losses, which could take a while given that none of SNG001's other uses had an addressable market as big as the COVID-19 treatment market.
*This is not investment advice. Always do your due diligence before making investment decisions.
Synairgen share price.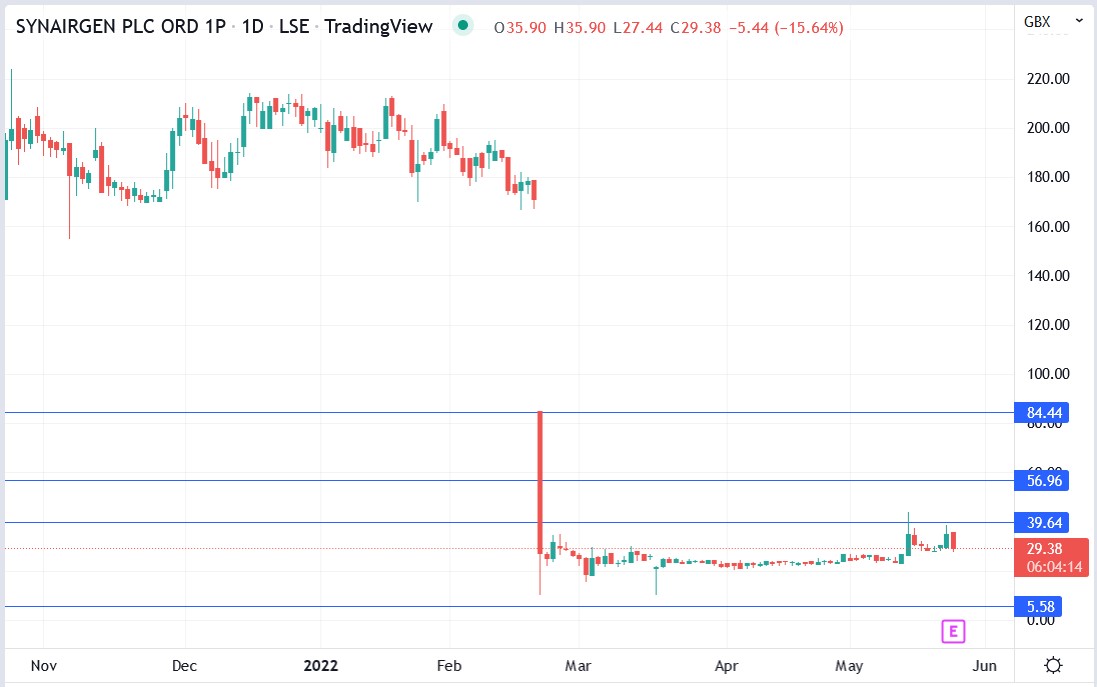 Synairgen shares plunged 20.33% to trade at 27.90p, falling from Tuesday's closing price of 35.02p.